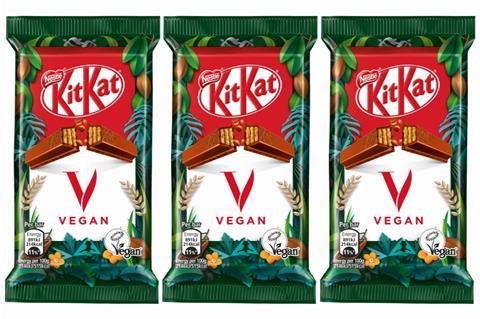 Nestlé is to launch a vegan Kit Kat.
A completely plant-based version of the chocolate, called KitKat V, is to be launched later this year.
It uses chocolate blended with a rice syrup designed to help emulate the texture and taste of milk chocolate.
Nestlé confectionery product technology centre head Louise Barrett said her team had "used our expertise in ingredients, together with a test and learn approach, to create a delicious vegan choice".
It's the latest in a series of vegan launches from Nestlé over recent months, such as vegan Fruit Pastilles, which rolled out in January, and a vegan version of its Carnation condensed milk in 2020.
Kit Kat V, as only the second major chocolate brand to go vegan, will put the brand at loggerheads with rival chocolatier Mars, which sells vegan versions of its Galaxy, Bounty and Topic brands.
Nestlé confectionery marketing director Alex Gonnella said the fmcg giant had seen "an incredible response to our vegan-friendly Fruit Pastilles since their launch last year, so we know how much people want to enjoy alternative versions of their favourite treats".
There was "a quiet food revolution underway that is changing how people eat", she added. "We want to be at the forefront of that, championing the discovery of plant-based food and beverages."
Kit Kat V will be the second new version of Kit Kat to hit shelves this year. Earlier this month Nestlé unveiled Kit Kat Zebra, a 'marble' chocolate version of the treat made with a combination of dark and white chocolate.