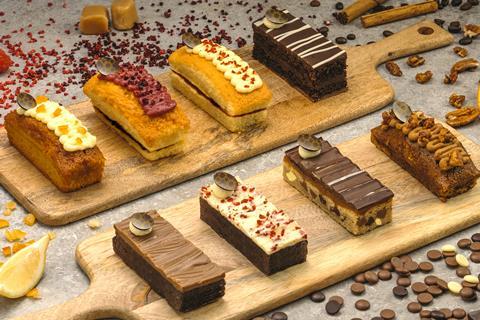 Warburtons is moving into luxury sweet treats via Ellie Warburtons Cakes, a sub-brand offering an eight-strong range.
Cake slices such as Cookie Dough with Caramel, Espresso Brownie and Zesty Lemon with Blackberry Compote (rsp: £3) will be available throughout the summer from 28 May in a pop-up in Skipton, followed by a second pop-up in Harrogate from 4 June. An ecommerce platform is planned for 21 June, with a later rollout onto supermarket shelves likely to be considered.
The cakes were "the latest innovation in a long list of products that go beyond the core bread category to meet changing consumer tastes" said Warburtons. "The range of cakes aims to meet the high demand for premium quality cakes driven by the Bake Off effect and the current lack of there being any large-scale premium cake brand on the market."
Ellie Warburtons marks an investment beyond the £56m the 145-year old Bolton bakery is planning to spend on improving its manufacturing and distribution capabilities to tap demand for crumpets, bagels and other alternatives to wrapped loaves.
"We are thrilled to introduce the Ellie Warburtons range of deliciously indulgent cakes," said Warburtons chairman Jonathan Warburton.
Named after his great, great auntie, the new sub-brand was "an exciting new venture for our family business and we are taking very much an entrepreneurial approach to how build the brand while bringing with us the core of Warburtons ethos – quality and taste" he added. "I hope that a slice of Ellie Warburtons will become a firm favourite with families up and down the country."
With a 90-strong portfolio and 18,500 retail customers, Warburtons is the biggest bakery brand in Britain. It shifted an extra 46.4 million units last year, as its value in grocery grew by 8.1% to £708.1m [Nielsen 52 w/e 26 December 2020]