Party food is the jewel in the Co-op's Christmas collection this year, with a vast range of products for different tastes.
The Co-op is set to unleash a host of Christmassy sandwiches in anticipation of the return of commuting and on-the-go lunches ahead of this year's festive season.
The retailer is also expanding its vegan Gro range to include a host of yuletide products set to rival their meaty alternatives
On the go
Boxing Day Lunch Sandwich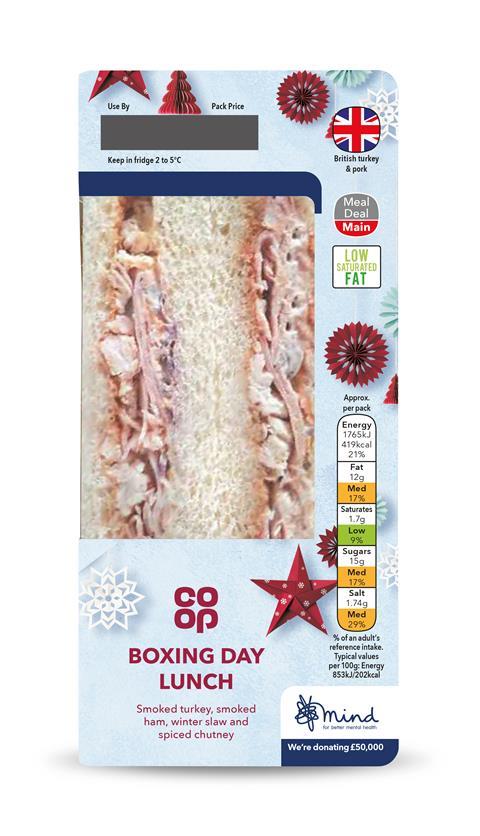 £3
Co-op kicks off its range of Christmas sandwiches with the ultimate leftovers bap: Cooked smoked turkey and oak smoked formed ham with red cabbage coleslaw and spiced fruit chutney on white bread.
Free From Turkey Feast Wrap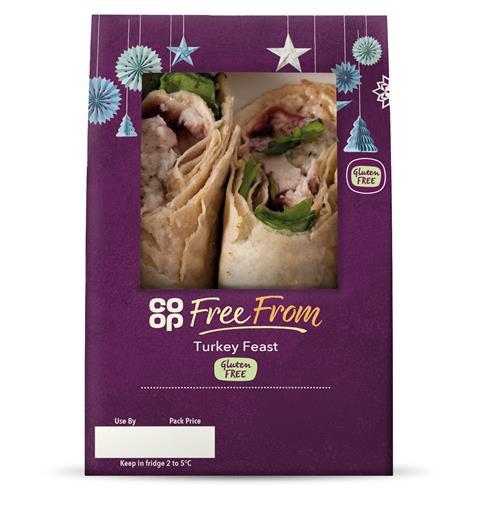 £3
Another leftover special, this time in a gluten-free wrap. It contains turkey, pork, sage and onion stuffing with seasoned mayonnaise and chunky cranberry chutney.
Brie & Cranberry Sandwich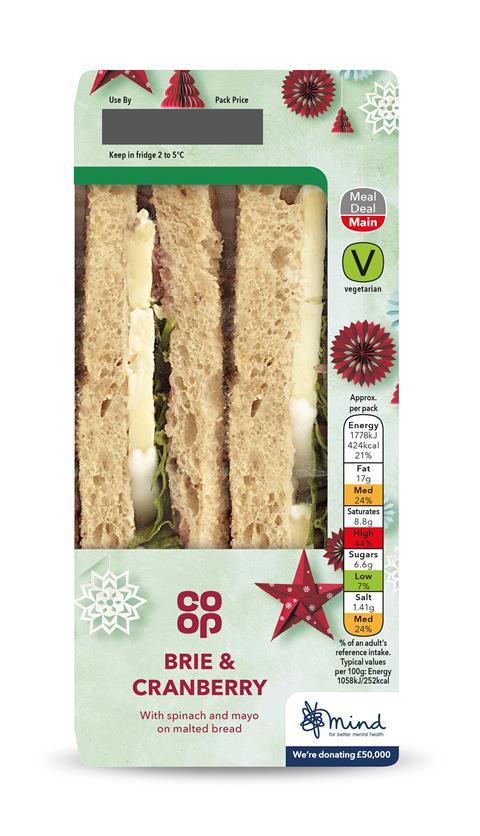 £3
One for the vegetarians. With the explosion of vegan ranges, some cheese fiend vegetarians have been disappointed to see typical cheesy vegetarian fare replaced by dairy-free and vegan options. Co-op is hoping to set that right with this brie sandwich with cranberry, ginger and orange chutney, seasoned mayonnaise and spinach on malted bread.
Heat at Home Hog Roast Christmas Market Baguette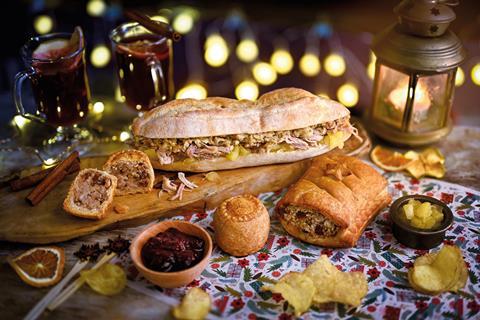 £3
This roll is stuffed with hog roast pulled pork with bramley apple sauce, pork, sage and onion stuffing, mozzarella and mayonnaise on an artisan baguette. It's not really designed to eat on the go, instead Co-op recommends taking it home and heating it to get the full experience.
Gro Turk'y Feast Sandwich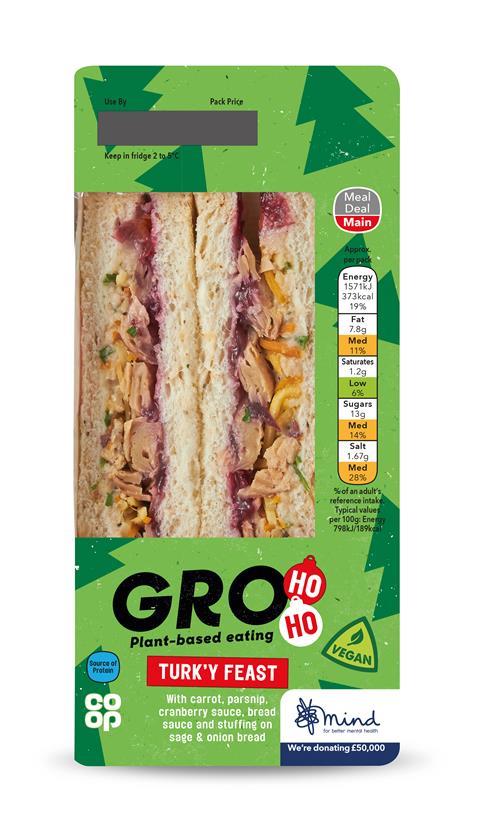 £3
A true vegan sarnie. Flavoured soya protein with plant-based bread sauce, roasted carrot and parsnip, cranberry sauce, sage & onion stuffing and vegan mayonnaise on sage & onion bread.
Irresistible Ultimate Christmas Dinner Roll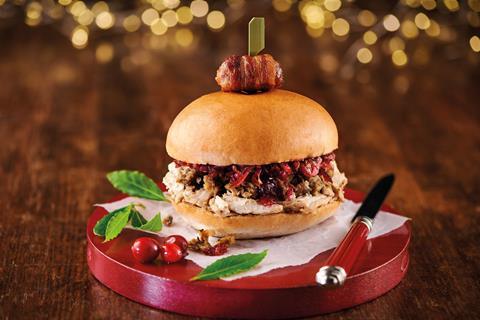 £4
Roasted hot pulled turkey with gravy mayonnaise, pork, sage & onion stuffing, a winter spiced red cabbage and brussels sprout slaw with cranberry chutney. Packed into a glazed white roll and topped with a pig in blanket skewer.
Party food
Irresistible Sea Salt & Chardonnay Fish Rosti Stackers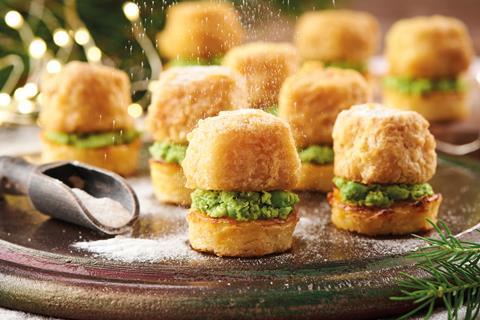 £5
Co-op has looked to elevate the fish & chip classic. Mini potato rostis topped with mushy peas and a mini fillet of battered cod, with a sachet of sea salt and chardonnay seasoning.
Prawn Flutes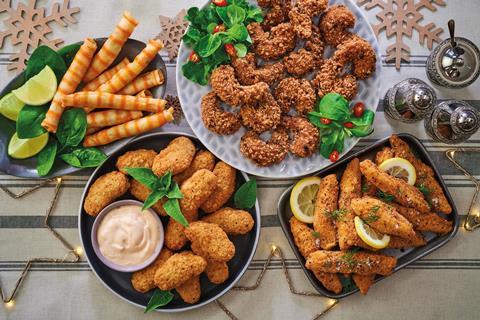 £2.25
Co-op is prepared for the return of the post-coronavirus Christmas party with a wealth of finger foods to serve up on platters. Among them are seasoned king prawns (top left) with lemongrass and chilli, wrapped in crisp filo pastry.
Hot & Spicy Coated Prawns
£3
King prawns coated in a hot and spicy maple and chilli crumb (top right).
Southern Fried Chicken Goujons with Baconnaise
£3
Southern fried chicken goujons with a creamy bacon mayonnaise dip (bottom left).
Haddock Goujons with Sea Salt & Cracked Black Pepper
£3
Haddock goujons coated in a sea salt and cracked black pepper dust (bottom right).
Christmas Dinner Spring Rolls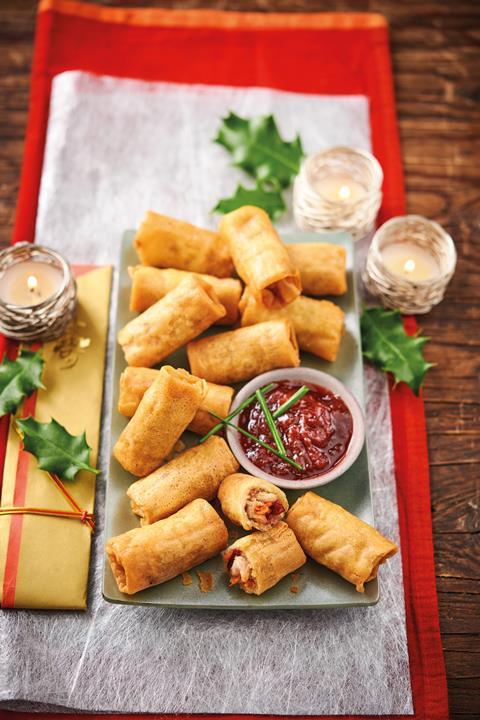 £3
A culture clash as the British Christmas dinner meets Chinese takeaway. The spring rolls are filled British turkey in a gravy sauce with cabbage and carrot, while the usual hoisin or sweet & sour sauce is replaced by a sweet cranberry dipping sauce.
Gravy Puffs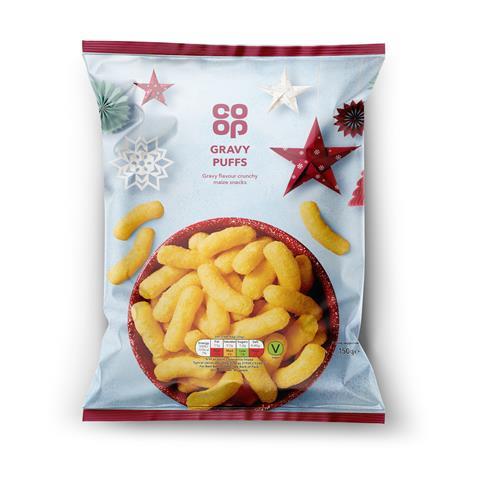 £1
Maize puffs have been reliant on cheese flavouring for too long, Co-op's development chefs decided when they came up with a festive alternative: Vegan gravy flavoured crunchy maize snacks.
Irresistible Three Cheese Mac & Cheese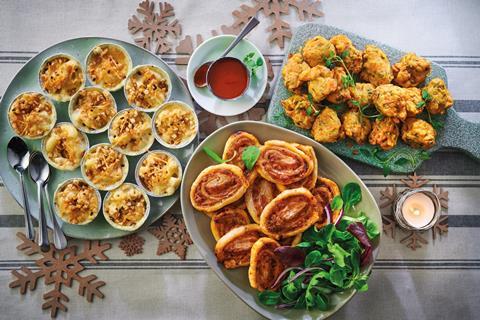 £5
Traditional macaroni pasta in a three cheese sauce with pecorino, cream cheese and West Country cheddar (seen left). Hand-finished with a pecorino parsley and smoked paprika breadcrumb topping.
Vegetable Bites
£3
Sweet potato and carrot bites with a hint of chilli (seen right).
Pizza Pinwheels
£3
Co-op describes these as featuring a rich tomato and herb sauce with mozzarella and West Country cheddar in butter enriched pastry (seen centre).
Irresistible Roast Potato Crisps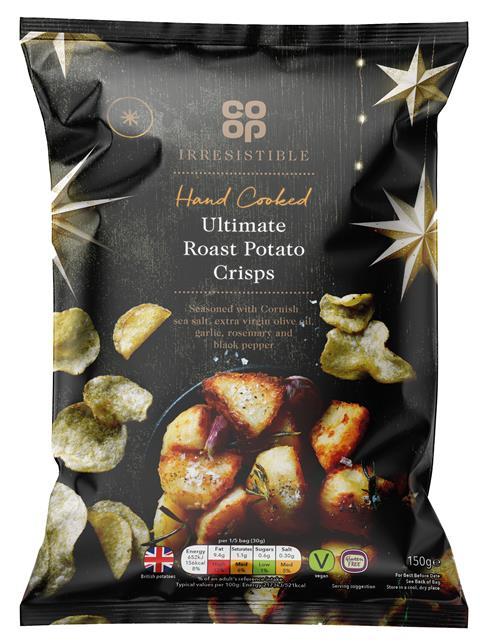 £1.70
Why save roasties for Christmas dinner? Hand cooked potato crisps with a Cornish sea salt, extra virgin olive oil, garlic, rosemary and black pepper seasoning.
Gro Ho Ho Spicy Fondue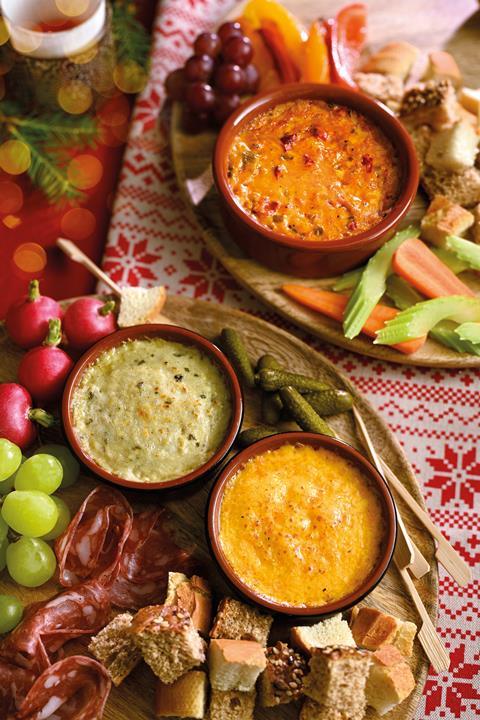 £3.50
A blend of vegan alternative cheese with a fiery jalapeño chilli kick, spring onion and sweet roasted peppers and smoky paprika. Made in Scotland by cheese bake manufacturers in small batches.
Chicken Curry Samosas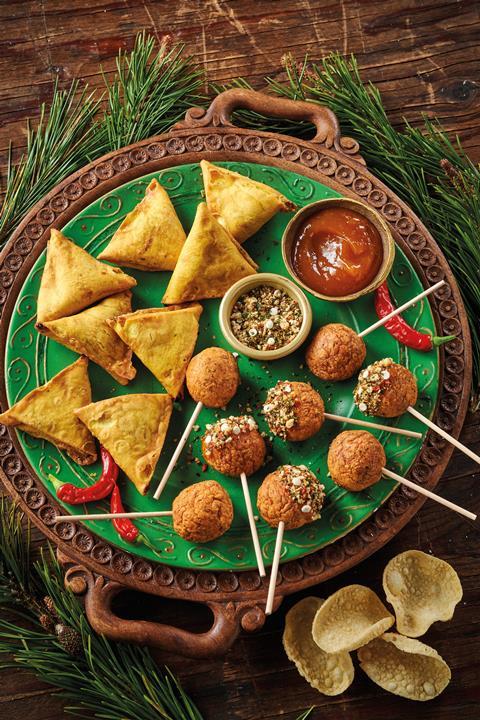 £3
British chicken in a classic curry sauce with peas and rice, packed into filo pastry.
Chicken Tikka Lollipops
£3
Tikka-spiced chicken bites served with a mango dipping sauce and poppadum crumb.
Christmas dinner
Gro Ho Ho Stuffing Balls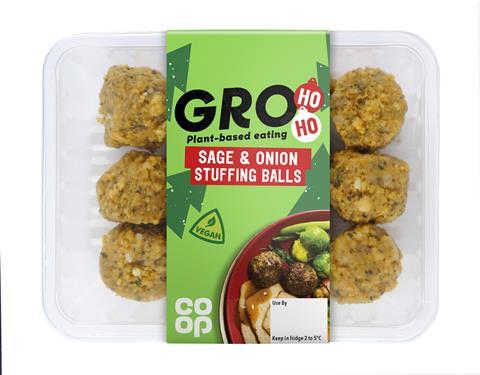 £2.35
Vegan stuffing balls with sage and caramelised onions.
Irresistible Free Range Silver Grey Heritage Turkey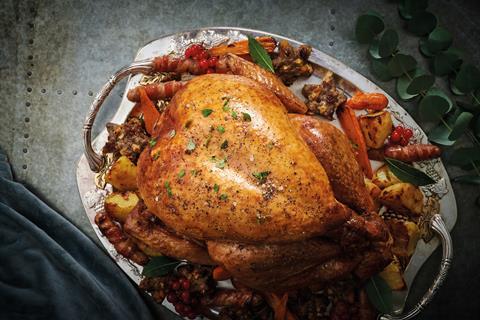 £45
"Succulent" meat reared in Wales, slowly grown for fuller flavour and tenderness, says Co-op.
Gro Ho Ho Faux Turkey Joint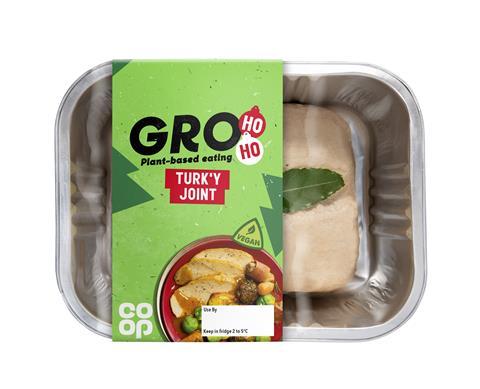 £4.95
A Christmas alternative to turkey made from soya. Hand-finished with a bay leaf and a herb and garlic melt.
Irresistible Chipolatas in Blankets with Truffle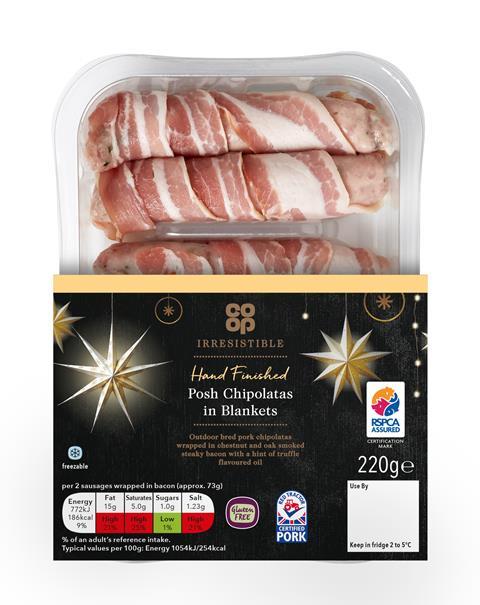 £3.25
British, outdoor-bred pork sausage with caramelised onions and truffle flavour, wrapped in dry-cured and streaky bacon.
Irresistible Beef Picanha Joint with Porcini Butter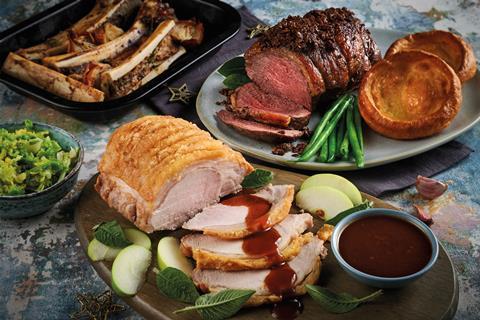 £17.50
Twenty-eight day-matured succulent beef picanha joint seasoned with salt and pepper, and served with a porcini butter.