On-pack nutritional and environmental information could soon take a back seat. A slew of innovative smartphone apps are providing independent scores for products – and they're fast gaining shopper trust
Let's face it: for most consumers, on-pack nutritional labels are confusing at best. A sizeable percentage still don't fully understand traffic lights, according to IGD research. And that is at least a standardised system.
More vague claims are even trickier. Are low-fat products necessarily good for you? And does high in fibre mean the product provides your entire recommended daily allowance?
There's huge variation in the way individual shoppers interpret 'low' and 'high', and it's affected by whether the claim is being made about positive ingredients like protein and fibre, or negative ones like sodium and fat, a 2019 University of Essex study found. "Many shoppers find food labels confusing and this is actually leading to a lot of people not really understanding what they're eating," researchers concluded.
Add to that mixed product claims about sustainability, carbon impact and company ethics – even more difficult to measure and far more loosely regulated – and consumers' heads are left spinning.
Little wonder, then, that shoppers are seeking guidance. Cue a slew of third-party apps that promise to offer just that with simply the scan of a barcode. From Yuka to Giki and Setai, these apps set out to empower the shopper with independent scores– which often determine which product they pick up from the shelf.
Yuka, which launched in France in 2017, is one of the biggest. Julie Chapon developed the app in partnership with founder brothers Benoit and François Martin, and says the idea came about because shoppers needed "a degree to be able to decipher the labels".
The app – which has 20 million users in 11 countries – is able to scan barcodes in the aisles to provide an overall evaluation of the health impact of products. The evaluation – a score out of 100 – is accompanied by a visual colour-coded indicator (red = bad to green = good) and a more detailed analysis of each ingredient.
It helps consumers avoid getting "lost in a dietary jungle trying to decipher every label", Chapon says.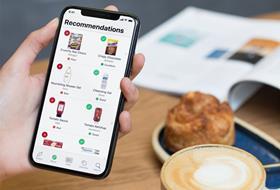 Four apps changing the way we shop
Yuka
The mightiest of European shopping apps, Yuka enables the scanning of 1.5 million products – 70% of which are food and drink, the rest cosmetics. Some five million products are scanned on a daily basis.
Giki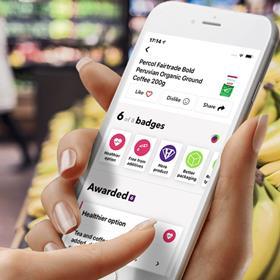 Giki awards products badges, based on data provided by the manufacturer and referenced against more than 30 subject matter expert partners, such as RSPCA Assured, RSPO, Fairtrade and the Rainforest Alliance.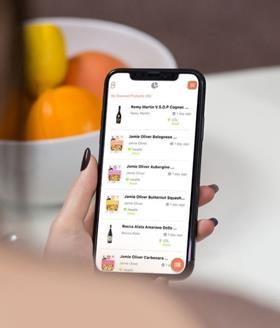 Setai
Carbon emissions are the main concern of the Setai app. Users see how much a product contributes to their daily 'carbon budget'. Soon the app will offer users the chance to offset their purchases through reforestation.
Food Switch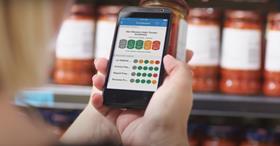 Working in a similar way to Yuka, Food Switch was developed by the George Institute for Global Health. Users can filter by health concern and get alternatives based on whether reducing salt, fat or sugar is a priority.
Now it's expanding. Yuka added analysis of cosmetics and hygiene lines in 2018 in response to user demand. It makes sense given that getting to grips with beauty product labels is "even more challenging as the ingredients are written using their scientific names… in Latin", says Chapon.
Yuka also added an 'eco-score' in March – currently only available in France – that analyses the impact of products on the environment.
Rival app Giki goes one step further on the environmental front. Launched in 2018, it wants to "help people live more sustainably through finding 'better' products – better defined as more sustainable" says Ian Yates of Impact Score, which acquired Giki in July.
At a product level, the Giki app – which has had 100,000 downloads but aims to secure one million users within the next 12 months – assesses up to 14 different criteria.
The type of product will determine the assessment measures used, but they include things like use of sustainable palm oil; recyclable packaging; animal welfare, and whether it contains any chemicals of concern. Products get badges on factors they score well in, and alternatives are displayed to aid consumers' buying decisions.
Later this year, Giki will incorporate information from Impact Score – which instead of rating products, rates companies based on how they treat their staff, suppliers and the environment.
"Bringing together our two applications will provide consumers with 360-degree insight into the ethical and sustainable credentials of products, manufacturers and retailers. With this information to hand, people can really change how they live and influence businesses' behaviour," says Giki co-founder James Hand.
Meanwhile, app Setai looks to marry nutritional and ethical information on one platform. It gives products a straightforward score out of 10 on health. That sits alongside a CO2 score for individual products, which co-founder Edoardo Danieli describes as "an innovation in the app world".
Users see a single serving of the scanned product as a percentage of their daily emissions 'budget', with equivalents in distance driven by a petrol car and time a light is left on.
"As customers, we have the power to steer the political agenda and promote sustainable products. In order to do so, we need to know the environmental impact of what we buy, especially food," says Danieli. "Users are willing to change their behaviour to make more sustainable choices. But there is a lack of information regarding the impact on the environment of what they buy."
Even when consumers do get information on packs, they don't necessarily believe it. Shoppers are increasingly wary of claims made by big businesses on nutritional benefits and ecological breakthroughs.
"Consumers are asking for more transparency: all the food scandals over the past years have fuelled mistrust of consumers towards the food industry, so they use Yuka to go beyond marketing and check what really goes into the products," says Chapon.
In essence, Yuka and its ilk play the role of a trusted third party not linked to a retailer or brand, and with no angle on the data displayed. And that matters. According to a YouGov survey, when asked who they trust most to publish data on a company's ethics and emissions, most people said a third party. That's a higher level of trust than there is in the government or the companies themselves.
"There are no common sustainability measuring methods – businesses appear to be on different paths saying different things, and there is the whole greenwashing issue, so consumers lack trust in what businesses say," says Yates.
"It's only going to get worse," he suggests. "Every ad is about how green a product is, and people don't know who to trust. They are looking for a credible, independent source of data from a company who cares about the same things they do."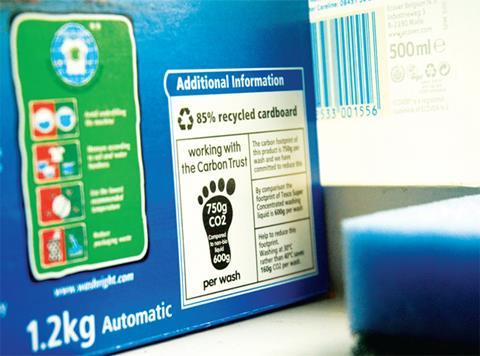 Scoring systems
And the apps certainly seem credible. Their cold, algorithmic rating systems are devoid of any spin. Setai's carbon score has been developed with Italian environmental consulting firm eAmbiente, and is based on more than 2,000 scientific studies on carbon emissions, Danieli says.
Meanwhile, the nutritional scores calculated by Setai and Yuka rely mostly on Nutri-Score, the front-of-pack measure used widely in Europe, and approved by the European Commission and World Health Organization. Setai adds some score weighting from the Nova Classification System, developed by the UN to classify food products based on the level of industrial processing. For Yuka, the presence of additives and organic credentials influence the total.
"Our two applications will provide consumers with 360-degree insight into the ethical and sustainable credentials of products, manufacturers and retailers"
For cosmetic products, Yuka's scoring system analyses every ingredient that goes into the product and, based on the latest scientific research, assigns each a risk level according to its potential adverse health effects. Giki's badges are awarded (or not) based on listed ingredients and other certifications.
In other words, unlike brands and retailers with products to shift, the apps offer "watertight impartiality" says Chapon, with ratings and recommendations done in a "completely neutral manner". As Yates puts it: "It is not for us to deem one product more ethical than another, it's the data."
If there is any angle to the apps' activities, it's simply that brands should do better, says Chapon. With 55 scans a second made on Yuka, there's no hiding place for poorly performing products.
Unsurprisingly, the apps have made some enemies among the brands they rate. "It's natural – there are many interests at stake," says Danieli. "We expect some opposition, but we cannot deny the fact consumers are asking for sustainable and healthy products. This trend will continue."
Some producers have even taken legal action. However, the apps are keen to stop these threats in their tracks by taking a collaborative approach.
Legal threats
Earlier this year, a group of French charcuterie manufacturers (FICT) took legal action against Yuka for disparaging its members by giving them a low score if their products contained nitrates.
More fool them, says co-founder Julie Chapon (pictured). "The resistance of some industries can be explained by the fact that consumers are demanding they evolve and have stopped buying some really unhealthy products. Instead of adapting and responding, some try to stifle information," she says.
FICT won, but Yuka is appealing. Several ham brands are also now suing. Meanwhile, a Yuka-led petition against the use of nitrate additives in charcuterie products has gained 355,000 signatures, and a ban is being considered by the French government. Yuka's influence "really bothers these industries and their financial interests" Chapon adds.
Yates says "we recognise some brands won't be happy with how some products score". With that in mind, Giki is making an effort to talk to brands and retailers about their scoring system, and working with academics to further verify it.
At the same time, many brands are keen to harness the power of the apps. Chapon says "we do not spend a day without being contacted by brands willing to reformulate their products and asking us for the simulation of their future grades on Yuka".
According to Chapon, "almost all big food companies in France" including Nestlé, Intermarché, Unilever, Mondelez, Leclerc, L'Occitane, Monoprix and Auchan have already "improved the composition of all or part of their products" as a result of Yuka's success. Nestlé has said Yuka "pushes us" to improve and simplify product formulations. A similar phenomenon has been seen in all 11 countries where the app is present.
It's little wonder brands are taking action. According to Giki, 83% of its users say the app has changed their decision about buying a product. When a product is 'red' in the Yuka app, 92% of users put products back on the shelf, Chapon says.
Looking ahead, the apps are keen to build on this consumer trust. Yuka's business model is gaining premium app subscribers – of which there are 80,000 – who gain additional features for an annual fee.
"It's not for us to deem one product more ethical than another, it's the data"
Meanwhile, Giki and Setai want to start offering labelling and certification services. Giki hopes its score will be picked up by retailers and displayed next to products. "It's licensing the score," Yates explains.
There's a reason why it's going after retailers, rather than brands. "Brands would only put their A grades on the product packaging. Which is just another form of greenwashing. It kind of dilutes it. We want everyone to see everything, that's the point," Yates adds.
Setai, on the other hand, wants investment from brands too. It will soon offer users the chance to invest in reforestation projects through the app, for which it will take a small fee per transaction. But its "main service" is in offering carbon labelling for food producers and retailers, which they can put on packaging and use in marketing. It is "already in advanced talks" with some producers to trial the labelling service.
Whatever they do next, these apps are already forcing change in the industry.
"Our vision is that through informed purchasing, consumers will be able to leverage their buying power to drive the agro-food and cosmetics industries towards improving their product offerings," Chapon says.
In the end, consumer knowledge is power. It's now up to brands how they respond.