What was your best move last year?
"Over the last 12 months, our best move has been continuing to try to improve the quality of our raw material and having the best relationship with our farmers. Our product is a very simple product and the quality of the raw material corresponds a lot to the quality of the finished product.
"Our aim is always to improve the experience of tomatoes. We are a family business for more than 100 years and all our focus is on how to deliver to our consumers the best tomato experience."
What would you have done differently?
"Last year we didn't expect such growth in Italy and abroad in terms of sales. So in some ways, we missed an opportunity but we missed it consciously because it's impossible for us to improve, in a significant way, our quantities [whilst] keeping and improving every year the quality of the product itself.
"It's a slow process that has to be really built with our farmers and with our team to give the consumer this new fantastic tomatoes experience.
"So it's a regret on one side but it corresponds to an uncompromised quality that is definitely the sign of the brand."
What's the plan for the next 12 months?
"After becoming the leader in Italy and in Europe, now we are very focused on the UK market. We would like to give the consumer the opportunity to try the best tomatoes and the mission of our company, of our family, is to deliver to consumers the best tomatoes experience.
"This is what we would like to do in the UK with a strong partnership with the trade for the year 2021."
The Mutti core range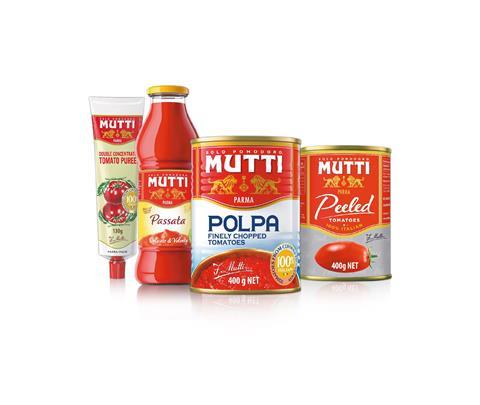 Mutti's core range includes its European best sellers Polpa (finely chopped tomatoes), Passata (sieved tomatoes), Peeled tomatoes and double concentrated tomato Puree – all made using only the best quality sun ripe 100% Italian tomatoes and a hint of Mediterranean sea salt. No preservatives or additives are added. Each of the products has its own special features in terms of taste, colour and texture, allowing consumers to find the perfect tomato product to create their own tasty masterpiece. Mutti aims to be at the service of customers with the best quality tomato products, exciting insights about how and when to use them and inspiring their creativity in the kitchen.