"My initial idea was because you couldn't get anything delivered after the pub," Shu tells an audience at the Food & Drink Expo in Birmingham, noting the brand was very nearly called Boozefood. "We realised the audience was broader. I'm very confident we made the right decision."
"For the first year I was doing the deliveries," he explains. "I would say 'hey I'm Will, I founded the company'. No one ever cared. Because they just wanted their food, right? So they just shut the door in my face."
Deliveroo's first restaurant partner was The Stockpot on King's Road, London. It happened to be below the flat where Shu was living at the time. "The owner was my landlord," Shu says. "He told me 'this is a very bad idea, but you live upstairs so, whatever, if I have a problem I'll definitely find you'."
Its first customers were his friends, who he "begged" to order through the platform.
"Initially… that was the only customer acquisition channel I had. And they used to think it was funny that I'd deliver the food, so that's why they did it. But when I stopped [doing the deliveries] they kept ordering. I knew then they actually liked the product, they didn't just feel bad for me," Shu says.
Operations tentatively expanded to Brighton and Cambridge. Its success in those cities proved the platform wasn't a London-centric phenomenon.
The listed company now has UK-wide reach, a growing presence in nine overseas markets and 7.1 million active monthly users at last count. It employs 2,000 people, manages some 150,000 riders and is partnered with 176,000 restaurants and grocers.
"I'm proud of what we've done," Shu says. "We're just starting."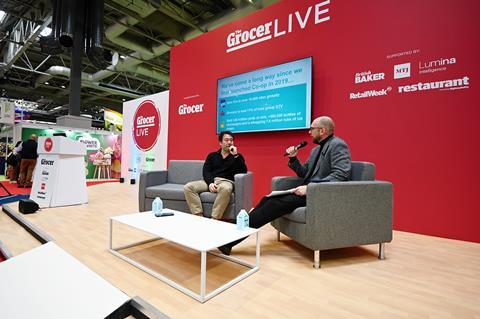 Deliveroo's grocery play
Grocery is a major contributor to Deliveroo's business, with 8,000 grocery partner sites in the UK and Ireland, and more than 10,000 overseas. It represents 11% of the Deliveroo business globally, a figure that's even higher for the UK.
"We do more [grocery] orders per week than Ocado Retail does," Shu notes.
The move into grocery began before the pandemic but took off during Covid, when online delivery slots with major supermarkets were in high demand. Those same retailers were quick to list on the platform.
"It didn't surprise me during Covid," Shu says. "But what did surprise me was how resilient that business was when supermarkets were open. It's still a huge growth area for us."
The offering has improved for consumers, retailers and, more recently, brands too.
The app when applied to supermarkets and convenience stores had been "clunky" Shu admits. "When you tried to order grocery on Deliveroo in the early days, it looked like a restaurant menu."
Now the app offers aisle shopping, offers and all the UX online grocery shoppers expect. For retailers, there is a vastly improved and customisable picking app.
"This team has done an amazing job getting us to this point because what we had a year and a half ago really wasn't that good," Shu says.
Last summer it launched a retail media platform, giving brands the opportunity to reach its huge userbase and Deliveroo the chance to tap additional revenue.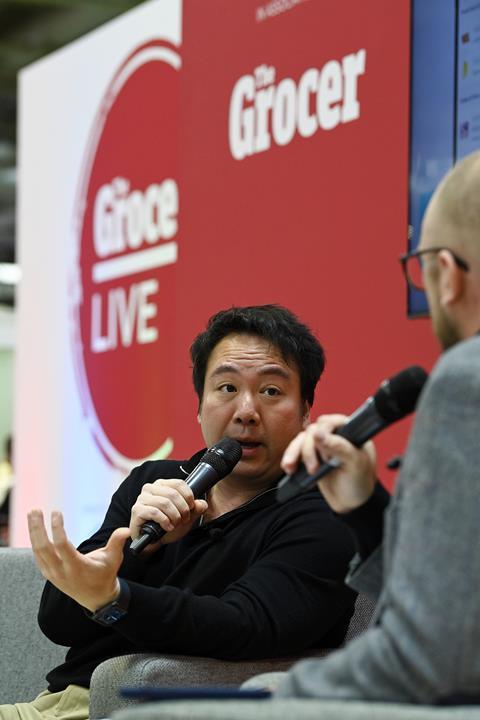 The rapid move
The company also launched its rapid grocery service Deliveroo Hop, promising delivery within 10 to 30 minutes from dedicated dark stores.
Hop's launch in 2021 came at a time when the wider quick-commerce sector was struggling. But unlike its rapid rivals (of which Shu was an early, enthusiastic customer – "I got all this free stuff") Deliveroo's ready access to a huge customer base and rider network means "we can actually make money from it", Shu says. Waitrose, Morrisons, Carrefour and others are already on board as wholesalers to the dark sites. There's also Hop-as-a-service – adopted by Auchan and, as of this week, Asda.
"We'll add Hop stores where the economics work and where we want to expand more will be [Hop-as-a-service]," Shu says.
Last week, Asda became the latest Hop-as-a-service partner, operating the speedy service from a new Express store in Tottenham Hale.
Weathering the storms
Leading Deliveroo has not always been easy. In February, Shu made the "extremely difficult" decision to make hundreds of colleagues redundant, the reason the company's anniversary was not officially celebrated. Now there's the cost of living crisis to navigate.
"Food delivery is not something you 100% need – it's a discretionary and those things get hit sometimes," he says. The hope is the crisis resolves itself over time. For now the focus is on providing value and a good experience to consumers. But: "It's tough, right? It's not a good equation," Shu says. "It's ugly out there."
The competition
"We operate in a competitive space, and we have to be better than our competitors but not focus on them all the time either," Shu says. "It's a tough thing to balance.
"I have a huge amount of respect for our competition, we learn from each other, but we always want to win. The way you win: there's not a silver bullet. It's how you build the best consumer value proposition in each neighbourhood. And that is hundreds of little things better and better, and occasionally some really big things," he adds.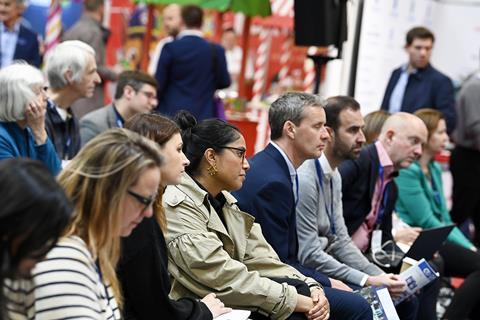 Generative AI
"It's absolutely mind-blowing," Shu says. "The amount of things we can apply it to what we do today is already huge.
"It's not one of those things where it's a theory – you think about crypto, blockchain all of that stuff where you're like 'ok, what is this really?' This is live today. I feel as strongly about this as I do the iPhone," Shu says.
"I do feel like this will transform the whole economy, both good and bad, so we've got to be careful," he adds.
Deliveroo engineers are soon to take part in an AI-focused hackathon, Shu reveals.
Personal growth
"Ten years ago I couldn't speak in front of a crowd or anything like that, I just didn't have that in me," he says. "I was always really nervous [when pitching the concept to restaurants]. I'd go into a restaurant and stand in the corner scared. After a week I was like, 'I have to get over this' – and just started doing it."
Since those early days, "the biggest thing I had to adjust to was being very intentional with your communications. I had a company of 20 people and you never needed to talk to people about what to do – everybody knew. Now you have to figure it out a lot, be super intentional with your time, and for me as a disorganised person I have to push back against that sometimes.
"I'm very disorganised, my mind will drift to a lot of different places so I have to force myself to focus on certain things," he adds.
The incredibly competitive market Deliveroo operates in can certainly be bruising. But Shu is still having fun and sleeping soundly (it's his "superpower", he says. "I always fall asleep. I never stay up thinking about stuff").
"I'm a much more resilient person," he says. "Probably more cynical as well, if I'm honest, having seen a lot of things. But I'm the same person. I like to have fun. I don't take things too seriously, except the consumer."