What's hot?
Consumers are spending more in this category because they want more specialist products to look after their teeth. We're seeing growth trends on toothpaste, medicated wash and whitening products as consumers link white teeth with a healthy smile.
What's not?
Dental care professionals are giving their patients more advice about what products to use to treat or prevent certain conditions. This means that shoppers are getting more condition-aware and therefore are choosing more specialist paste over everyday paste.
What's next?
Innovation is a great driver of this category. What you can expect to see are more products with scientific claims, products that repair your teeth, treat your gums or remineralise your enamel.
What's new? Three new oral care products which treat oral health conditions
Sensodyne Pronamel
Launch date: June 2019
Rsp: £5
Stories about dodgy, enamel-damaging teeth whitening kits have been hitting the headlines and consumers are becoming more aware of taking care of their enamel. Hoping to combat concerns around enamel erosion, this new launch from Sensodyne locks in minerals to prevent acid wear and actively repair weakened enamel.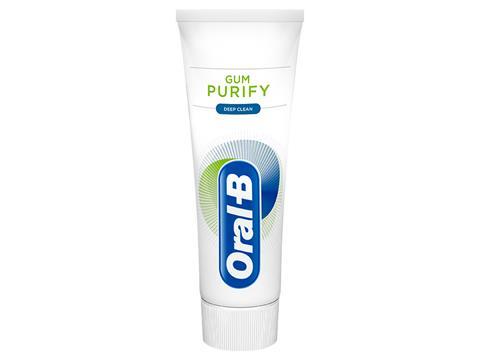 Oral B Gum Purify
Launch date: July 2019
Rsp: £5
This paste works up into a gentle, cooling foam to clean and soothe hard-to-access areas of the mouth. Containing stannous flouride, as opposed to sodium flouride, the formula protects gums by neutralising plaque hiding along the gumline.

Corsodyl Complete Care
Launch date: January 2019
Rsp: £4.50
Made with higher levels of sodium bicarbonate, Corsodyl claims this product removed four times more plaque than a regular toothpaste. It also promises to stop and prevent bleeding gums, reduce gum inflammation, improve the seal between gums and teeth and strengthen enamel.