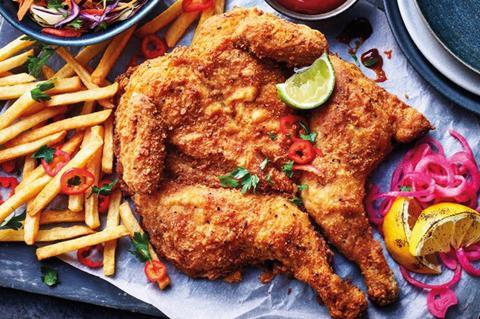 As slogans go, M&S's 'never the same again' (with the now obligatory hashtag) may just be the most miserable of this pandemic. It's so defeatist. It's not like M&S isn't still innovating, with its summer range coming on stream, a non-Christmas version of the snow-globe gin, its five food boxes, and a fakeaway whole southern fried chicken. And it won't be long before M&S unveils a heap of new NPD to match Waitrose products on the Ocado platform.
NPD hasn't stopped at Waitrose either. After last month's 70-strong summer range, this week it relaunched the Waitrose Essential range. And interestingly it's not let the coronavirus alter its focus on health (timely) or sustainability (less of a focus now for many).

NPD plans are also being dusted down on the branded side too. An early casualty of the lockdown, there's been a notable uptick in recent weeks. And again, while there's been much talk of customers returning to the tried and trusted, the highly anticipated UK launch of hard seltzer brand White Claw - following BrewDog's earlier move into the category, with Two Brooks hard on its heels - is just one example proving retailers and suppliers believe these are long-term trends rather than 'fads'. Similarly Pernod Ricard is taking the pink gin trend into low & no with Pink Ceder's, following Beavertown's launch of the 2.8% Nanobot. And while it comes as no surprise that Charlie Bigham has extended its range of ready meals, on the plant-based side Pep Kitchen has launched a range of DTC vegan ready meals this week.

It's proof that, despite the challenge of remote working, the disruption from stockpiling, and concerns over relevance in these extraordinary times, retailers and suppliers are determined to keep calm and carry on with their NPD plans where they possibly can. Indeed, in some cases NPD plans have actually been brought forward to fill gaps.

That makes infinite sense, with a still captive audience for the most part - despite the PM's wishy-washy roadmap out of lockdown. The recent launch of Doritos Stax, for example, is tailor-made for these times. On the other hand, a lot of NPD won't enjoy the same level of success it might have been expected to.

In the current climate, it's true that shopping trips are bigger, but they're less frequent, quicker, and more efficient: research from Amoobi in the Europe and the US shows a 49% increase in spend per minute, and these super-efficient shopping trips don't leave much space for discovery, promotions or impulse. I also suspect it's the desire to just grab and go (as opposed to health and hygiene concerns, as has been claimed) behind renewed shopper preference for plastic packaging over loose and unpacked items.

It behooves grocers therefore to find new ways to respond to shopper missions that are being lost in the melee, like the new Morrisons 'speedy boarding passes' for food-to-go shoppers. Creating the right adjacencies and using gondola ends to curate and promote innovation will also be important for shops to remain interesting and to provide much-needed entertainment. Because while value and promotions will be increasingly important, to abandon innovation is truly to abandon hope.