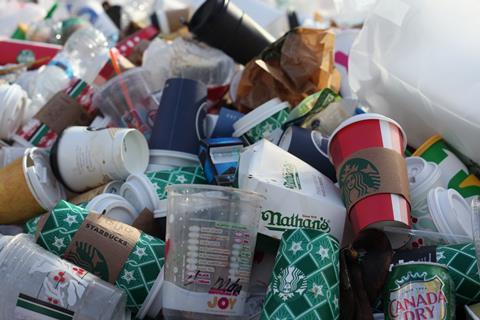 For supermarkets, Christmas hasn't really started yet. You can probably blame the general election for that. And there's been so much wasted effort, with planning for not one but two no-deal Brexits.
It's not just trade that's sluggish. Progress in tackling the plastic blight is glacial. This week a Greenpeace survey reported use of plastic in supermarkets has actually increased this year, with the finger pointing firmly at branded manufacturers.
It's a shameful situation – perfectly encapsulated in the boxes of individually wrapped Godiva chocolates generously given out at the recent GroceryAid Sporting Lunch.
To be fair, some manufacturers have moved to plastic-free. But that isn't always possible. So some are switching (or promising to switch) to recycled, recyclable or compostable options. Using less plastic should still be the first aim, however, to end what Tesco CEO Dave Lewis has called "the art of packaging air" – as KP has done with its smaller, thinner Tyrrells crisp packs. Tesco's challenge has since been followed up by Asda and this week Iceland.
Not that supermarkets are exactly blame-free. True, they've made a better fist of tackling black plastic than manufacturers. And they are miles ahead on black plastic than wholesalers. But the number of bags for life given out has increased a shocking 29.5% this year. Trials of plastic-free produce remain just that, while loose fruit & veg is regularly more expensive.
What's also disappointing is that the same lack of progress is evident on other key issues. On obesity, despite the best efforts of government, NGOs, lobby groups – and significant efforts by some in the industry – an OECD report earlier this month found Britain was now the fattest nation in western Europe, and with rates rising faster than any other developed nation.
Progress has also ground to a halt in reducing food waste: a Wrap report earlier this month found a million tonnes of food had been wasted due to industry inertia over labelling.
The obvious response is to blame Brexit, and a tough market in which everyone is working frantically just to stand still. But sometimes the industry is hiding behind convenient excuses.
Talking of that Greenpeace report, Aldi found itself unfairly in the doghouse this week after it was fingered for selling more plastic water bottles than any other retailer – 447 million to be precise.
The Sunday Times obviously didn't look too hard at the figures, considering they showed Aldi massively outselling Tesco. The figures resulted from Aldi supplying the figure for all plastic bottles, not just water. But what is the key lesson here? Greenpeace spreading inaccuracies? Journalists not checking facts? Truth is, until the industry gets its act together and begins reporting plastic use transparently, using established metrics that everyone can relate to (and matter), it is leaving itself open to the likes of Greenpeace to fill the void.
It's no good blaming campaigners for raising awareness when companies have been too slow to explain what they are doing. There are echoes of the battle for transparency on food waste, where, even now, Feedback campaigners despair that so many companies are still holding back.