As kombucha hits the big time, small players have united over a claimed lack of authenticity among larger suppliers now entering the fray. What impact will that have, if any?
A fermented, vinegary tea full of bacteria. It doesn't exactly scream mainstream potential. Yet, decades after first arriving in Britain's upmarket whole foods and independent grocery aisles, kombucha is rapidly expanding beyond its niche.
Take-home sales of kombucha have grown 92% over the past year to reach £8.4m [Kantar 52 w/e 8 August 2021]. That comes with a 198.6% rise in volumes, while penetration is up 100.3%.
This growth is reflected in the mind-boggling range of suppliers now on the market. These range from huge corporates like PepsiCo with its KeVita brand, to Antipodean brands like Lo Bros and Nexba – which are turning over millions after three and two years on the market respectively – all the way through to brands from the likes of Jonny Wilkinson (No 1 Living) and Hugh Fearnley-Whittingstall (River Cottage).
But not everyone is pleased with this proliferation: a group of brewers have banded together in a bid to combat mass-produced brands that they claim are kombucha "in name only" because they use sweeteners or pasteurise their drinks.
So as sales of 'booch' go bonkers, do the 'Real Kombucha Revolution' consortium's claims hold weight, or are they just railing against the inevitable as the category hits the big time?
First things first: over the past year a clear hierarchy of category leaders has formed, with five brands currently standing head and shoulders above the rest. Remedy Kombucha has the highest retail value of all, with sales of £2.44m. It is followed by Equinox, with sales of £2.06m, Wilkinson's No 1 Living brand, founded by the rugby star in 2018, with sales of £2.03m, Lo Bros (£1.95m) and Nexba (£1.89m) [NielsenIQ 52 w/e 11 September 2021].
What's more, all five made at least double-digit value gains over the past year, growing 16%, 36%, 27%, 45% and 300% respectively. Many are convinced these gains are a bellwether of great things to come.
"There's huge growth and it's great to see penetration increasing," says Remedy Drinks UK GM Anna Dominey. "If we step back from the UK and look at other markets where it is more developed, it's nowhere near hitting mainstream and there's still massive headroom." She expects the category to hit £250m in the UK within the next five years.
There are arguably comparisons to be drawn with kefir, which has similarly grown beyond its niche origins. Both kefir and kombucha are the product of fermentation and have been made in kitchens across the world for hundreds of years. They are now benefiting from the booming gut health trend.
"Both categories are tapping into the increased interest in gut health with products that have existed for hundreds of years and really are very traditional," says Dominey.
Kombucha has particular potential, she says, because "it's such an easy swap". "Most health propositions involve a new habit or something to incorporate into your life, but you can just have one of these instead of a soft drink."
Kombucha is also playing a unique role in the low & non-alcoholic drinks explosion in the UK – setting it apart from the US and Australia, where it generally isn't seen as a replacement for alcohol.
"With categories that don't have a definition in law, broadly anything goes"
Its uptake among teetotallers and those looking to moderate comes from "the complexity of the flavour notes", says Dominey. "If you're choosing to move away from alcohol in the evening you want to think that you're not compromising."
Further aiding the category's growth is that prices are falling significantly. The average price of kombucha has dropped more than a third (35.6%) to £3.96 per litre. That's a massive £2.19 cheaper than the prior period [Kantar].
This correlates with a swathe of producers switching away from the glass bottles that have become synonymous with the category into cans. "Brands coming in cans is a big driver [of prices going down] – because there's only a certain price you can sell a can for," says one industry source.
This shift has partially been inspired by the craft beer boom, which turned the can from a commodity format into an attractive, more upmarket proposition. High-end retailers are also keen on cans, as they are more easily recyclable and carry a lower carbon footprint – something that plays well with their shoppers. "They're not saying that they won't take bottles, but they are steering their suppliers that way," says the source.
This influx of cheaper, more practical formats all point to a coming kombucha explosion. But some worry kombucha's mainstream makeover is taking the drink away from its core principles.
Enter the recently formed Real Kombucha Revolution, a consortium of self-proclaimed craft kombucha brewers, including Equinox, Go, Nutra, Boo Chi and Twisted. They have a bone to pick with bigger players, who they argue are forcing "authentic" brands like themselves out of the scene.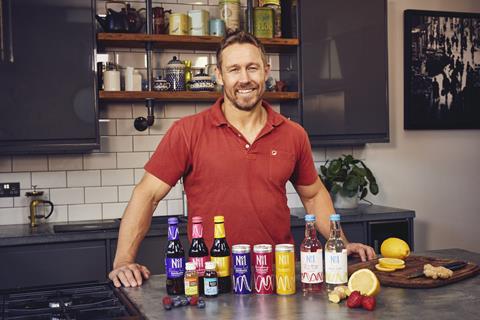 Kombucha: the drink with star power
You'd be hard-pressed to find a drink that counts so many superstars among its fans: the likes of Kourtney Kardashian, Kirsten Dunst, Lindsay Lohan and Madonna are all reportedly fans of the 'booch'.
One of the UK's biggest retail kombucha brands – No 1 Living – is even owned by a celebrity. It was founded by former rugby star Jonny Wilkinson in 2018, when he launched a trio of flavours – Ginger & Turmeric, Passionfruit & Goji, and Raspberry – into Sainsbury's.
Wilkinson has since expanded the brand to have a broader focus on gut health, with the addition of a selection of kombucha health shots and kefir waters in 2020.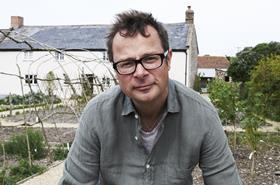 The rugby star is not the only celeb hoping to make a dent in the market. Late September 2020 saw the entrance of celebrity chef and food writer Hugh Fearnley-Whittingstall into the category.
Fearnley-Whittingstall teamed up with Equinox kombucha (currently the UK's second-largest brand, with value sales of £2.06m) to create a River Cottage range of four flavours: Garden, Hedge, Meadow and Orchard. These were billed as being inspired by "the UK's natural cultivation environments and key ingredients". The brand is set to roll out a further two kombuchas over the coming months.
At the time of launch, Fearnley-Whittingstall said he hoped the range would help broaden the appeal of the category and increase shoppers' understanding of the drink, as well as boosting its prominence as an alternative to fizzy drinks and alcohol.
They may be very different characters, but like many other advocates of the drink, Wilkinson and Fearnley-Whittingstall both began brewing kombucha alone at home for years before seeing the potential for the drink in retail.
That's the funny thing about kombucha, says one industry source: "It hasn't always been this cool drink – if you're Russian, for instance, you'd find it hilarious because your granny probably made it in a tub."
The movement is headed by Gary Leigh, founder of Go Kombucha. He argues some shortcuts used for mass production, such as pasteurisation and the addition of sweeteners, mean many brands hitting shelves are "kombucha in name only".
Larger companies are "seeing it as an opportunity and a growing sector, but doing it in a completely industrialised, lab-engineered way" he says. "They don't have time to ferment, some of them just use an instant mix, which totally goes against the grain of what kombucha is," he adds. "Some make the kombucha, pasteurise it, kill off all the natural bacteria and add their own in."
For Leigh, the only way is the traditional method: tea, water, sugar and kombucha culture, kept refrigerated to prevent further fermentation, with yeast sediment in the base of the bottle.
The consortium's issue isn't necessarily that these products exist, but that they should be up front about their production methods. "We're not anti these brands," stresses Leigh. "We just want to create a fair, level playing field for all of us to exist." To ensure that happens, he believes brands pasteurising their kombuchas or using sweeteners like stevia should be forced to flag this up on packs.
Hamish Renton, MD of food and drink consultancy HRA Global, can see the logic. "[Big suppliers] take a product that's completely natural, deconstruct it and rebuild it again using the cheapest raw materials and humongous scale to get the cost down and the margin up so they can tip a load of cash into branding," he says. "That's the model."
The problem with forcing these players to add on-pack caveats, says Renton, is that "with categories that don't have a definition in law, broadly anything goes. So here we are again – it's the same argument: 'We do it authentically, we do it craft, we buy expensive raw materials, it takes time and we don't produce a lot of it'."
Sweeteners debate
Another sticking point for Leigh and co is the use of natural sweeteners like stevia and erythritol, commonly used together in some kombucha brands.
That's because they have been linked to gut irritation: a 2020 study from Ben-Gurion University of the Negev in Israel, for instance, found stevia could have "an inhibitory effect on bacterial communication" – though with no observable bactericidal effect. The study's lead author said it indicated that more research was needed before the food industry replaced sugar completely with stevia and its extracts.
Using anything even remotely linked to gut irritation, Leigh argues, goes against the founding principle of kombucha: to produce a drink that is wholly positive for the gut. His scorn is not solely reserved for suppliers here. Leigh says supermarkets should also ensure labels are compliant. "The sector is growing and growing but it's under false pretences," he claims. "It has to be nipped in the bud or it's going to be a major scandal when the truth dawns. There's going to be a lot of unhappy people – there won't be any of us left."
The principle of better labelling is supported by Remedy Drinks' Dominey. "The thing that shoppers are looking for is live cultures that come from a natural fermentation process. Authenticity is important in kombucha and giving the shoppers the information is critical.
"If I walk into a shop, being able to understand what it is that I'm buying is important. We shout a lot about being live and unpasteurised because we think that matters to the people who drink Remedy."
She doesn't agree that adding sweeteners like stevia is a cardinal sin, however. "It's a plant-based, natural sweetener and it's up to shoppers to make their own mind up – we're clear and transparent about what we use." In fact, Remedy conducted research recently and "the fact that it doesn't contain any sugar was a key reason [for purchase]".
Indeed, adds Renton: "Sitting over this whole debate is – even a bad kombucha beats a [full-sugar] Coke."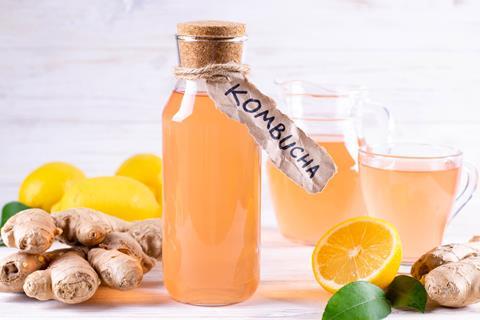 Ultimately, though, it may be tricky for big and small players to co-exist. Leigh argues bigger suppliers are pushing smaller, more "authentic" brands like his out of retailers with tactics such as offering free shelf-fill for months in return for listings. "As a result, traditional brewers and brands have been edged off."
For that reason, many in the industry agree the consortium is necessary to preserve the authenticity of the drink in the face of growing corporate interest.
But others are less convinced by Leigh's aims. As has been seen in countless other categories, such as craft beer and 'real bread', processes are inevitably simplified to make way for volume and efficiency as interest grows and trends are adopted by mainstream retail. "It gives me a déjà vu to two or three years ago, when all the artisan sourdough producers were saying big suppliers were just tipping vinegar into white loaves and calling it sourdough," says Renton.
"I have sympathy for the little guys," he adds. "But ultimately there's not much they can do unless there's demand from the shopper end. Retailers are not in the business of picking a category they think is really nice and propagating it. They don't really care what sells, they just care that it sells – they're pretty dispassionate."
Plus, our source argues the proliferation of more mainstream brands won't necessarily be bad news for smaller suppliers.
"I don't think big boys are a worry. They will come in and spend a lot of money on getting people drinking kombucha and marketing it outside of 'Planet Hackney'."
In other words, the big boys could lift all the little ships too.