What's been your best move this year?
"The best move for The Meatless Farm this year has been our launch with Whole Foods in the United States.
"We were very fortunate to get a contract for national distribution and that has been such a game changer for our company. This year we've also secured an equity deal with Channel 4. We're very happy to work with them, they're a great TV network and have given us great support as well and we're obviously proud to have them as shareholders of our business.
"We've been very fortunate this year to get some very strong people on board and one them has been a recent hire of a new CMO that came from a role in Coca Cola, a senior role there who's now leading our global marketing team."
What would you have done differently?
"Looking and reflecting a little bit back on 2019, there's lots of things you always want to do better and improve but probably the one that sticks out to me is I would've launched our sausages earlier. They have been tremendously popular and a very very good product for us from a retail perspective."
What's the plan for 2020?
"Going forward, there's a lot happening at The Meatless Farm.
"We've been fortunate to be a first mover in Britain have established ourselves as a British powerhouse of plant-based meat alternatives. Now, the time is to expand. We're expanding into Europe, were expanding into America, into the Middle East.
"Another part of looking forward into 2020 is to focus more on the health aspects of changing from a predominantly meat orientated diet to a plant-based diet and to communicate better to the general public and the consumers what the benefits are of this. Not only from an environmental point of view but also from a personal health point of view and, obviously, from an animal welfare point of view."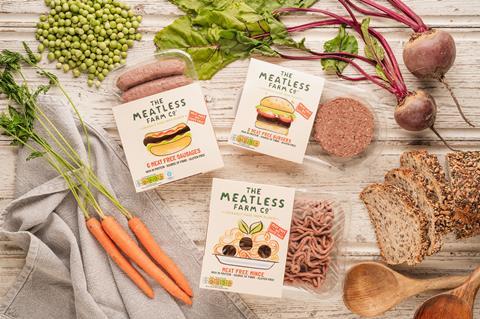 The Meatless Farm Co range
The Meatless Farm Co products are high in protein, a source of fibre, made from natural ingredients, wheat and gluten free, and vegan friendly. All products are made using a blend of pea, rice, soya protein and a unique spice mix making them delicious and easy to incorporate into any food occasion.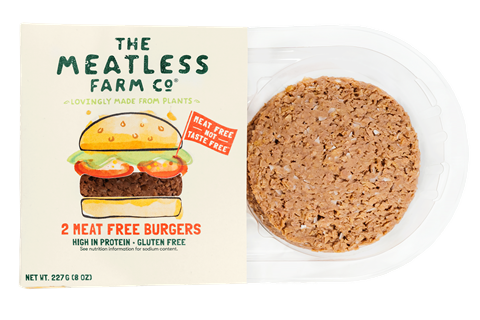 Fresh plant-based burgers
Rsp: £2.50
By focussing on taste, texture and health, The Meatless Farm Co has created a range of products made by a team of chefs from the highest quality plant-based ingredients. Every ingredient that goes into the fresh plant-based burgers is natural, making them a delicious meat alternative that's perfect for summer barbeques or a mid-week meal.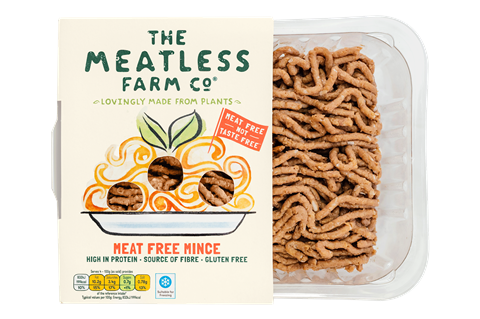 Fresh plant-based mince
Rsp: £3
The Meatless Farm Co has spent over two years working on and perfecting their plant-based recipes to create fresh products that taste great. The plant-based mince cooks just like beef mince making it easy to break away from meat and incorporate meat alternatives into everyday dishes.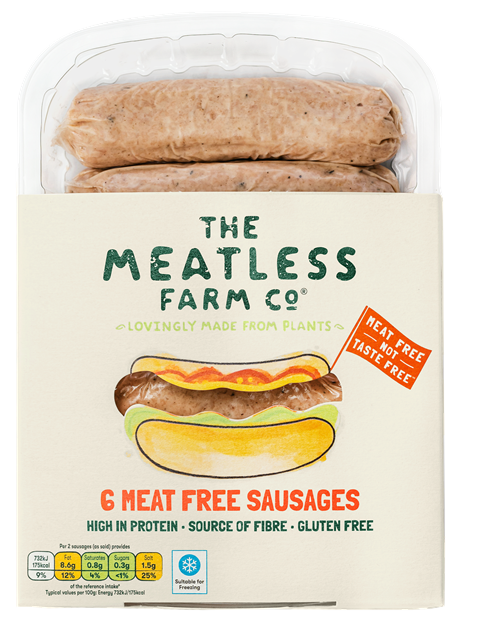 Fresh plant-based sausages
Rsp: £2.50
The newest in the range, The Meatless Farm Co sausages have proven to be extremely popular. By providing a plant-based alternative to a national favourite, consumers are easily able to reduce their meat intake yet still create tasty dishes the whole family will love.