"Do you know Claudia? If not, I suppose I could just leave her order in the pub for her to collect later."
The local pub is unlikely to be anyone's designated safe space for missed deliveries, but Ella Shone, 32, is creating a community business based on trust, word of mouth and old-fashioned neighbourliness. Indeed, neighbourhood WhatsApp groups are where many of her customers first heard about the TopUp Truck.
Shone's fledgling enterprise has grown from an idea to employing four members of staff in less than a year based on those principles.
The TopUp Truck trundles the streets of north London, parking up on the streets near its customers' homes at pre-arranged times for anywhere from a few minutes to a couple of hours. Then, out come local residents to fill their own containers with goods from the former milk float.
Due to the weight of carrying your own glass jars and plastic tubs, refill shops are often necessarily weightier than those where goods come pre-packed in single-use plastic. In the trendy areas of Hackney and Stoke Newington, few have cars to transport such shops, so a truck that comes to customers has been well received.
Covid-19, sustainability and community
Shone had been in food for five years before Covid-19 arrived. When it did, the former commercial manager at Rubies in the Rubble found herself on furlough.
From her time at Rubies, which makes condiments from food that would otherwise go to waste, Shone had plenty of experience in a sustainable startup. And now she had time to contemplate the other aspects of waste in the fmcg sector.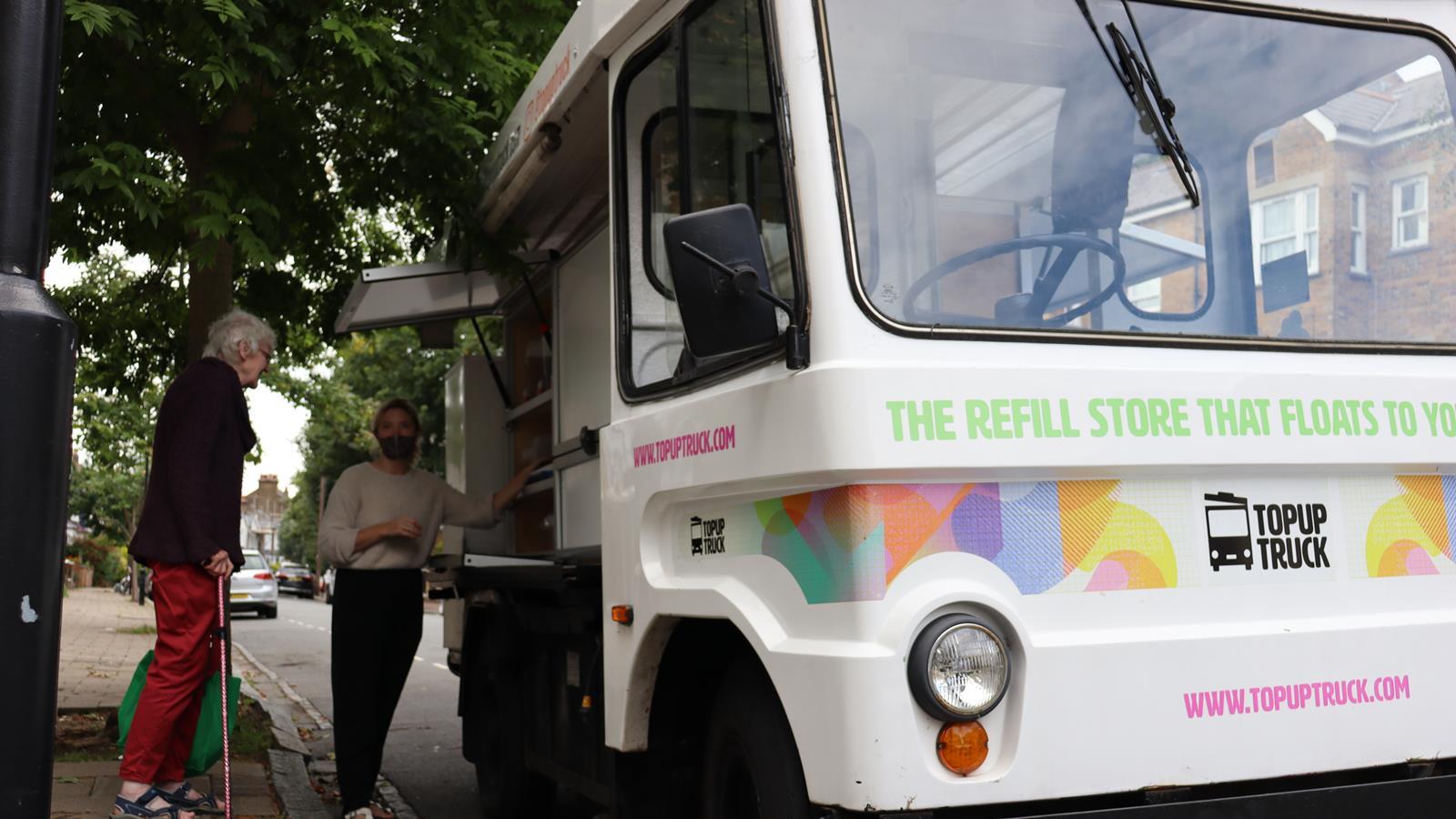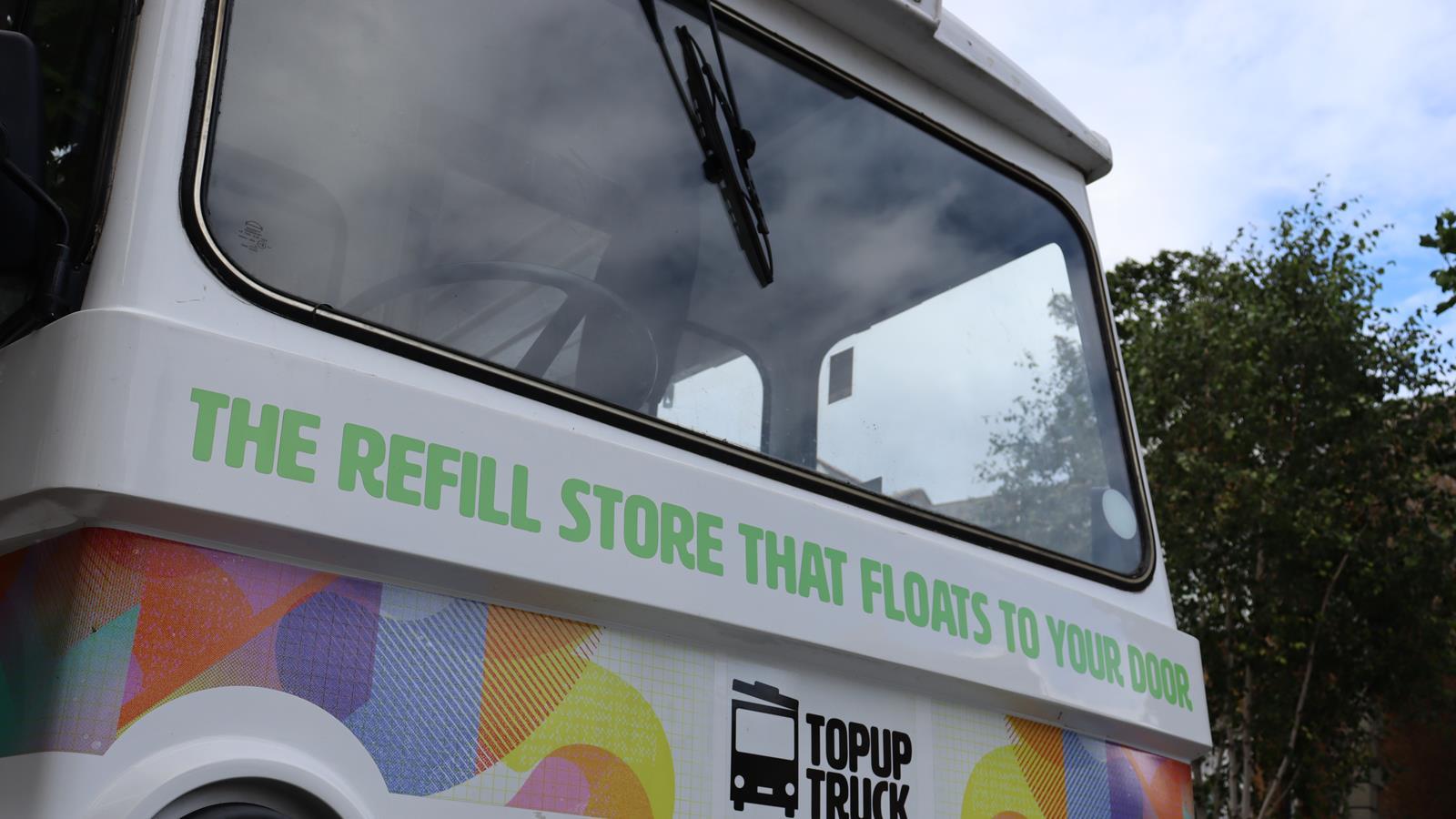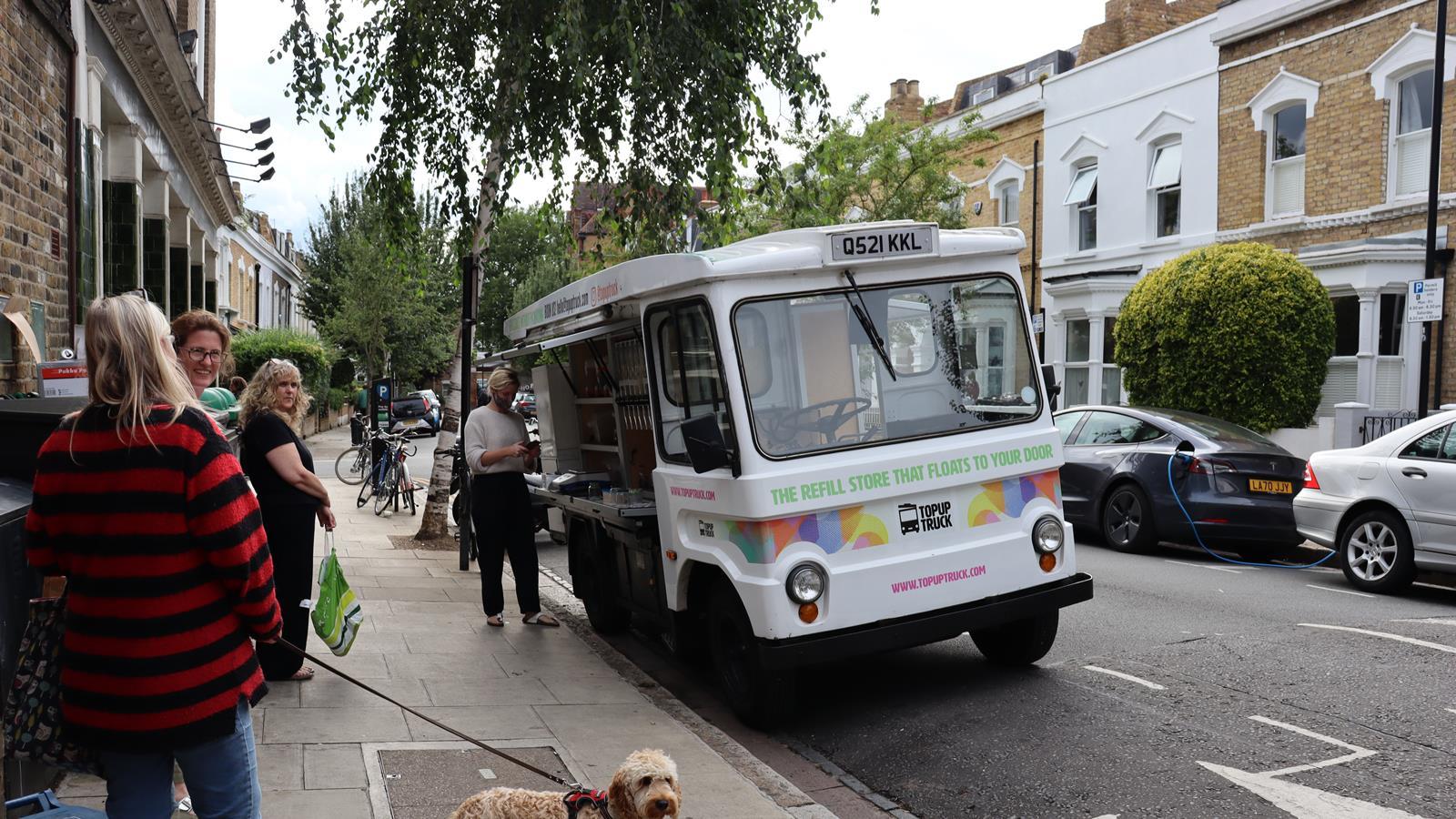 Customers can book the truck to come to their street online or simply stop to pick a few things up if they spot it while passing
Locals have become vocal supporters of the truck, with some posting times it will be in the vicinity on their neighbourhood WhatsApp groups
"That got me thinking about packaging waste," Shone tells The Grocer. "It's just such a design flaw, the way we're tearing through plastic.
"I had a few ideas about how we could eliminate plastic waste from the supply chain buzzing around my head and combined with the fact that in the pandemic everyone was deprived of any sort of social interaction, I thought it would be really nice to do something that was both to do with plastic reduction but also a community experience."
After three months developing the idea, Shone bought a vehicle with money from her own pocket. The electric Smiths Cabac is a former milk float, which first took to the roads in 2000. It was gutted, rebranded as the TopUp Truck and stocked with 150 products, with goods from cupboard staples such as rice, confectionery and flour to cleaning supplies, soap and toothpaste. Then, it took to the streets.
"It's just such a design flaw, the way we're tearing through plastic"
In its year of operation, Shone counts 24,636 pieces of plastic removed from the supply chain as a result. It has been adopted largely by women, who make up about 75% of its customer base, half of whom are regulars, she says.
Initially, it was open for business three days a week, and while on her own, Shone found that it "took five days to plan for those three days of operating".
Customers would give her an idea of their likely orders, and she would prepare the truck accordingly, ensuring containers were full and easily accessible. Initially, these were not the gravity dispensing tubes seen in many refill aisles, but large tubs from which goods could be scooped.
Crowdfunding
"The funds I had only took me so far, buying the truck, some scales and getting the basics in place," says Shone. Everything else remained fairly austere, and it was physically demanding to reguarly move and refill the tubs of stock.
So she launched a crowdfund in March, aiming to raise £10,000 to fund updates to the truck and the creation of an app.
The fund reached its target within three days and went on to raise more than £15,000 in total from backers including green energy suppliers Octopus and Bulb. Now, the truck has a new warehouse space, much-needed gravity dispensers for its most popular items and a name chosen by supporters: Tara.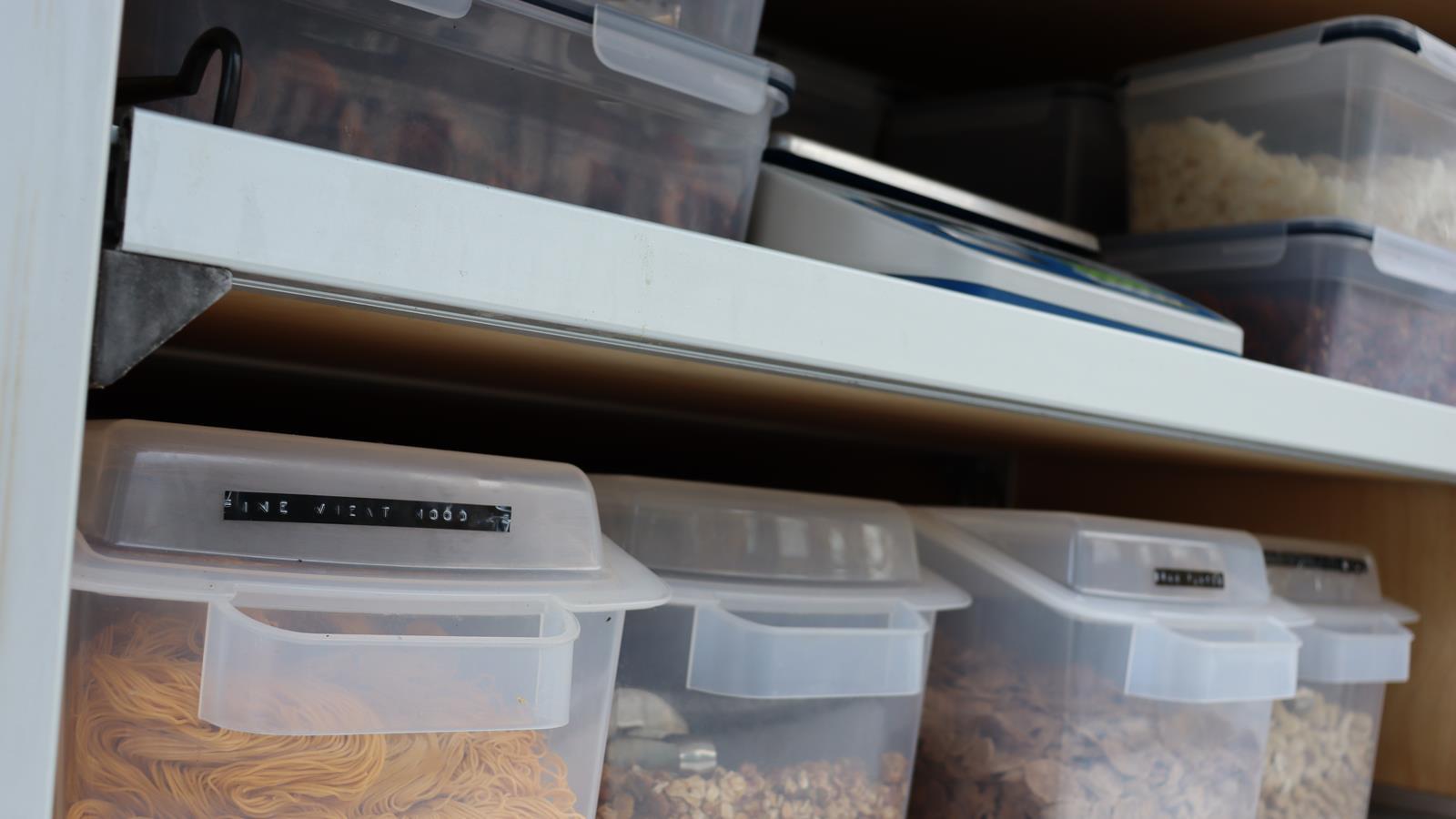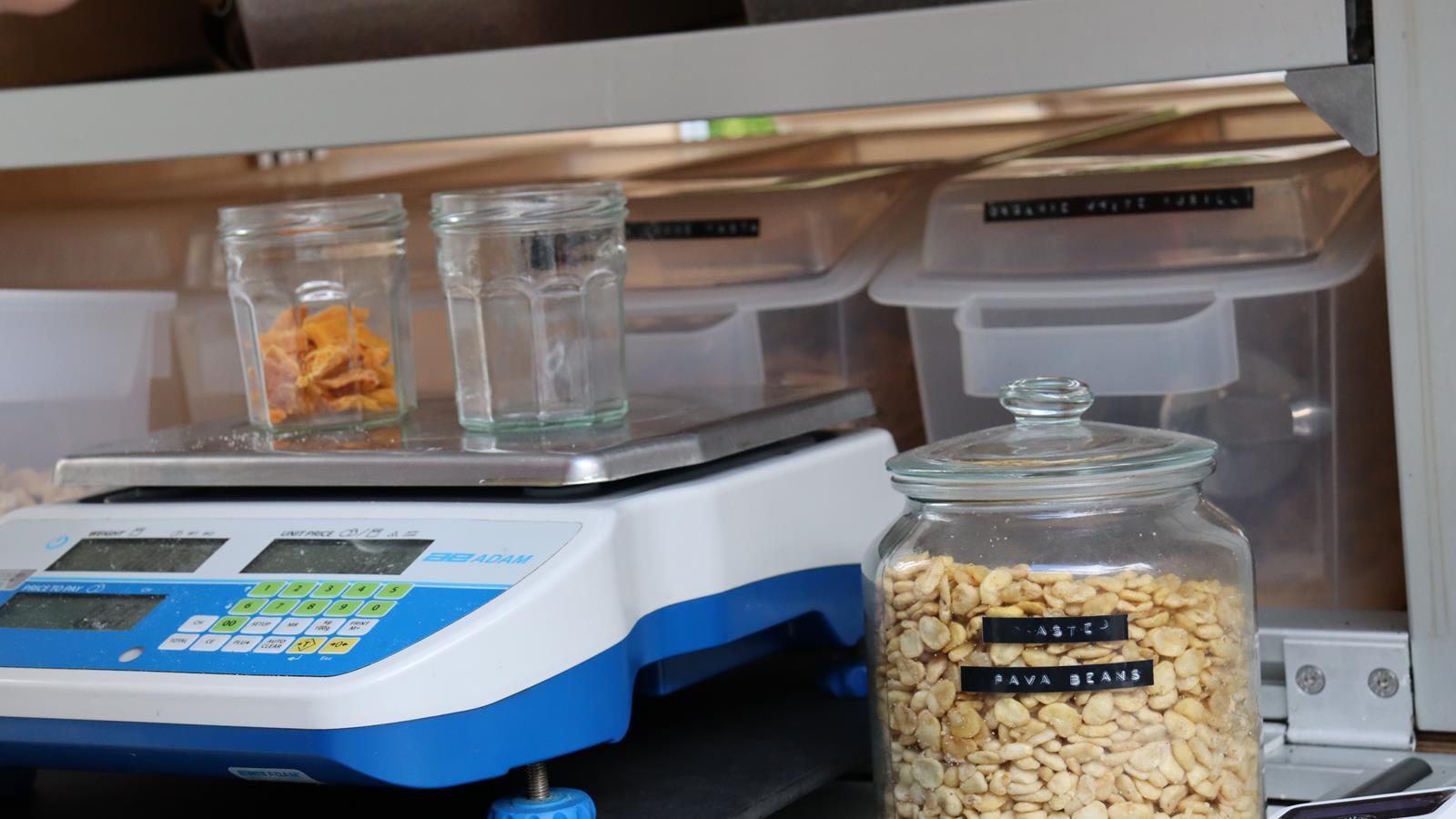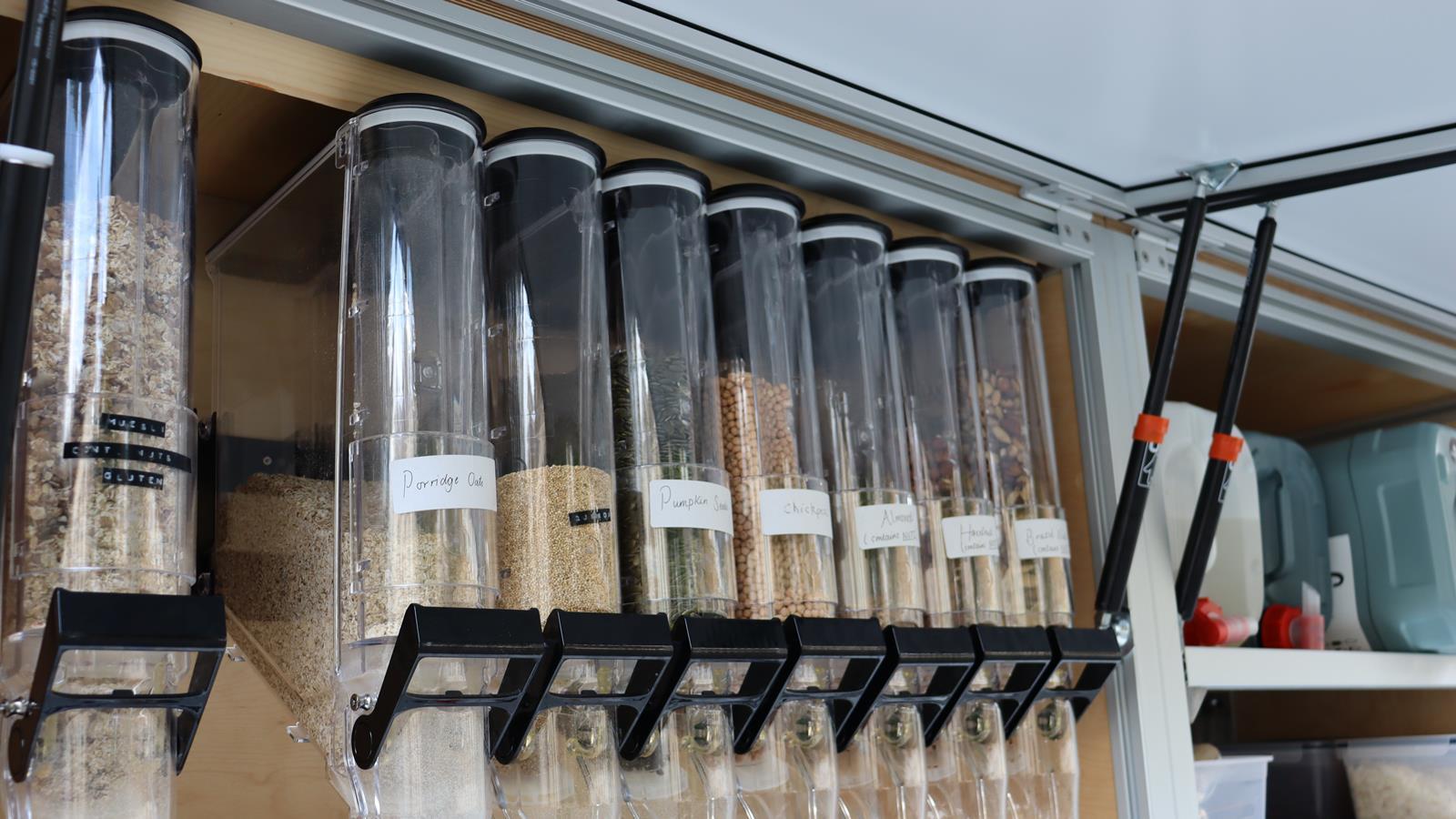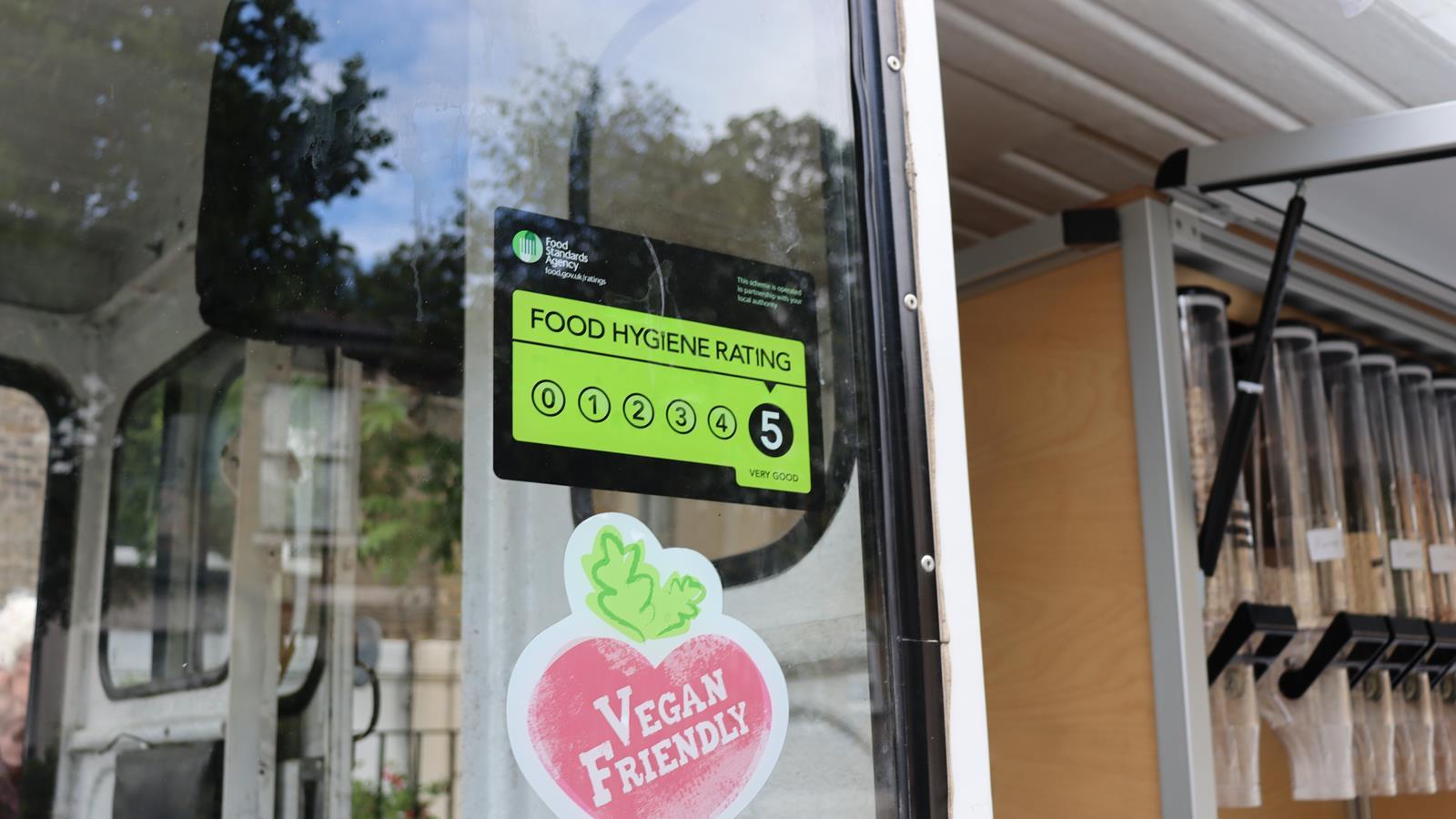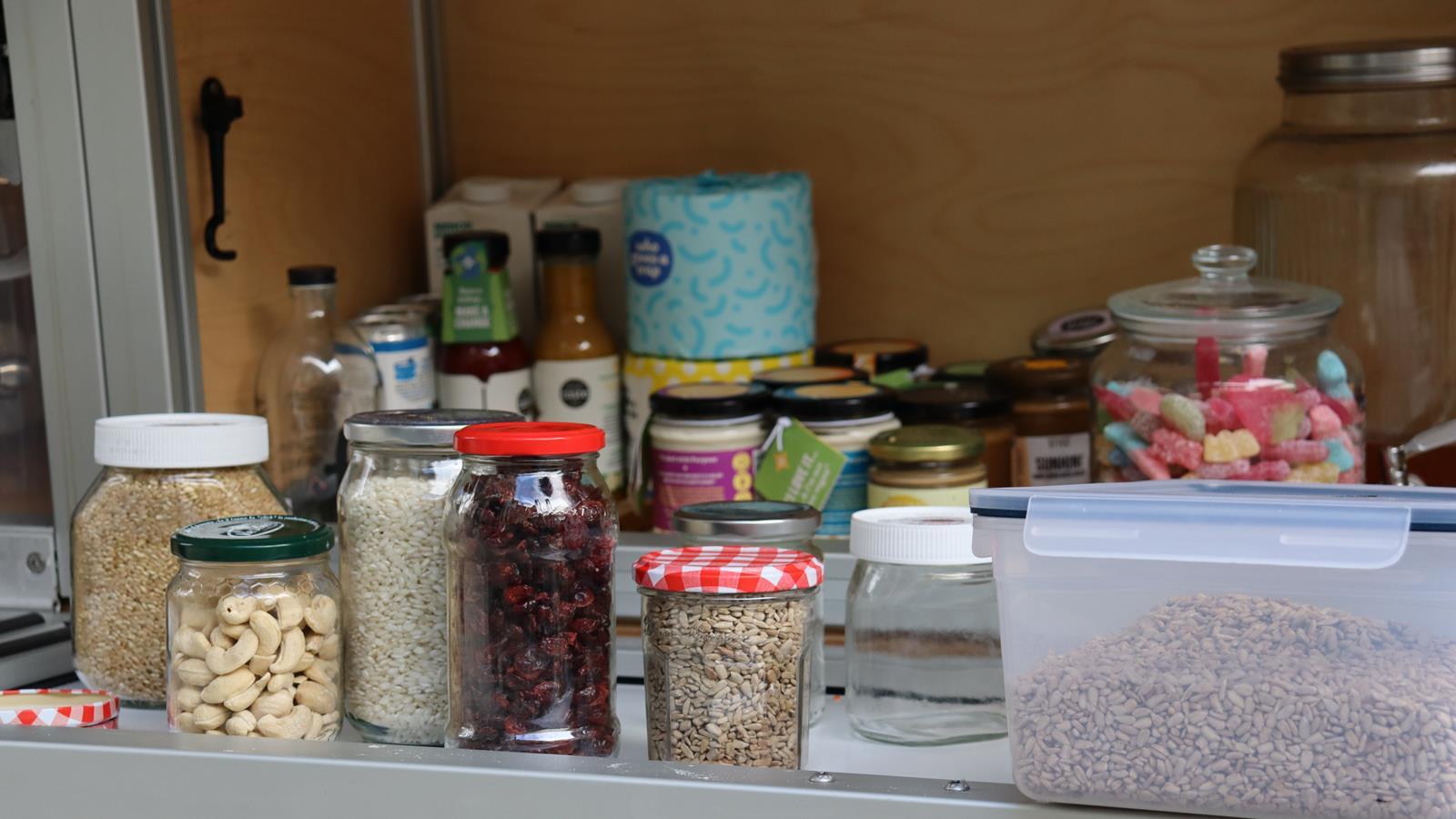 Prior to the crowdfund, Shone relied on tubs such as these to distribute produce
Shone's own funds paid for 'the basics' including the truck, initial set up costs and a set of scales to weigh out goods
Since the crowdfund, she has been able to invest in gravity dispensers for the most popular products
Jars have been donated to the Top Up Truck in case customers don't bring enough to transport their shop home
Since then, the truck has started operating five days a week, from Wednesday to Sunday, though Shone spends less time on the truck and more time business planning.
"There's so much that goes on in the background that we had to have an extra driver," she says.
"We've got four part-time staff, plus me. One of them is through the government Kickstarter programme, where we work with a young person who was on Universal Credit, and we have someone who does packing and someone who does admin."
With such swift expansion in the first year, Shone foresees more TopUp Trucks springing into action further afield.
"We've had a lot of interest, so provided everything goes well, we would like to get more trucks to cover other areas. Particularly during our crowdfund, we had interest from south London, from west London. So I hopefully we can spread it out and carry on increasing the impact."