Fast-growing food and beverage firms faced huge challenges during the pandemic, but while some have suffered many have thrived
In its 12 years of publication, the Fast 50 has taken in plenty of industry-changing forces, from the aftermath of a global financial crisis to the dramatic rise of the discounters and online grocery. But surely no period has been more disruptive and era-defining than the coronavirus pandemic.
Alantra's ranking of the 50 fastest-growing privately owned food and drink companies – based on two-year compound annual growth rates – doesn't fully reflect Covid's effect on the market due to the timing of published accounts. Yet the momentum many had built going into the pandemic stood them in great stead for the massive shift in consumer behaviour.
Gousto, for example, sits at the top of the Fast 50 with a two-year growth rate of 89%. That's likely to be even higher next year given the pandemic-related boost to meal kit services. Huel was similarly well positioned to take advantage of the appetite for DTC food and drink.
So how have the Fast 50 adapted to a year like no other?
The average overall growth across all companies has slipped back somewhat from the 30%-plus growth of 2020's list to 25%, but this is as much to do with The list itself reflects the growing maturity of the Fast 50 (with half of the top 10 now with revenues over £50m) as much as a wider slowdown in the booming SME food and drink space.
""For the most part the food industry has done a great job through the pandemic, maintaining fluidity in the supply chain. Some sectors managed to capitalise on the changing consumption patterns, however for those weighted towards foodservice or food to go it's been an uphill struggle."," says Alantra director Charles Lanceley.
It's an important point to bear in mind. The Fast 50 focuses on the best performers, and they largely held their own during Covid. But the closures of restaurants, bars, pubs and offices created a crisis totally outside the control of suppliers in these areas. "Businesses reliant on foodservice and restaurants were having to react very fast and decisively to even have a small chance of saving their business, especially in those early months," says Anthony Fletcher, former Graze CEO and now advisor with All Together, a group helping SME CEOs.
One of those was Dash Water, which remains among Alantra's 'ones to watch' despite 60% of the business being lost overnight with the closure of the out of home market, founder Alex Wright admits. Still, this is an example of how the best performers in the market managed to pivot successfully. Dash focused more heavily on cultivating its strong online presence and increasing back of store multipack volumes. Livia's, another 'one to watch', also replaced lost business via its own web shop.
Lanceley suggests SMEs may have been more successful than larger brands in these efforts – suggesting a £2m turnover business can move the needle on growth with a well-executed pivot to DTC far more effectively than larger competitors that have lost tens of millions in sales.
"Younger, smaller players have had to be very creative with their sales and marketing strategies, venturing into new channels in an effort to sustain historical volumes - we've seen some great examples of this," he says.
Ones to watch
Dash Water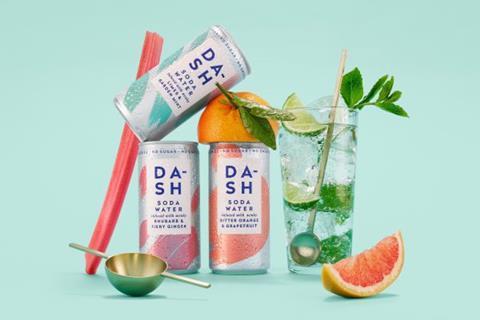 Dash grew its value by 113% last year to £2.1m. That's mainly down to pivoting to DTC after losing 60% of business when channels such as hospitality collapsed. It expects to double value again this year across the UK and 20 overseas markets.
Livia's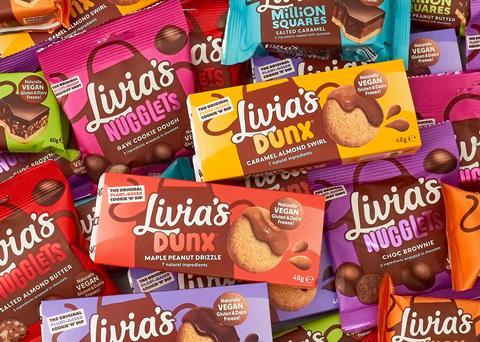 Like Dash, Livia's pivoted to DTC with the advent of the pandemic, which hurt the free-from snack brand's impulse and meal deal sales. Online sales rose strongly, while £2m raised via Seedrs provided financial firepower. "A strong post-Covid recovery plan" is in the offing, says founder Olivia Wollenberg.
Skinny Food Co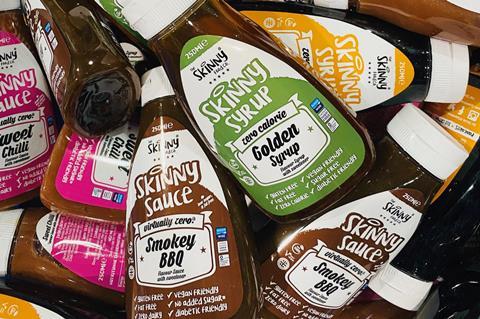 Launched in 2018 to tap into demand for healthier sauces and condiments, Skinny Food Co sold more than a million bottles of its zero-calorie syrups and virtually zero-calorie table sauces in its first year. The brand has a heavy online presence and offers subscription services. With almost 400% growth between years two and three and plans for international expansion, its growth prospects look strong.
In the mults, the situation was somewhat reversed. Retailers reducing SKU counts to ensure reliability of supply favoured larger suppliers, with fewer opportunities to gain space. "No supermarket was doing range reviews during the crisis, so that possibility of extra distribution or shelf space was pretty much closed off for many challenger brands," Lanceley says.
While many of those large enough to appear in the Fast 50 had "their foot in the door of the supermarkets", for younger, smaller players who had invested in a mainstream grocery strategy it was a "horrible time… so many fell by the wayside", says Lanceley.
St Pierre fell into the former camp. Founder Paul Baker says the retailers "were quick and very pragmatic about what consumers needed, to ensure the right products were on shelf and help manufacturers streamline, rationalise and focus". So its brands "came even more into vogue".
Even then, though, it wasn't all plain sailing. The pandemic put supply chains under unprecedented pressure. "There was a real scramble to resupply and get stocked up again," Baker says. "We pulled through, but it was touch and go. Anybody in the industry will say that supply chains have had a torrid 18 months."
Then there was the issue of cashflow. As of April, the UK government has handed businesses £62bn to furlough employees and safeguard jobs and £76bn across various loan schemes, such as Bounce Back loans, the Coronavirus Business Interruption Loan Scheme and its Future Fund programmes.
For food and drink SMEs using these loan schemes, there have been frustrations, with opaque processes, administrative hurdles and confusion over eligibility.
However, the furlough scheme, which has been extended to September, has been invaluable. "Furloughing has clearly been fundamental to support most businesses that are small scale," Lanceley says. Even those with booming sales have found they might not need their field sales team or national account managers during the crisis, he says, with "very few" not partaking to some extent.
Access to private capital has also been crucial and pleasingly available. Crowdfunding has continued to boom for SME food and drink brands since the crisis hit, while venture capital investments – both in seed financing and private equity investment for larger companies – was notably durable after an initial hiatus.
Deal volumes spiked 43% in the first quarter of 2021 with 34 private equity deals according to Grant Thornton – the highest on record – as consumer-focused funds flocked to high-growth food and drink businesses.
And there are still vast numbers of high growth assets around, as the Fast 50 shows. In fact, the global chaos has only intensified a number of existing trends in previous editions of the rankings.
Health-focused, plant-based, free-from and premium brands have all become regular features on the list – and Covid has only accelerated these trends. DTC players are now the norm too, with five dedicated players now in the list, including the top two. Given the evolution of online subscription services during the pandemic, that number only looks set to grow.
As we head into the grand reopening on 21 June there is significant optimism that life will quickly revert back towards normal – Greencore, for example, predicts foot to go will be back up to 95% of its previous level by September – and even those who have suffered have a chance to bounce back.
Essentially, the long-term prospects of growth brands don't seem to have dramatically altered in the same way they did in the last global financial crash. Adds Lanceley: "Covid had a severe short-term impact on cashflow, but the medium and long-term growth implications for suppliers are actually positive – this is nothing like the 08/09 recession".
As Alantra's report stresses, despite the vast challenges of the past year "this is an industry where dynamic businesses are continuing to thrive".
Movers and shakers
Gousto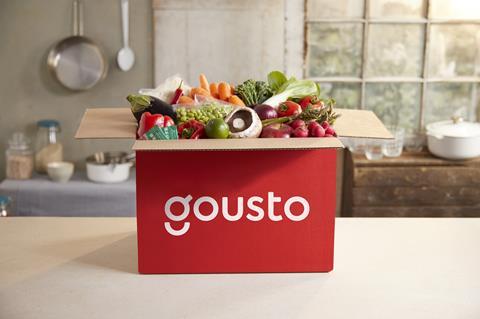 Gousto is the fastest-growing business in the Fast 50 by some margin. The recipe box brand's two-year compound annual growth rate of 89% ensured it took the top spot, 17 percentage points ahead of Smith & Brock – and those are 2019 figures.
Established in 2012, Gousto has played into consumer macrotrends to deliver rapid growth. By offering simple, healthy meals, while saving the consumer a trip to the supermarket, each box saves 7kg of carbon emissions, says founder Timo Boldt. "Health, sustainability and convenience are all accelerating trends with much further to run, and we are highly aligned to those ideas."
Covid-19 has only accelerated its growth. As Brits stayed home, and supermarket shopping became trickier, recipe box sales went through the roof. Although that effect is excluded from our data, it can be seen in Gousto's valuation of over $1bn (about £770m) during a fundraising round last autumn. It landed £25m of new equity from existing investors Perwyn Private Equity and BGF.
The company sold 53 million meals last year, but Boldt points out this accounted for just 0.2% of Brits' dinners. So he believes "it is still early days" for the business, and huge opportunities beckon. "Given the shifts we're seeing in the market, we're very optimistic about what lies ahead," he says.
It's now recruiting a larger workforce in preparation. Gousto expects to reach 2,000 employees later this year, having doubled its headcount in 2020 from 500 to 1,000.
Huel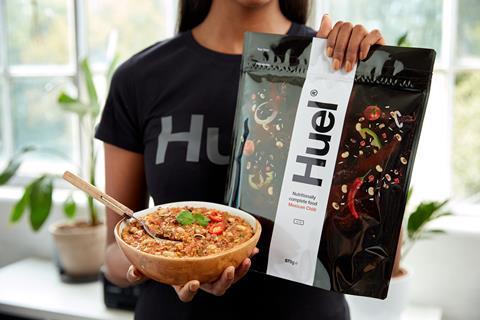 Direct-to-consumer brand Huel was the fastest grower in 2020's Fast 50. Now it's third on the list, having secured a healthy two-year compound annual growth rate of 67%.
That follows a string of product launches, such as Hot & Savoury instant meals, a Raspberry & White Chocolate snack bar, and reformulation of established products.
Growth has been further driven by extra listings in the likes of Sainsbury's, helping to triple distribution in recent months. Plus, expansion overseas is ongoing: Huel's 'nutritionally complete' powders, bars and drinks are sold in more than 100 countries.
At the start of 2020, the brand announced it had "reached the momentous milestone of 100 million meals sold worldwide".
Since Covid hit, sales have held up well, although Huel's convenience selling point has been somewhat undermined as workers have cooked at home rather than relying on Huel at their office desk for an easy alternative to a healthy meal.
CEO James McMaster is optimistic that sales will accelerate as lockdown eases.
"A faster-paced world post-pandemic will see the convenience category play catch-up, and that should help us," he said in February, as Huel unveiled annualised sales up 42.6% to £71.6m.
So six years on from being founded by Julian Hearn, Huel remains highly ambitious and hungry for more growth.
Smith & Brock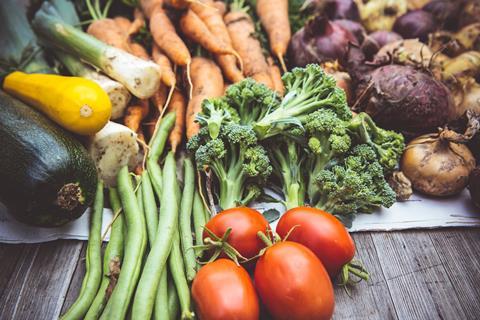 Launched in 2016 to serve hotels, pubs, restaurants and schools with fruit, veg and other staples, Smith & Brock had been on an impressive upwards trajectory. Its second place in this year's ranking reflects that.
However, that growth was achieved before Covid. Of all the businesses in this year's report, Smith & Brock was among the most affected. Large parts of its customer base had to shut shop in March 2020, and many remained closed for much of the year.
But founding brothers Joe and Nick Fowler managed to pivot successfully with the launch of Knock Knock By Smith & Brock, a home delivery service for consumers in London. Trading separately, the service has grown fast, buoyed at the start of the pandemic by supermarkets struggling to service huge online demand.
Strong Roots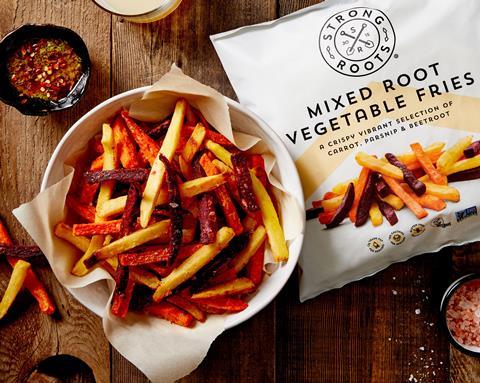 The power of plant-based is illustrated by Strong Roots's showing in the top five for the third year running.
The frozen veg brand is eyeing wholesale revenues of more than £78m globally by 2023, having been busy over the past year. It's launched NPD such as a range for kids and a vegan alternative to fish fingers, while axing plasticpackaging in three burger lines.
Plus, it doubled its presence in the US in September following a listing with Walmart. And this March, it achieved B Corp status, claiming to be the first Irish plant-based business to do so.
Strong Roots has "big plans for the UK market" says founder & CEO Samuel Dennigan. "We're excited for what's in the pipeline and continuing our hyper-growth."
Wyke Farms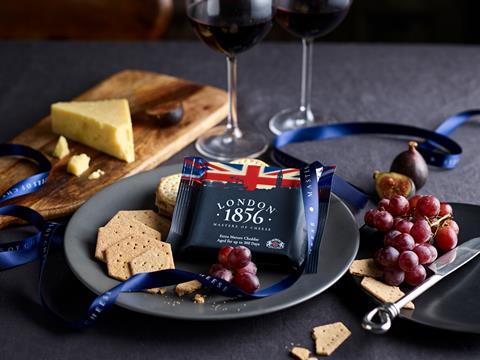 Wyke Farms hit its highest-ever turnover even before the pandemic, which proved a bonanza for cheesemakers with a retail presence.
The West Country supplier saw sales rise by 10% to £107.2m for the 12 months to 31 March 2020 – boosted by growth in exports to the EU and rest of the world.
Once lockdowns began, Wyke "struggled a bit in foodservice, particularly on the Continent" says MD Rich Clothier. Nevertheless, sales are "still growing strongly both in the UK and abroad", he adds, and Wyke expects to finish the latest financial year at around £120m. "I'm pleased that the growth is in the more mature cheeses. We're seeing more sales of our Ivy's Vintage Secret Recipe Cheddar."
Plus, "people are getting really tuned in to our sustainability message" he says. Indeed, Wyke has made several eco-friendly moves since January 2020. It's installed 288 solar panels at its Wincanton site, hit back at the government for imposing "punitive" rate rises on anaerobic digester operators, and joined Lidl in creating what the discounter claims will be the first carbon neutral cheddar to be listed in a UK supermarket.
Geary's Bakery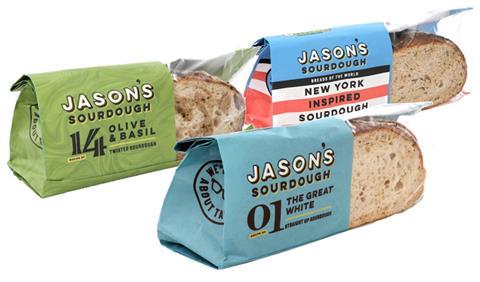 Demand for Geary's private label bakery goods went "through the roof" pre-Covid, but the pandemic wiped out 20% of its business overnight.
The instant loss of £1m in foodservice business saw sales edge down in 2020. However, it has driven incremental gains with new customers, both in own label and its Jason's Sourdough brand – now at M&S, Ocado and Asda.
Sales are expected to bounce back to a run-rate of about £40m this year, says marketing & sales director Barry Dawber.
Kendal Nutricare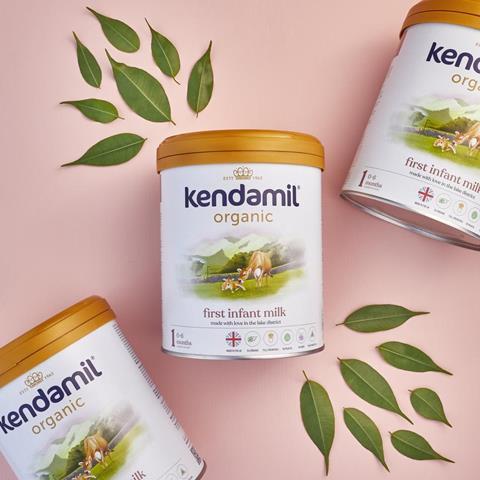 Baby formula brand Kendal Nutricare came into 2020 in rude health – with sales up double digits – but growth has been supercharged by a spike in demand.
With a significant chunk of its sales already online and an army of social media followers, the shift to online grocery has played directly into its hands.
And from a low retail base it has expanded distribution significantly this year, with new listings at Tesco and Boots.
Going against the plant-based grain, Kendal has carved its own niche by – unlike competitors – using dairy ingredients in its formula. "We use animal fats in our milk, rather than the vegetable fat that is standard, and it is a complete disruption," says founder Ross McMahon
Snaffling Pig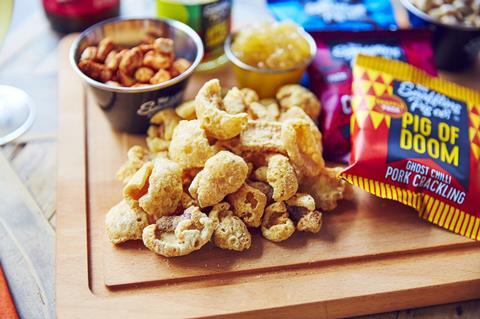 "This year, it feels like we've gone to war," says Snaffling Pig co-founder & CEO Nick Coleman (pictured). Clearly, the pork snack brand has fought hard: as pubs shut down and supermarkets prioritised staples, it's just marked its "best year so far", with revenue up 36% to £5.6m as Snaffling Pig focused on its DTC offer. "Being omnichannel came into its own," Coleman adds.
With an eye on £7m next year, the brand has gone into chilled with a foot-long sausage roll, and is planning lines such as sriracha-flavoured crackling. 'Welcome back' sampling aimed at office workers is also on the cards.
"We've doubled our workforce and it really feels like we've got the team we need for this next phase of growth," says Coleman. "Everything feels like it's moved up a gear."
St Pierre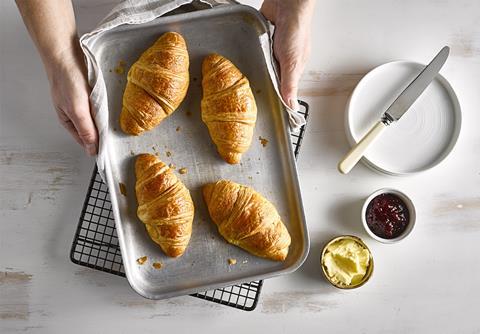 Branded bakery player St Pierre Groupe has been on an "extreme growth curve for the past five years", according to founder Paul Baker, with its prospects remaining undented by the pandemic.
St Pierre did find its newly launched food-to-go range rapidly scaled back by events outside its control, but its core premium brands – St Pierre, Baker Street and Paul Hollywood – all found themselves on the right side of consumer trends.
"During the pandemic our brands came even more into vogue as people have retreated to premium products," Baker says. "Many more consumers have tried our products when perhaps they wouldn't have done without the pandemic."
After the crash in 2008, the group focused on exports and building the largest brioche business in the US. That breadth helped it keep momentum during the pandemic.
Although supply chains were stretched – St Pierre imports from Continental Europe – the group coped by rationalising its ranges to meet the heavy retail demand.
"It's been a lottery and I have a lot of sympathy for businesses that have suffered, but it hasn't changed our strategy," says Baker, with the group targeting sales of £150m in 2021.
Notably, the group has recruited heavily to support this forecast growth. Having gone into the year with 34 staff, that figure now stands close to 80.