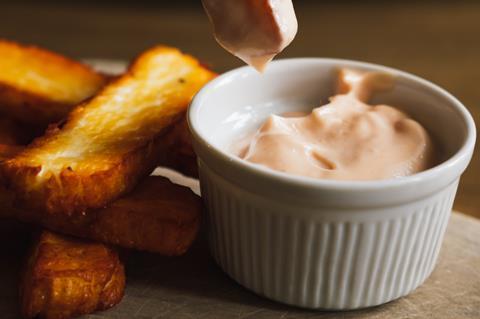 Kraft Heinz looks set to bring its Mayoracha table sauce to the UK.
The fmcg giant has applied to register the brand name as a trademark with the Intellectual Property Office under class 30, covering condiments and sauces.
The sauce, which is a combination of mayonnaise and sriracha, hit shelves in the US and Canada last year.
Heinz declined to comment when approached by The Grocer.
It comes as Heinz is making a concerted effort to ramp up its condiments offering with an NPD pipeline and plans to bolster its manufacturing capabilities.
In June, it unveiled plans to start making its ketchup, mayo and other sauces in the UK with a £140m investment into its manufacturing capabilities.
Heinz said it planned to create up to 50 new jobs with the investment into its Kitt Green factory, near Wigan, where its Beanz, soups and pasta ranges are currently made.
The move would see updated technology and equipment installed at the site, which was "the first of its kind across the Kraft Heinz network", it said.
It will be the biggest expansion of a Heinz manufacturing site outside the US in 20 years.
In August, it quietly launched a brand of Venezuelan-inspired, avocado-based hot sauces into Ocado, with a wider retail launch planned for 2022.
Called Kumana, the brand debuted with three flavours – Hot Original, Sriracha and Jalapeño (rsp: £4.50/371g).
They are vegan and contain a blend of hass avocados, chilli peppers, bell peppers, garlic and coriander.
The tinned foods and table sauces stalwart has also embarked on a major push to reinvigorate its Beanz brand with a new marketing campaign that focuses on the nutritional benefits of beans.
Called 'Beanz Meanz More', the campaign includes a TV advert which depicts an "everyday hero" on a mission to her nearest source of Heinz Baked Beanz after receiving a substitution in her food delivery.