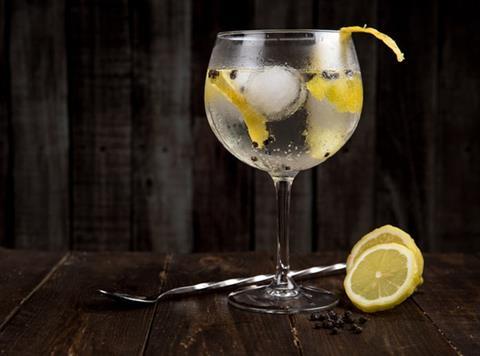 Can anything stop the runaway success of gin? If there's one takeaway from Nielsen's countdown of the 100 biggest alcohol brands in Britain, it's that sales are continuing to rise at a staggering pace.

Gordon's is a standout example, having increased sales by £63.4m over the past year (a 29.7% rise). Gordon's London Dry Gin alone was responsible for £22.2m of this figure, but the highly successful launch of Gordon's Premium Pink really propelled the brand forward, with £34.8m in sales. All this has enabled the brand to rise a further three ranks in the top 100 to number six, its highest position to date.

It's not just NPD that has fuelled the growth of gin. The three other gins in our top 100 countdown have moved up the rankings thanks to their core brands. Bombay has increased by £12.3m, moving two places up to number 34, with all the growth coming from Bombay Sapphire. It was also the core brand that drove the overall success of Greenall's, which increased sales by £10.5m and moved up 11 places to number 61 (though the flavoured Wild Berry variant has really accelerated in the latest year). Tanqueray gained the most places in gin, jumping 17 places to reach number 56, increasing sales by an enormous 50.7%, primarily through its Tanqueray London Dry and Tanqueray Number 10 variants.
In next year's ranking, I expect to see Hendrick's join the other gin brands in the top 100. With a continued push, Edinburgh Gin and Whitley Neill could also enter the listing for the first time. It's also important to keep an eye on the smaller, upcoming brands. In the past two years, the number of gin brands with annual sales of at least £100,000 has doubled from 53 to 106. There is a proliferation of gin, especially from smaller producers, and there's no sign of this stopping.

There are two key factors driving the incredible growth we're seeing in gin: firstly shoppers are buying more gin this year than they did last year and secondly, the price they're willing to pay has increased. Ordinarily, when new shoppers buy a product they tend to be cautious, buying a small quantity or a less expensive product. This is not the case with gin, where new buyers are prepared to spend more to get what they perceive to be a more premium product. Existing gin buyers, meanwhile, are trading up.

Nielsen's annual State of the Nation Survey showed that shoppers are still feeling the squeeze and are more conscious of the need to manage their household spend. With over half of shoppers reporting that they are saving money by switching to cheaper grocery brands, we might reasonably expect shoppers to cut back on their alcohol spend as well. But that's not happening.

Alcohol, at least for the moment, is a protected area of household budgets, and gin is a perfect example of shoppers wanting to save their money for treats. The growth of gin has been accelerating year on year, and even in the uncertain climate we are currently in, I envisage that gin will have another healthy year ahead.

Helen Stares is a client business partner at Nielsen