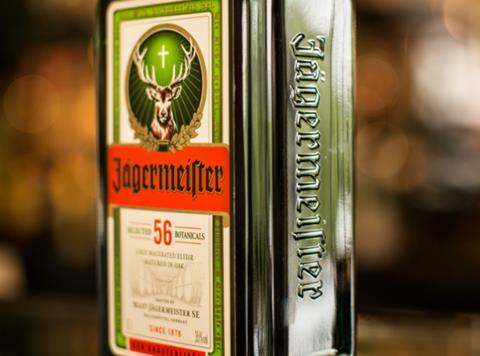 Jägermeister has been given its "most significant" overhaul in the herbal liqueur's 80-year history, backed by a £10m push.

The updated bottle will be introduced from the beginning of August, debuting in the UK followed by a global rollout throughout the rest of 2016, featuring a re-designed label with a more 'lifelike' stag in its natural woodland habitat, alongside new wording to emphasise the "craft and mystery" behind the tipple.

In addition, a bold 56 – the number of botanicals used in the production of Jägermeister – has been added, while the liqueur has been poured into an elongated and angular bottle with squarer shoulders to create a more modern look.

In a nod to the drink's heritage, the new packaging displays the signature of Curt Mast, who launched the drink as we know it today in 1935 in Germany, alongside a 'since 1878' tag that refers to when the company was founded by his father.

The revamp marked a milestone for Jägermeister and would enhance the work the liqueur was doing with the trade to communicate its story and "drive awareness of its versatility", said Mast-Jägermeister UK marketing director Nicole Goodwin.

"While our recipe hasn't changed in over 80 years, Jägermeister's usage has and, in turn, so has our brand positioning," she said, adding the evolution of the bottle better reflected Jägermeister's credentials as a "family-owned, premium, well-crafted spirit with years of history".

The revamp, which extends to the entire Jägermeister Original portfolio (1L, 70cl, 50cl, 35cl, 20cl, 4cl and 2cl bottles), will benefit from a £10m UK investment poured into multiple campaigns, which will run from now throughout the rest of this year.

Jägermeister, which generated 1.5% growth to £26.1m on volumes up 3.7% [IRI 52 w/e to 21 May 2016], launched a six-week campaign in November last year as part of a £2.7m spend aimed at flagging up the drink's craft credentials.