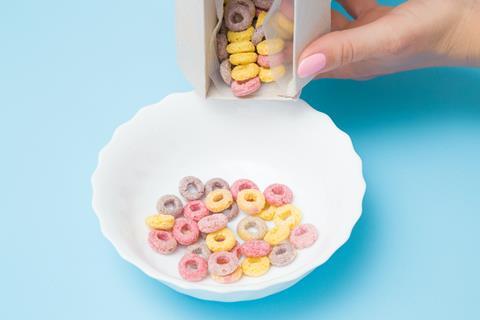 Sales of breakfast cereal, that family staple beloved of busy parents but frequently vilified by health 'gurus', have been struggling of late. But cereal's future need not be gloomy – provided manufacturers respond to changing consumer needs.
According to research we recently conducted with more than 1,000 UK-based parents, carers and grandparents of children aged two to 18, a combination of health awareness and the 'lunchbox police' is increasingly turning the humble box of cereal into the new go-to snack.
Cereal, and in particular dry cereal consumed without milk or yoghurt, is popular with children and adults alike. It is easy to carry around and is seen as a 'treatier' alternative to fruit or carrot sticks. Meanwhile, many parents feel the added vitamins and fibre make it healthier than sweets and crisps.
While families have long eaten cereal as a snack, the pressures of modern life are changing the when, where and why of cereal consumption. Cereal is easy to take to school and extra-curricular activities, and more likely than crisps or chocolate to get past the 'lunchbox police'. Seventy-five per cent of survey respondents said they now ate it at various times of day and for various reasons, while 85% of children ate their cereal dry at least some of the time.
As one parent said: "My 11-year-old daughter eats dry cereal now instead of crisps and asks me to buy the cereal multipacks – she eats them in the car on the way to netball and throws them in her school bag."
Other children decant cereal from the box on to a plate to eat as a dry snack, toddlers have it as finger food and one in five children take it to school as a snack.
As a result, what consumers want from cereal makers is changing. Two-thirds of those surveyed said they wanted manufacturers to put cereals into snack packaging that made it easier to eat on the go. "I would love easy-to-throw-in, on-the-go cereal packs that are in snack format – maybe spice them up a little with different sizes or added fruit, but to be honest, my kids love their favourite cereal dry and it would be a help when out and about," said one.
What makes this research notable is that while shoppers have been able to buy cereal bars for many years, this new appetite is for cereal, and in particular dry cereal, as a distinct product. And it's not just the children eating it: 60% of adults do, too, with many taking it to work or leisure activities as a snack.
Some manufacturers are jumping on this trend. Magic Spoon in the US sells cereal in striking, brightly coloured packaging. Its products are higher in protein and lower carb than many of its competitors, ensuring its appeal to kids and health-conscious grown-ups alike.
In the UK, Real Handful's Bundlz are a transportable take on the cereal snack trend – it's a cereal, raisin and oat cluster bound in yoghurt.
Cereal has been on our breakfast tables for decades, but times change and cereal has evolved. While many still tuck into their breakfast flakes, now cereal is also a snack that hits a happy medium between health and convenience – the trade-off snack for parents and kids alike.
With manufacturers hopefully quick to recognise that fact, the future of cereal looks assured.