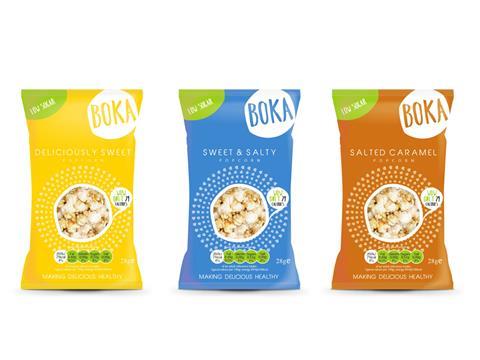 Boka Food is set to launch what it claims is the first snack product in fully compostable packaging.

The brand will roll out a trio of 28g grab bags of popcorn (rsp: 85p) in September, using packaging that will "fully decompose after 18 months".

A cereal bar, granola and marshmallow supplier, Boka's new popcorn range - Deliciously Sweet, Sweet & Salty, and Salted Caramel - are also low in sugar (0.51g), saturates (0.09g), fat (0.49g) and salt (0.09g), the brand claimed, with just 71 calories per pack and four green traffic lights on the label.

The popcorn packaging incorporates a biodegradable cello-laminate film and a compostable glue, with the ink used forming no more than 5% of material thickness to ensure "fully compostable product when material is land filled", the brand said.
A combination of moisture, bacteria and heat will fully break down the film, ink and glue.

"As a brand we are aware of the damage and long-lasting effect plastic packaging can have on the environment, which is particularly crucial within the 'grab and go' sector, where consumers eat high volumes of snack products every day causing great damage to our environment," said Boka founder and food development specialist Franco Beer.

"We are very excited to have developed a product which is fully compostable, as we strongly believe it is important for us to contribute to protecting the environment as well as offering healthy products that taste great."

It comes as other snack brands are also poised to launch compostable packaging amid growing concern over the impact of single-use plastic on the environment, The Grocer understands.

Boka plans to eventually make its entire portfolio, which also includes cereal bars, fully compostable.