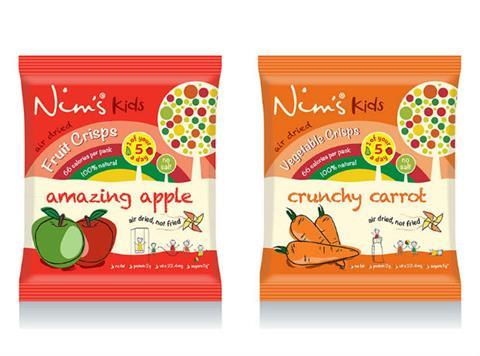 Nim's Fruit Crisps has launched a campaign on Tesco's BackIt crowdfunding platform in a bid to raise funds for a new kids' range of snacks.

The Kent-based supplier is aiming to raise £20,000 for the new children's range, which would feature dedicated packaging, smaller portion sizes and new single veg varieties such as carrots and courgettes.

Investors have been asked to pledge £5 to £2,000 in return for 'rewards' ranging from subscriptions of fruit crisps to the chance for their children to have their own choice of crisp flavour produced and sold with their name on the pack.

"Our air-dried fruit crisps are different to any other snack on the marketplace and we want our crowdfunding bid to reflect that. We want it to be fun and get people involved so they are invested in the future success of Nim's," said founder Nimisha Raja.

If the funding bid is successful, the new children's range would join Nim's existing line-up of eight varieties including apple, beetroot & parsnip, pear, pineapple, and peppers & courgettes.

"We generally mix our fruit & veg, but we decided to stick to single varieties for children, who tend to either like something or not, and are possibly less adventurous. Keeping it simple makes it easier for parents to introduce new flavours," said Raja.

The launch would be supported by a PR and marketing campaign to secure distribution in schools and supermarkets, she added.

Tesco BackIt launched in September, with six other small food and drink suppliers currently running campaigns to raise £2,000 to £10,000 on the platform.

Nim's chose BackIt above other crowdfunding sites because it gave consumers "the assurances they need" that due diligence had been carried out behind the product and the claims made, said Raja.

The company, which won Best New Idea at the 2016 Food & Drink Expo, is also eyeing export markets after securing £150,000 bank funding last month. It has no major supermarket listings yet, but is currently in discussions with several UK mults.