They said it couldn't be done - there was no way the finances would stack up. But that hasn't stopped pound shops from wanting their pound of flesh online and last month, like the proverbial long-awaited bus, three online pound shops came along at once. Hereforapound.com, Poundshop.com and PoundPanda.co.uk launched to a fanfare of publicity, only to be followed this week by news that B&J Supplies has also launched a site, Onlinepoundstore.co.uk.
One site, PoundPanda, promptly broke down, but the other three all claim they're making good progress. Hereforapound exceeded its monthly target set in its first week, says a spokesman, adding that in the first four full weeks it received over 4,000 orders and racked up sales of more than £100,000, setting it up for £5m sales in year one.
"Aldi and Lidl are proof you don't need online to create a profitable business. Online is behind growing the Poundland estate"

Jim McCarthy, Poundland
Onlinepoundstore, meanwhile, says that in its first two weeks, it has seen 1,000 transactions, and Poundworld reports similarly bullish figures from its Poundshop site.
Which begs the question: if the UK's third-biggest high-street pound shop operator and two smaller players are prepared to take the pound shop model online, what's stopping Poundland and 99p Stores?
Poundworld may have been first to market with its e-commerce offer, but that doesn't mean Poundland hasn't been investigating online. Indeed, it declared its intent in July 2012 when trading director David Coxon was tasked with heading a team to launch an online business. CEO Jim McCarthy originally pledged that the launch window would be in "the first six months of 2013", and claimed at the time that progress was at an "advanced stage". However, judging by recent statements emanating from the company, that initial excitement appears to have faded.
"Online just isn't a priority in the same way as expanding our stores," admits McCarthy. "Aldi and Lidl are proof you don't need online to create a profitable business. We have to make sure that the offer, pricing architecture and profits are all absolutely right before moving forward and that has caused the delay. In terms of our list of priorities, online is certainly behind growing the Poundland estate and expanding into Europe."
While McCarthy confirms Poundland will finally begin trialling an online model later this year, he adds that a full rollout will not necessarily follow and that the retailer could choose to ignore online altogether.
Poundland isn't the only single-price retailer wary of diving in too early. 99p Stores is currently updating its website with a view to going transactional in the summer. Commercial director Hussein Lalani doesn't give much away, but says the range will represent around 60% of in-store listings and that he wants to "let the dust settle" in terms of rivals' launches before fully committing.
Lalani's strategy could be wise. Poundshop.com went down on its launch day because it could not cope with traffic - the company claims 17,000 people tried to visit in under a minute - and Steve Smith, co-founder of Poundland and the man leading Poundshop.com, admits that "high demand" has put pressure on the operation, causing delays in delivery.
Of course, with Poundworld, Hereforapound and Onlinepoundstore securing first-mover advantage, there's a danger that Lalani's wait-and-see approach could backfire, especially if they succeed in building a loyal customer base.
Those that have taken the plunge claim business has been brisk. Smith says the average basket size in a pound shop is around £5, but Poundshop has seen average basket sizes of £28 since launch. Onlinepoundstore reports an average spend of £23, while Hereforapound says its shoppers are spending £22.
Postage and profits
The latter was created by entrepreneur Donna Baker and husband Mark and differs significantly from the Poundshop model. Poundworld has outsourced picking and packing for Poundshop to a company in Gateshead, but Hereforapound picks and packs out of a single 3,500 sq ft distribution centre in Exeter. The e-tailer currently offers free delivery on orders over £20 and charges standard delivery of £3.50, while Poundshop has a minimum order of £10 and a flat delivery charge of £3.65. Neither allow booked delivery times although Hereforapound offers a £5.99 next-day delivery service. Both promise to fulfil orders within two to three working days.
Baker, who previously set up timed deals website Hereforaday.com, feels Hereforapound has a natural advantage over bigger players. "We are the underdog here and don't have the same sourcing power, but there is a lot of pressure on the bigger pound retailers as they also have a big store estate to focus on," she says. "We are just focused on online and that has allowed us to slip under the radar a little."
How do Poundshop's prices stack up?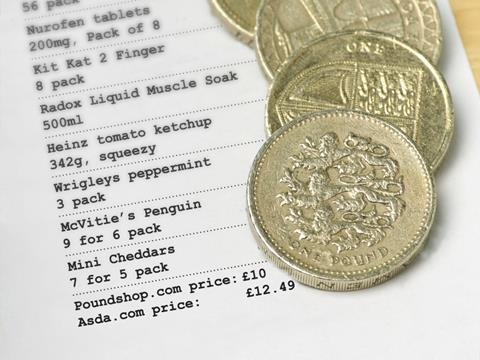 The Grocer's secret shop on Poundshop.com was a bit of a mixed bag.
Our £10 order, which came with a £3.65 delivery charge, was made on 12 February but didn't arrive until 19 February - hardly an impulse purchase.
We were bemused to find no customer support number in our pursuit to get to the bottom of the seven day delay, but we did receive an email to say the order had shipped out on 14 February.
Site founder Steve Smith admitted that there had been delays in deliveries due to high demand, but claimed early issues had now been resolved.
Although Poundshop doesn't have a customer service number, it directs queries on orders and returns to a support email address.
The 10-item basket containing sweets, chewing gum and crisps, health and beauty products, and kitchen cupboard staples like ketchup and teabags, was wrapped well in bubble wrap, with no visible damage to any products.
The big question, of course, is how it compared on price. Poundshop beat a comparable shop carried out at Asda.com, where they would have cost £13.03 - if you were able to do an online shop for less than £25. But Asda matched Poundshop's £1 price tag on five items: the baby wipes, the painkillers, the multipack of Kit Kats, the Radox and the Wrigleys. And you'd also have to factor in Poundshop's £3.65 delivery charge.
However, Conlumino analyst Neil Saunders believes that whether big or small, making a profit will be an uphill struggle for online pound shops. "The problem with an online world is volume has to be delivered and that incurs costs, and the higher the volume the higher the postage. Yes, you can pass on the postage to the customer, but that instantly makes the offer feel less and less like a pound store and the supermarkets look better for value. The numbers don't add up at the moment."
David Wilson, who set up the first online pound shop back in 2004, agrees. He cites the example of a 750ml bottle of bleach, which, according to the Royal Mail's online delivery calculator, would cost at least £10 plus VAT to send out. "On Poundshop.com, there is two-for-£1 on bleach, so you could order 20 bottles and it is all delivered for £3.65, it just doesn't make sense," says Wilson, who launched a transactional site for his Cornwall-based independent shop The Selection Box, but closed it a few months later having struggled to make money. "I'm not sure what agreements they have in place with couriers, but I did an order for £25 and had to charge someone £11 postage back in 2004 due to item sizes - it is very hard to make this work."
Baker says that to get around the issue she has a deal in place with couriers for a fixed rate on orders under 30kg. She claims it is rare for orders to exceed that amount, although she readily admits that making the numbers stack up is a challenge. "Yes of course it is all marginal. If you get an order up to £30 and free shipping, the margins have to come off somewhere. We are comfortable with where average spend is at the moment, but if it were to rise, it would be very difficult."
Smith, conversely, argues that a big basket is "crucial", although he adds that Poundshop could easily cut back its product range if sending out bulky items cut too much into margins. "It is easy to just cut the minimum spend and drop the price of delivery, but at the end of the day we need to survive and maintain quality. It is still early days and we will look to refine everything as we learn what works and what doesn't."
99p Stores' Lalani, however, says that every single price e-tailer must target free delivery or risk undermining its "pound" credentials.
The cost of delivery may ultimately prove a sticking point for consumers, but there does appear to be an appetite for online pound shops. In a survey of 2,000 UK consumers conducted by discount wholesaler Rowan, 41% said they would be interested in buying discounted goods online.
Rowan commercial director James Russell nevertheless concedes it will be difficult for retailers to replicate the high-street experience online. "For some consumers, scouring shelves to find a bargain offers as much entertainment as it does value, and this doesn't quite translate online," he says. "Additionally, some of the attraction of discount shopping is instant gratification - and a three-day wait for delivery negates this."
Saunders concurs, but believes the issues facing online single-price retailers run a lot deeper. "The supply chain of pound shops is very transitory and there isn't a consistent number of products available," he notes. "With the store model, if 10,000 batteries suddenly become available, they can buy them and then push them out to physical locations quickly to shift. However, with online this becomes more challenging as you have to think more carefully about quantity and stock allocation; it ruins the efficiency of the current sourcing model."
Proving the doubters wrong
These issues are not insurmountable. Retailers could avoid selling bulky items through their online store, limiting their range to high-margin items, for instance.
It would be a more "intelligent way" of doing things, says Saunders. "You want high-margin, light items - that's the reason clothing does so well online - and ideally a click & collect service in order to cut down on delivery costs. What they must avoid is the Morrisons effect and not just follow rivals on to the online bandwagon. This has to be well thought out or it doesn't make sense compromising a physical business model that works so well at a Poundland."
"For some consumers, scouring shelves to find a bargain offers as much entertainment as it does value, and this doesn't quite translate online"

James Russell, Rowan
UK pound shops could also look across the pond for online inspiration, says Kantar Retail analyst Bryan Roberts. "What is working well in the US for the online discounters is the big bundle proposition and targeting SMEs and voluntary organisations, which will make quite sizeable orders as opposed to consumers," he says. "At the end of the day, you need a big basket as three different SKUs at £1 each doesn't add up for the consumer or the retailer."
Poundshop's Smith is certainly open to this idea. "We have already had a £400 order so there is definitely evidence of businesses buying in bulk; we have to find more ways to draw them in," he says, dismissing the naysayers: "I remember hearing the same negativity when I created Poundland. People said we would struggle with rents, inflation and finding enough products."
The company's recent IPO announcement silenced many critics of the pound store model and Smith's aim is to "prove them wrong with Poundshop.com too".
You wouldn't bet against someone of his calibre - and if he's in for a penny, in for a pound online, other retailers will surely follow.
How the pound shops' online strategies differ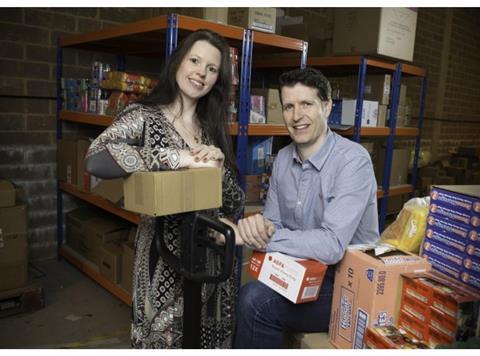 Hereforapound: Launched on 4 February, the site generated £28,000 sales in week one, claim founders Mark and Donna Baker (above). Standard and next-day delivery costs have been cut £1 since launch to £3.50 and £5.99. It uses Yodel and Royal Mail to fulfil deliveries.
99p Stores: A transactional website is being prepared for launch this summer, says commercial director Hussein Lalani. Like Poundland, it will avoid bulky items such as cleaning products, and will feature a limited product range. It is also considering setting a minimum order threshold of 20 items.
Poundland: Set to launch long-awaited online customer trials this year. Poundland boss Jim McCarthy says product lines will be limited, with fixed-price themed baskets on offer. The Poundland website was updated last summer ahead of the trial.
PoundPanda: Launched in February, PoundPanda.co.uk has already closed down blaming "unprecedented interest". The website is currently being upgraded, but it is unclear when, or if, it will become operational again. The PoundPanda site is owned by Manchester-based importer Shonn Brothers.
Poundworld: Its Poundshop.com offer went live on 7 February. Led by former Poundland owner Steve Smith, the site struggled to cope with visitor demand and has had technical issues. Orders are delivered by Hermes and DPD.
Onlinepoundstore: Manchester wholesaler B&J Supplies launched the site in February. According to B&J, the site has processed 1,000 transactions and had more than 10,000 hits since launch. Orders are fulfilled by TNT with free delivery for baskets of over £20.