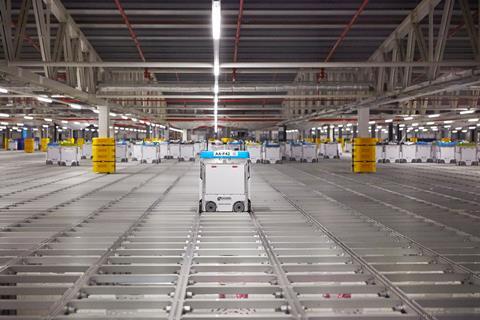 Ocado has launched a £500m convertible bond issue to pay for the construction of several robotic warehouses it has committed to deliver for its global partners including ICA Group, France's Groupe Casino, and Kroger of the US. Last week, Ocado also stroke a deal with Japan's biggest supermarket Aeon (The Financial Times £).
Ocado shares plunged 8.3% on Monday after it announced the further bond bond issue as analysts were split over whether it would have been better off relying on cash from shareholders (The Telegraph, The Times).
African suine fever and extreme weather are pushing the prices of turkey, pork and Brussels sprouts up, with the overall cost of the Christmas dinner rising for the second consecutive year, up 3% from last year and 12% when compared to 2017 (The Financial Times £).
Just Eat shareholder Cat Rock, a key supporter of the company's merger with Dutch Takeaway.com, has said it will switch sides and support Prosus' offer for an extra £1.5bn. Cat Rock said it was disappointed with Prosus offer at 710p and would back it if raised to 925p per share, valuing the business at £6.5bn (The Telegraph).
US President Donald Trump threatened to slap 100% tariffs on up to £1.9n of French goods, including sparkling wine and cheese, in response to France's digital tax against US tech companies (The Telegraph).
Trump's office said the tax, designed to prevent tech businesses from dodging taxes by moving their headquarters to low-tax European countries, was discriminating against US companies such as Amazon, Google and Facebook (The Guardian).
The tax imposes a 3% annual levy on the French revenues of tech companies with annual sales higher than £580m and French revenue exceeding £19.3m (Sky News).
New figures from Barclaycard showed UK retailers enjoyed the long-awaited Black Friday Bonanza, with the value of the transactions up 16.5% on last year. The volume of transactions processed by Barclaycard also increased, up 7.2% year on year (The Guardian).
Technology is paving the way for more transparent supply chains, improving traceability to the point where consumers might be able to find the exact source of a product and all its constituent parts, including pictures of the farmer (The Financial Times £).
In an opinion piece, the FT argues that consumers should hold companies to higher standards when it comes to renewable energy pledges. With companies like Google, Facebook, Apple and Netflix claiming to be "100% renewable energy" powered, the challenge is in how "the gap between renewable energy supply and electricity demand on grids is bridged", currently deploying polluting fossil-fuelled electricity (The Financial Times £).
Latin American restaurant chain Las Iguanas is eyeing further expansion despite rising costs and competition in the casual dining sector. The chain plans to open five more UK sites and has started expanding overseas (The Times £).