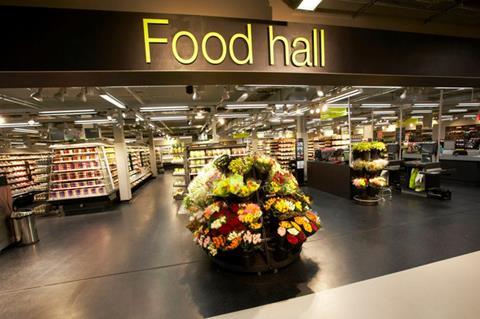 Marks & Spencer food business returned to growth for the first time in over two years, with same-store sales growth of 0.9% in the first half. Like-for-like sales in the retailer's struggling clothing & home division however dropped by a further 5.5% due to well-documented stock issues which led to the departure of the division's director Jill McDonald in the summer (The Financial Times £).
Profits at a group level tumbled 17% year-on-year to £177m as recovering food sales could not offset the clothing decline. Revenues slipped 2.1% to just under £4.9bn (The Telegraph).
M&S said its food business was "outperforming the market" while it pointed to supply chain and availability issues at its clothing and home division, which after experiencing a "challenging" first half was now seeing improvements (BBC).
The further decline in clothing sales follows M&S's admission that the unit's turnaround was 18 months behind schedule at a meeting with analysts and investors last month. CEO Steve Rowe said the shake-up was now "running at a pace and scale not seen before", however (Sky News).
The high street giant's shares rose 5.3% in early trading on Wednesday as investors cheered the better-than-expected food performance. However, the company's struggles in recent years cost it its spot in the FTSE 100 index in September (The Guardian).
Looking ahead, M&S said it expects store closures, part of its turnaround programme, to lower clothing sales by 2% in the full-year. Food sales are forecast to be flat as the company expects to shut at least 110 full-line stores by 2022. M&S warned that it now expected gross margins to fall by between 25 and 75 basis points over the full year, having previously guided to a 25 basis-point decline (The Times).
John Lewis' delivery trucks will be powered by cow power from 2021 as the high street retailer tries to turn carbon-neutral. The retailer will use renewable biomethane from manure slurry for almost 300 vans, including Waitrose ones, under new plans to swap food waste for cow power at no extra cost (The Guardian).
The Chinese owner of high street restaurant chain Pizza Express is planning a £80m bond buy-back cutting the struggling company's debt levels. Last month, it emerged Pizza Express had appointed advisers to explore options following a weak performance and amid spiralling debt (The Financial Times £, The Times).
The money from Hony Capital will be used to pay down debt owed to Pizza Express bondholders, with the company also hoping to secure a £20m corporate overdraft (The Telegraph).
Pizza Express latest financial results, for the three months to 29 September, showed UK and Ireland sales falling 1.1% with underlying profits dropping 9% to £19.6m, as the chain battled a tough business environment (Sky News).
A potential private equity sale of Boots owner Walgreens Boots Alliance will restore some of the pharmacy chain's lost independence, writes the Telegraph. Boots could be sold separately as its US parent looks to spin-off its international business, which it blamed for a 10% fall in profit last week (The Telegraph).
However, plans by Italian entrepreneur Stefano Pessina, the 78 year-old running WBA, have been criticised for being "the sort of caper that looks not so much fantasy M&A as the lunatic sort" with some arguing even he might have gone too far (The Times).
When Amazon acquired WholeFoods Market in 2017, Jeff Bezos pledged to cut prices at the organic supermarket chain, especially for Amazon Prime members. Over two years later, some prices have come down but critics suggest reductions should have been more extensive and over a wider range of goods (The Telegraph).
Craft brewer Beavertown will start brewing at a new facility next year, which includes a "state of the art" energy recovery system. The company will then be able to produce its beers using up to 55% less thermal energy and 40% less electricity per unit (The Financial Times £).