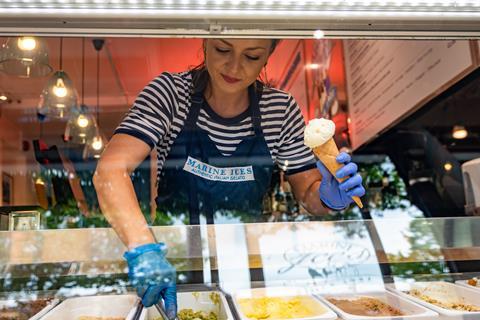 Family-run ice cream maker Criterion Ices has been able to celebrate its 100th anniversary after securing a £250k loan to help it navigate the coronavirus disruption.
The Suffolk-based business supplies the National Trust as well as many theatres, restaurants and ice cream shops, but since lockdown began production dropped to around 20% of pre-coronavirus levels.
"Our business pretty much disappeared overnight. We were due to supply the 1,300-seat Norwich Theatre Royal for a month-long run of Les Misérables from Wednesday 4th March. On Friday 13 the theatre was closed. It was the same across the board – as if somebody had turned off a tap," owner and MD Paul Myatt said.
"Lloyds Bank has been by our side all the way through, since we were a far smaller operation making 100 litres a day to now, when we have the state-of-the-art equipment to produce 5,000 litres a day.
"We know there are still tough times ahead, but we can now see the future and we know that if an opportunity comes along we have the support we need to seize it."
The company was able to secure the funds through Lloyds Bank via the government's Coronavirus Business Interruption Loan Scheme (CBILS).
The money enabled Criterion Ices to cover fixed overheads and provided "breathing space while sales slowed" allowing it to continue trading in the year of its centenary.
The business was in fact acquired by Myatt's family in 1995 but it was established in 1920 by the previous owner's grandfather, who came over from Italy and set up its first parlour in South London.
With lockdown easing, Criterion hopes sales levels will pick up and is now beginning to bring back staff, having initially furloughed all 28 of its employees.