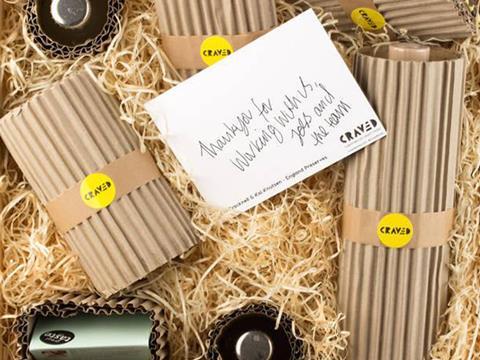 Craft food delivery company Craved has returned to the crowd for £200k in funds to launch a Naked Wines-style subscription service.

Craved, founded in 2014, delivers wooden crates containing British craft produce for the gift market. After raising £127k through crowdfunding two years ago, it has launched a Crowdcube campaign to propel growth in its corporate arm, as well as the Craved Collective subscription service.

The service is based on the Naked Wines model of customers paying a monthly fee for access to products, events and prices.

The £200k being targeted for the campaign would go towards the launch of this new service and associated delivery costs.

The company's founder and CEO David Voxlin said he was surprised "no one else is providing the same service for British craft produce".

"The mission for Craved, which it still is today, is to support small, independent British producers," he added. "We now have a family of around 150 and it is constantly growing.

"We've established a platform online where everything is one place, and a really clear brand promise," said Voxlin. "I'm surprised that no one else has joined us. There is nowhere else similar which is solely British and craft.

"We need a little bit of capital to launch and scale the collective, so that is why we are asking the customers to come in and own a bit of Craved. We have grown over 100% year on year so far so I see that as a good investment opportunity." The business has currently more than £70k of its fundraising target, and is offering 11.1% equity.

Craft products from around 150 producers sold by the company range from Cornish Charcuterie and Neal's Yard cheese to Brick Brewery craft beer and Bare Popcorn.

Since formation the company has seen 100% year-on-year growth and sent out more than 15,000 Craved boxes.

Voxlin said investment funding would allow the company to launch and scale out The Craved Collective, which he described as a subscription service on the Naked Wines Model, with customers paying monthly instalments for "exclusives, discounts, perks and events".

"It's the same principle as the Naked Wines model. You pay monthly into your piggy bank online, you have it in your account and get access to lots of exclusive, discounts, perks, products," he said.

"I think there is huge scope. The original plan was to establish the platform for British speciality food and drink - I think this a great way. Naked Wines have over 300,000 members. That is just within the wine category. I think there is huge potential to do something similar for all of food and drink.

"The money is essentially for launching and scaling the Craved Collective. So building up that product, acquiring new customers, developing that range so we have something new for our members. We are growing as a business. We are looking for some new warehouse space to meet demand this year and then we also have particularly on the gifting side, we are developing in the corporate market."

The company has seen 300% growth in its corporate food gift arm over the past year, and has continued growth after raising more than £127k in its first crowdfunding campaign.