Keeping up appearances remains a top priority for British consumers, who have continued to splash the cash on personal care items. All 11 personal care sectors are in value growth, driven almost entirely by the brands, with own-label products only growing in three categories: liquid soaps, shampoos and conditioners.

A combination of consumers trading down from salon treatments, a vast choice of products and "the modern obsession with body image" has been key to the brands' successes, says Katie Dunn, Spar's assistant trading manager, grocery. "Everywhere you look there is NPD telling you how you can improve yourself - and while consumers used to be tempted to pay for these treatments in a salon, they now prefer to buy a wide range of products and do it themselves."

In shampoos, branded sales are up 5.7% compared with 5.3% growth for own label, which makes up a relatively small part of the market. The top five remains unchanged, although Elvive has beaten Pantene to second place as the latter continued last year's downward trend.

Not even P&G's drastic step of relaunching the entire portfolio with improved formulations and clearer packaging at the beginning of the year has been enough to prevent value and volume decline. The problem, says Dunn, is image. "Pantene still has an 'old favourite' image, rather than 'exciting' or 'modern'," he says. "There is now so much competition on the haircare shelves - you need to stand out to compete."

It's not all doom and gloom for P&G, though. Head & Shoulders has fared far better, consolidating its number-one position with strong value growth - although a slight dip in volume suggests higher prices might have helped matters somewhat.

Some brands are diversifying into new arenas in a bid to drive growth. In May, Unilever expanded its VO5 brand into the burgeoning dry shampoo category for the first time, for instance - and in September, brand leader Batiste embarked on its biggest marketing push to date when it kicked off the £1.5m Try It Dry campaign.

Others, however, continue to thrive in more traditional areas. Elvive has posted even stronger growth in conditioners than in shampoo, double-digit value and volume uplifts propelling the brand past John Frieda and P&G's Aussie, owner of cult deep treatment 3 Minute Miracle. Pantene's conditioner, however, has lost sales at a similar rate to its shampoo and slipped to fifth place.

The top three hairsprays remain unchanged, with L'Oréal's Elnett brand holding its ground at the top of the leaderboard thanks in part to NPD including Lumière Supreme Hold and a series of limited editions. Although the hairspray category remains in slight value growth, it has slowed significantly compared with last year as styling sprays entice consumers away from traditional aerosols.

In shower products, Radox remains comfortably in top spot and has widened the gap with second-placed Imperial Leather. The Unilever brand relaunched its range in August with a £2.5m campaign highlighting Radox's natural ingredients, and rolled out a Facebook push in September featuring a musical puppet trio called The Radettes.

In toothbrushes, value growth has slowed as volumes slip into decline. The majority of brands are in stable growth, but - in a reversal of last year's performance - own label is struggling. Brands have been busy launching new products in the past 12 months. GlaxoSmithKline's mouthwash brand Corsodyl was extended into toothbrushes (and dental floss) in June, and more recently Colgate entered the electric toothbrush market - going head-to-head with category leader Oral-B on another front. Not that the P&G brand has too much to worry about for the time being. Since squeezing into the toothpaste market in June 2011, Oral-B has gone from strength to strength, hopping two spots up the ranks to oust Macleans from fourth.

However, Colgate remains the clear number one in toothpaste, and its modest growth looks good in comparison with the declining sales of rival Sensodyne, which will be hoping NPD - it rolled out two new variants under its Sensodyne Repair & Protect range in June - and a £7m push will help refresh sales.

Colgate's mouthwash sales are looking healthier still. "With its competitive price point, Colgate has encouraged new shoppers to enter the category, as well as capturing shoppers put off by top brand Listerine's price increases, introduced earlier this year," says Nielsen client team leader Craig Goodsell.

Indeed, Listerine's small growth in value sales masks a 3.4% fall in volumes. Blistex's Dentyl brand has had a tougher time of it, with value sales declining by a fifth and volumes down almost a third, not helped by a reduction in marketing spend. But the category has also witnessed some exceptionally strong performances - particularly from Corsodyl, which has climbed to third place, and Oral-B, which has grown value sales by more than two-fifths year-on-year.

In razors, rolling NPD continues to bolster sales in the face of rising production costs. The category achieved moderate value growth thanks to newer lines such as Gillette Fusion and Wilkinson Sword Hydro driving up average prices. P&G's Gillette now accounts for four of the top five brands, with only its Mach 3 range in decline.

Deodorants put in a good performance, with both value and volume growth accelerating. Unilever continues to dominate, claiming the top three spots with its Sure, Lynx and Dove brands. A focus on limited editions - including the brand's first female-focused fragrance, For Her, launched in January - has helped Lynx grow volumes by 9%.

When it comes to soap, both liquid and bar formats have grown value sales year-on-year, although the latter's growth masks a significant decline in volumes as Imperial Leather and Palmolive slumped by around a third, and own label by 20.1%.

Liquid soap, by contrast, is the only sub-category in which own label has grown both value and volume sales. In the battle for consumer loyalty, it's clear which side of personal care is scrubbing up best: the brands.
TOP LAUNCH 2012
Lynx Hair Unilever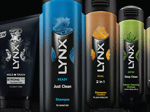 In a move intended to complete the 'mating game journey' offered by Lynx, Unilever kickstarted the year by extending the brand into haircare, something it hadn't toyed with since a brief foray in the early 2000s. The range of five shampoos and six styling products has so far generated £4.2m, according to the company. "Lynx has been able to tap into its strong existing consumer base of men who are willing to spend more time and money on themselves," it adds.