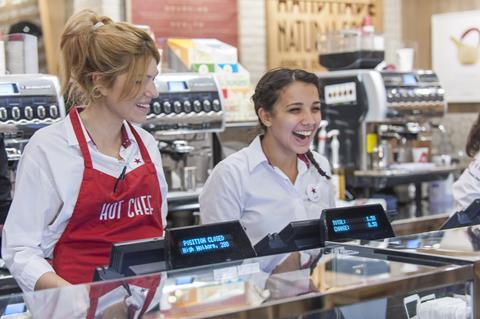 Top story
Krispy Kreme owner JAB will acquire sandwich chain Pret A Manger from majority owner Bridgepoint and other minority shareholders for an undisclosed sum.
The transaction is expected to be completed this summer at a price reportedly around £1.5bn.
Pret operates 530 stores worldwide, generating group revenues of £879m.
Clive Schlee, Pret chief executive, said it was "a day of celebration".
"Bridgepoint has been wonderful owners of the business for more than a decade. All of us at Pret believe JAB will be excellent long-term strategic owners. JAB believes in Pret's values and supports our growth plans. I am really looking forward to this next chapter of Pret's story."
Schlee said 2017 was another year of "solid" results for Pret, and it achieved its ninth consecutive year of like-for-like sales growth. The brand continued to thrive around the world "thanks to our simple recipe of freshly prepared food, served by genuinely engaged teams".
Olivier Goudet, JAB Partner and chief executive, said: "We're very excited to partner with Pret and its talented team to continue their extraordinary growth story.
"Management's proven track record and commitment to customer service, investment in innovation and approach to freshly prepared food position Pret well as it capitalises on evolving consumer taste and lifestyle preferences.
"We look forward to working with Clive Schlee and his management team, while promoting the Pret brand and supporting Pret's impressive culture for the next phase in the company's growth with JAB."
William Jackson, chairman of Pret and managing partner of Bridgepoint, added that Pret was "a great British success story" and Bridgepoint was proud of what it had achieved over the past 10 years with Pret and its management team.
"This has been a successful investment for Bridgepoint and illustrates how private equity, investing for the long term and working with talented management can deliver strong growth for the benefit of all stakeholders: customers, employees and suppliers and create real value for the wider economy."
JAB is acquiring its stake in Pret through an investment vehicle of JAB Consumer Fund and JAB Holding Company.
Fast growing German consumer group JAB is taking on Nestle in the US with a series of coffee-related buyouts.
Its acquisition of Pret adds to its deal to take control of Dr Pepper Snapple is January.
Morning update
The UK non-executive directors of Aquatic Foods Group (AFG) have issued an update to shareholders following the delisting of its shares on AIM at the end of last year which came after a six-month suspension.
Richard Sweet and Jonathan Quirk said this morning that a key factor in the suspension and delisting process had been the inability of the Chinese operating subsidiary company Yantai Kanwa Food Co (Kanwa) to transfer funds to the UK in a timely fashion to pay its advisors and suppliers.
Aquatic received "very limited" remittances from Kanwa, and the sums transferred allowed the group to settle only a proportion of money owed to creditors during 2017.
The statement said that Sweet and Quirk, and the company's former nominated adviser, S P Angel, were consistently advised by the company's executive directors throughout the year that the money owed would be remitted to the UK and that negotiations were being held with the relevant authorities in China to facilitate regular money transfers.
The finance director of AFG, Po Ling Low, resigned on 30 June last year to be replaced by Brandson Chong in September 2018 whose clear remit from the board was to address the issue of UK remittances.
Creditors were owed around £150,000 at the end of last year and AFG's UK cash balance was exhausted.
While the company and its external auditors had substantially completed the work required for the publication of the 31 December 2016 accounts, the company was not able to pay the auditor's costs as they became due meaning that outstanding work was not completed.
This included confirmation that AFG was a going concern which would have required further evidence that funds could be remitted to the UK.
Both the non-executive chairman, David Wang, and chief executive Li Xianzhi were aware that the failure to settle UK debts and subsequent failure to complete the 2016 audit would lead to the suspension and then delisting of AFG from the AIM market.
Sweet and Quirk said there seemed to be no reason for this failure to act and resolve the issue of obtaining approval to allow regular fund transfers to the UK.
Management accounts received during 2017 indicated that the company was trading profitably and had at least £50m in cash deposits in China, which included £8.3m of net proceeds raised when AFG was admitted to trading on AIM, they said.
The UK non-executive directors had, since the delisting, tried to engage the chairman and chief executive in a plan to address and resolve the issues faced by shareholders and creditors.
Sweet and Quirk said Li has not responded to any of their correspondence which had included constructive and robust suggestions on how best to progress matter in the interests of shareholders and creditors alike. Dr Wang was in contact with Li but had been unable to convince him to take any positive action.
The two UK non-executive said they did not intend to let the matter rest and they were taking further advice as to the best way to proceed to bring restitution to shareholders and creditors.
Stobart Group (STOB) issued a statement after hours on Friday that Andrew Tinkler, executive director, had notified the board that he would vote at the forthcoming AGM against the re-election of Iain Ferguson as a director and chairman.
The group's statement said all the other directors offering themselves for election or re-election had confirmed they had full confidence in Ferguson both as a director and as chairman and would recommend shareholders they vote in favour of re-election.
Andrew Wood, non-executive director and senior independent director, and John Coombs, non-executive director, had advised they would resign from the board should Ferguson not be re-elected.
Invesco Asset Management, which has 24.8% of voting rights, was supportive of the re-election of the non-executives, including the chairman, the statement says.
The board had also received written confirmations from Tinkler, who holds 7.7% of the voting rights, and two other shareholders, who together own 25.5% of the voting capital, that they were not supportive of Ferguson's re-election and would vote against.
The "strongly" believed shareholder value could best be achieved through stability at both board and management levels, the statement concluded.
On the markets this morning, the FTSE 100 closed down 0.8% at 7,672.4p.
Early risers today include Premier Foods (PFD), up 1.9% at 39.3p, Smurfit Kappa Group (SKG), up 0.6% at 3,126p, and Greene King (GNK), up 0.1% at 584.7p.
Fallers so far this morning, include Coca-Cola HBC (CCH), off 1.2% at 2,642p, Whitbread (WTB), down, 1.2% at 4,205p, Ocado Group (OCDO), down 2.5% at 864.2p, SSP Group (SSPG(, down 2.9% at 645.5p, and Marks & Spencer (MKS) down 1.7% at 305.4p.
This week in the City
The working week kicks off quietly following yesterday's bank holiday. Eddie Stobart Logistics (ESL) holds its AGM today. B&M European Value Retail (BME) reports its finals tomorrow. Kantar and Nielsen will also release the latest grocery sales data.
Costco Wholesale Corporation announces its quarter-three results on Thursday. The GFK Consumer Confidence index comes out on the same day and Total Produce (TOT) holds its AGM.
PMI Manufacturing figures come out on Friday morning. Coca-Cola European Partners (CCE), holds its AGM.