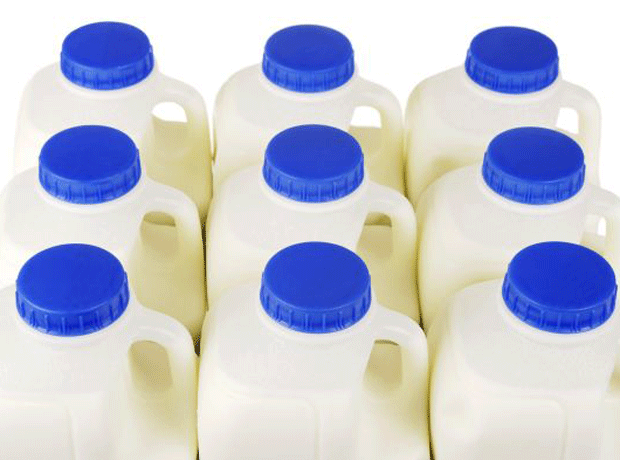 The supermarket milk price wars have reached new heights after Morrisons slashed the price of two litres of milk from 97p to just 84p this morning.
The cut applies to its tertiary Meadow Park milk brand and means it will be selling the milk at the equivalent of 24p per pint.
In a statement issued this morning, Morrisons boasted that the price drop "makes it the cheapest supermarket milk in the UK", adding that its move "undercuts rivals in [the] milk price war".
Other retailers this week cut prices to £1 for four pints, equivalent to 25p per pint.
"We're looking after families while still looking after our farmers," said Morrisons category director Steve Mosey.
Morrisons added it was funding the price drop itself and the price paid to dairy farmers was unaffected.
Morrisons referred to the cut as a "promotion" but a spokesman confirmed that no end date had been set for it.
Farmer concern
The cut is likely to fuel farmers' anger over the renewed supermarket milk price wars, which kicked off on Monday when Tesco cut the price of four pints of standard own-label milk from £1.39 to £1. It also cut the price of six pints from £1.99 to £1.48.
Farmers are concerned the current price moves devalue the price of milk in consumers' eyes. They also believe cuts by retailers who do not have dedicated dairy farmer milk pools could affect farmers because dedicated pools to some extent protect suppliers from price cuts.
"We just wish retailers would focus on promoting the quality of fresh milk and the work they do in their supply chains, rather than following the lowest common denominator and slashing the price," said the NFU's chief dairy adviser Rob Newbery earlier this week.
Sainsbury's matched Tesco's price cut on Wednesday. The same day, The Co-operative cut the price of one and two pints of milk from 50p to 45p and 89p to 85p respectively, although it said it would not reduce the price of four pints to £1.
Waitrose cut its prices yesterday, matching Tesco's price on four and six pints of milk – albeit for myWaitrose cardholders only.
Nisa also announced that from Monday (10 March) it would introduce a two-for-£2 deal on two-litre bottles of its Heritage-branded fresh milk.