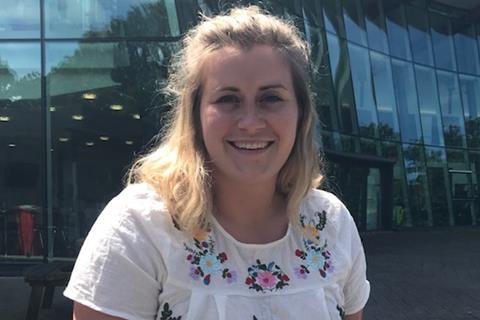 Name: Alice Crawshaw
Age: 24
Job title: Chilled food buyer
Company and location: Booths, Preston
Education: Shevington High School and Runshaw College
Why did you decide to go for a career in food? Food found me when I started my first Saturday job in my local farm shop. Ever since my passion about food, where it comes from and how it is produced has continued to grow. It's not only my interest in how food is made that has drawn me in to the industry, but also the drive to offer customers the best shopping experience possible.
What does a typical day look like for you? No two days are the same as a core chilled buyer. I work in a very fast-paced area of the business where I have to make commercial decisions on a daily basis. I'm always on my toes exploring new concepts; analysing my category sales performance daily; making changes to ranges to improve offerings in store; working closely with my supply team to ensure forecasts are in line; meeting with my suppliers to discuss performance, full-year plans and finding new opportunities of business. My main target is to improve sales performance and drive volume to meet my cash profit targets through offering customers high-quality products.
Tell us about how you went about applying for your job. When applying for my current job role, there were a number of stages I had to complete. The first stage was a general online question and answer application, before I was invited for a formal interview, which included a presentation on how I would improve the performance of a key category. This was the first time I'd presented in such a formal environment so I was rather nervous. However, my interest in ranges, customer shopping experience and my past experience of working with suppliers helped. I enjoyed preparing and presenting my work – some questions were tough, but my experience of working my way up through the business over the years helped prove my dedication and passion for the food industry.
"I didn't go to university and instead worked my way up from the bottom and I truly believe that this is what has got me to where I am today."
What's the best part about working for a food company? I think it is seeing all the hard work and effort you put in to landing a project, no matter how big or small it is, pay off. I like seeing that customers are happy, suppliers are happy and that I've helped make the right decision for the business.
I would also say I enjoy the challenges – nothing is simple in food retail as there are so many variables, from weather to transport to dealing with multiple suppliers. It's a fast-paced and sometimes stressful environment, but there's a thrill in getting it right in the face of challenge.
And what's the biggest misconception people have about working in food & drink? Probably that everyone thinks you just eat food all the time. That's certainly what my family seem to think!
I think people without the experience of the food industry tend to think it's quite a straightforward job. You find a product that customers want and then you get it on the shelf, but it's so much more than that. There's so much to factor in and so many challenges you face before getting a product on shelf. It also doesn't stop, as once a product gets on to the shelf the next stage is reviewing it to make sure it's selling and performing successfully.
What advice would you give to other young people looking to get into the food & drink industry? I would advise anyone wanting to work within the food industry to get as much experience as possible. I didn't go to university and instead worked my way up from the bottom and I truly believe that this is what has got me to where I am today.
I have the experience of working with customers to understand customer service and how either smaller or large changes could impact the retail store teams. The experience of working in production helped me understand how delicatessen and raw ready-to-cook products are made, which has given me the experience and knowledge to succeed in my current role. I also gained invaluable knowledge from the admin side of buying, which allows me to know more about processes, procedures and responsibilities, and helps my relationship with suppliers.
If you have the passion, experience and drive, I would say just go for it!
What's your ultimate career dream? If I'm being honest at the moment, I don't have an ultimate goal. I'm just seeing where my path takes me. Short term, I am happy in my current role but I would like to gain more experience in a number of different specialist areas such as dairy, raw meat and horticulture.