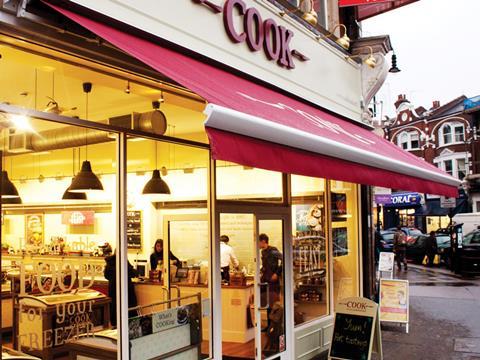 Cook is planning to start opening new stores again for the first time in over a year and is eyeing locations on retail parks.
The Grocer revealed in March 2019 that the frozen ready meal retailer had put a moratorium on new openings due to the uncertainty around Brexit. However, this week co-founder and CEO Edward Perry said it was now ready to begin adding to its existing 89-strong portfolio.
He said Cook was actively seeking at least five new high street properties and was also looking to diversify away from town centres into retail parks due to the benefits of parking space due to the increase in online orders.
"The local delivery vans can transform shop profitability, which means opening new sites now looks attractive once again," added Cook chief creative officer James Rutter.
"In some areas, where central high street locations with good parking either don't exist or are too expensive, we'd be interested in trialling a retail park site if the right one comes along. Somewhere like Chelmsford would be an example."
Cook has enjoyed a massive surge in online orders since the beginning of the coronavirus crisis. That channel now accounts for 60% of the retailer's overall sales, compared with 20% pre-lockdown.
This trend has influenced its property search specifications to have a bigger back-of-house storage area, though shop sizes will not be "significantly bigger" than its current stores.
Cook said it had accelerated plans to extend its new Cook Classics kitchen premises near its Sittingbourne HQ. The extension was due to begin in 18 months' time but will now be done in the autumn. Cook said this was in order to meet its increased demand.
"Sales through July and August have remained robust, helped by local delivery but also better-than-expected bricks and mortar," added Rutter. "Along with everyone else, we're waiting to see what the autumn brings as that feels like the real test of the new normal."