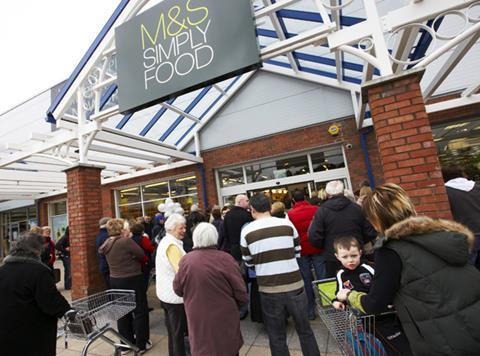 Marks & Spencer is planning to axe more stores and further scale back its Simply Food store opening programme.

The retailer announced the changes today as it updated its programme to modernise its overall UK store estate.

The M&S UK store estate programme includes a combination of closures, downsizes, relocations and conversions of about a quarter of its Clothing & Home space and fits into the overall Making M&S Special transformation programme, announced last November.

The retailer has reassessed and reduced its Simply Food opening programme and now only plans to open 36 owned and franchised branches over the next six months.

Broadstone, in Dorset, Streatham Hill, south-west London, and St Albans, Hertfordshire, are among the new Simply Food locations planned.

The new outlets will sell M&S food and drink and provide store collection for Clothing & Home.

Two stores will relocate - Newry, in Northern Ireland, which is a full-line clothing and food store, and Dover, in Kent, which will convert from a Clothing and Food store to a Foodhall.

Previous M&S guidance for its 2017-18 financial year was for 80 new Simply Food stores.

"Stores will always be an integral part of our customer experience, alongside M&S.com, but we have to ensure we have the right offer in the right locations," said M&S director of retail Sacha Berendji.

"We don't want any colleagues to leave M&S and we will work with each colleague individually on what is best for them as we endeavour to give everyone a role. However, we accept in some cases we may have to consider redundancy. We believe these changes are vital for the future of M&S and we will continue to accelerate the programme, taking tough but necessary decisions, as we focus on making M&S special."

M&S has 1,025 UK stores comprising 302 Clothing, Home and Food, 684 food-only and 39 Outlets.