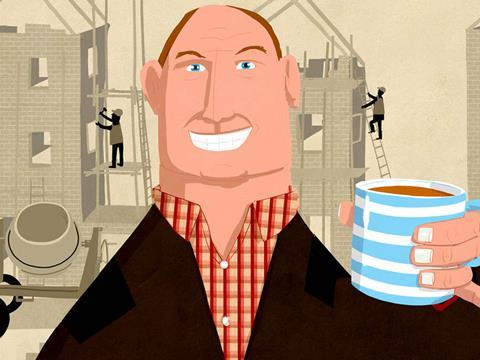 What a turnaround! For years, the Great British cuppa has been going cold as the nation's love of coffee has grown in leaps and bounds. But, as we revealed earlier this month, tea is now the only sector of the hot beverages market in growth, with sales having surged 3.5% to £641.7m in the past year [Kantar Worldpanel 52 w/e 21 May 2017]. Now, exclusive consumer research for The Grocer reveals how Brits' attitudes to tea are changing, and how this is affecting sales.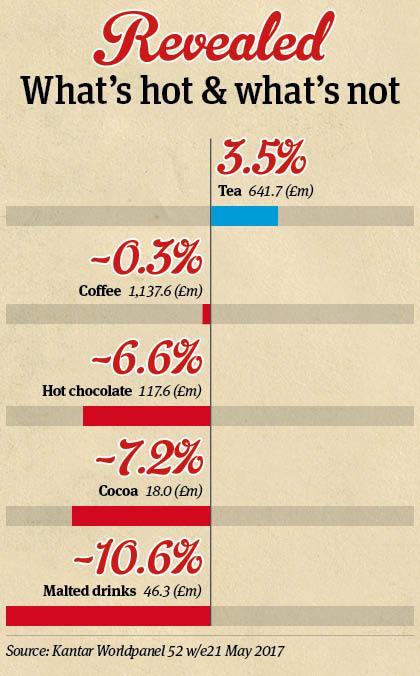 In spite of the return to growth in tea value sales, volumes are still down, having fallen 1.1%. What the return to form for tea illustrates is not that Brits want to drink more tea, but that many want to drink better quality tea when they do put the kettle on.
Premiumisation
"It seems that the average brew is no longer enough for consumers; particularly among the younger generation there is a demand for higher quality tea," says Lucia Juliano, head of research at Harris Interactive, which polled 2,110 consumers for us. "There's been an 8% increase in the past two years in the number of people who are willing to pay more for quality tea, now standing at 31%. This is particularly prominent amongst 25 to 34-year-olds, where the figure rises to 44%."
Our finding helps explain Kantar sales data which shows that green, fruit and herbal teas are a key factor in the sector's return to growth, combined with inflation, arising from a number of macro-economic influences.
"Premiumisation is an ongoing trend within hot beverages," explains Kantar analyst Amelia Hewitt. "We've seen fruit, herbal, green and speciality teas being the only growth areas in the tea category for some time, despite average price/kg being almost three times that of normal black tea. Currency fluctuations, inflation and increasing commodity prices have led hot beverages prices to rise 2.5% on average. The impact of these external factors has caused black tea to see year-on-year growth after a number of years of decline."
Video: How Brits take their tea
Nevertheless, it's clear that shoppers' willingness to pay more for a cup of tea is on the rise. The average price of a tea bag in the supermarkets is still around the 2p mark, yet growing numbers of consumers say they are willing to pay 5p for a cuppa. A third are willing to pay 5p (see left), up from 28% two years ago.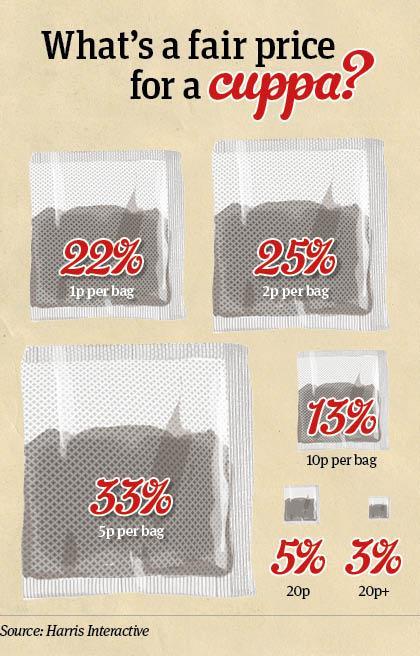 Price
"Perhaps because flavoured and speciality teas are perceived as more of an indulgence, consumers who are buying these are more willing to spend that bit more on their cup of tea," says Juliano.
"However, the oldest consumers are less convinced – half of over-55s say they are not interested in fancy tea varieties, and the majority of this group (61%) are only willing to spend one or two pence per teabag. So, it seems the increasing willingness to spend more on tea is limited to the younger consumers."
This presents potential opportunities for other struggoing parts of the market, continues Luciano. "For both tea and coffee, over four in 10 consumers say they'd be willing to spend more on a cup if the taste was better," she says. "If hot chocolate brands want to increase the appeal of hot chocolate, they should look at the taste and quality as a priority, as these are important factors for consumers in other hot drinks."
Which got us thinking. Is it time hot chocolate got a makeover? We tasked digital marketing agency Twentysix with breathing new life into the struggling hot chocolate chocolate sector. Here's what they came up with:
Introducing… #ocolata
Hot chocolate is being left on the shelf. As more and more Brits seek to recreate that coffee shop experience at home with fancy coffees and teas, what should be the pinacle of indulgence in hot beverages is looking decidedly passé. Sales have sunk 6.6% on volumes down 6.9% [Kantar]. That's a decline of 1.3 million kilos.
"In retail it really hasn't moved much beyond powder," says Twentysix creative director Guy Sharman. "To make a significant splash in this category we need a product that breaks from the norm and offers something different from the 'everyday ordinary' to the 'once a week extraordinary'."
Enter #ocolata, a concept that combines premium indulgence with art. Each pack contains a trio of flavoured chocolate blocks and a Continental-style mug. When melted in a microwave, the different chocolates (chosen from a selection of 20+ flavours) combine to create a bespoke product designed to delight both the tastebuds and the eyes.
"You could select from chocolates infused with spices, fruits, dark to white, featuring gold, anti-oxidants and caffeine," says Sharman. "Each block would feature a unique print, colour or marbling to create a visual delight when melted and stirred. Further toppings and materials can be added to have true personalised indulgence. Sponsored artists can add their product design twists to the design throughout the years."

Not only does this concept seek to tap the indulgence trend in hot bevarages, it's also capitalising on the growth in personalised products. In-store touchscreens and digital channels could sync with shoppers' social media profiles to suggests flavour combinations based on their personalities.
Hot chocolate with personality; now who's going to leave that on the shelf?
What's price for 'qualitea?'
Ideas such as the above make perfect sense, when you consider the way attitudes to the Great British cuppa are changing. While 41% of Brits still says they don't want anything fancy when they put the kettle on (see below), nearly a third say they are willing to pay more for better quality tea. Two years ago that number stood at 23%.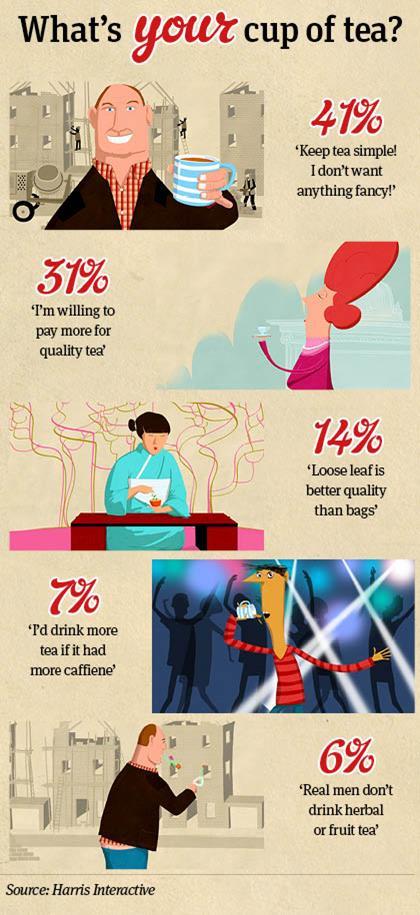 According to Tetley director of customer & shopper marketing Peter Dries, this is being driven by innovation. "Tea has seen some big developments in the last year," he says. "The arrival of teas with extra benefits is striking a chord with shoppers looking for something healthy and different, and this is leading to a high level of repeat sales as well as bringing in new consumers to tea."
Standard teas are suffering losses of shelf space in the supers as a result, with brands such as Typhoo and PG Tips struggling as smaller, premium players move in. Pukka, for example, claims to have been a big winner in Tesco's recent range review with products including its Ginseng Matcha green tea and Blackcurrant Beauty winning listings.
"Tesco's recent major range event saw the fruit and herbal category and Pukka in particular as the major winner, more than doubling our shelf space," says Pukka's head of tea marketing Sarah Cook."This increased visibility is great for not only Pukka but the category as a whole."
Some suggest future growth for tea will come from iced offerings. "The out-of-home market holds clues to what might be the next hot beverages trends in grocery," says Hewitt. "Now, with Starbucks offering cold brew coffees, it's only a matter of time until we see this being brought to grocery.
"It is also possible that this trend will translate into tea. We saw Starbucks launch its Teavana iced tea range in the UK last summer, and Teapigs and Twinings are already communicating that their teas can be served iced."
New teas on the block
So who are the brands transforming British attitudes to tea? Here's our pick of some of the most interesting launches of late.
1. Pukka Matcha range: This range of premium matchas was one of the winners in Tesco's recent tea range overhaul. Available in mint, ginseng, 'supreme' and 'clean' variants, the teas are being sold at £2.79 for 20 bags.

2. Newby Black Tea & Thyme: Thyme adds a 'sweet and earthy' flavour to this quality black tea according to Newby, which claims to only use teas selected at the prime of the harvest season. The brand recommends a hefty retail price of £5.50 for 25 bags.

3. Pure Leaf: Posh black tea from PG Tips owner Unilever. The range (rsp: £3.99 for 16 bags) comprises a wide range of flavours including berry, vanilla and chai and is being backed by a £3m marketing campaign to support launch from September to November.
4. Taylors Lychee & Lime: Created in partnership with Kew Gardens, this latest infusion from Taylors is another example of how tea is getting more sophisticated. Available through Ocado with an rsp of £2.29 for 20 bags.
5. Vivid Matcha: This 'ceremonial grade' Japanese matcha rolled into Tesco this summer with an rsp of £5.95 for seven 7g sachets. Half-price deals will help drive trial of this bright green livener, says the brand, which claims it is about to do for matcha what Vita Coco did for coconut water.