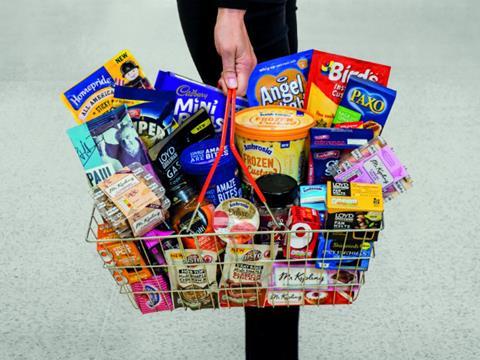 Top story
Premier Foods (PFD) heralded its "strongest annual performance in five years" after sales grew 3.6%, driven by double figure growth in international and non-branded sales.
In its annual trading statement for the year ending March 31 2018, it recorded overall revenues of £819.2m, up 3.6% on its previous financial year.
The company saw particular growth in the second half of the financial year, with a sales uplift of 5.3% in the second half and a 7% sales spike in the fourth quarter.
Trading profit also grew by 5.1% on last year, from 117m to 123m for the financial year.
A significant rise in international sales boosted the results, as Premier saw international revenues up by 25% to £61m, now accounting for 7.5% of the group revenue.
Non-branded sales also drove growth over the year, with private label business growing 13.9% in total – and 16.9% in Premier's sweet treats category – to £149.1m in sales.
Branded sales, still the largest part of the company, grew by a more modest 1.6% to 670.1m, with branded 'sweet treats' sales falling by 3.2%.
Sales growth was also attributed to the company's recent strategic partnerships with Nissin and Mondelez International, which CEO Gavin Darby said contributed to 55% of Premier's revenue growth, along with its Cadbury licence with Mondelez International.
The partnership included new product development for the Batchelors brand, with Batchelors Super Noodles pot products, as well as distribution of soba noodles and cup noodles in the UK.
The Batchelors brand saw increased sales of 10.6% for the year following the partnership, three years after sales were tumbling by 12%.
The company also saw growth for brands including Bisto, Oxo, Loyd Grossman and Cadbury cake, which the company said "benefited from new products launched" during the year based on consumer trends.
International revenue growth of 25% was particularly driven by growth for branded products in Australia, where company revenues grew 81% over the year, to make it the company's second largest market outside the UK.
Darby said the company is to build on the "strong momentum" as it looks towards 2019.
"We are pleased to report revenue growth of 3.6%, our strongest performance for over five years. After a slower start in the first quarter, performance accelerated during the year as planned, with revenue in the second half up 5.3% and 7% higher in quarter four," said Gavin Darby, CEO.
"Three important drivers of this performance were innovation, our International business and our strategic partnerships with Nissin and Mondelez International.
"International has been the star performer with sales growing +25%, and are almost double the level of three years ago, while the benefits from our Nissin and Mondelez International partnerships together contributed 55% of our revenue growth."
Premier Foods shares jumped 4% to 39.25p in early trading on the back of the better than expected results.
Morning update
Patisserie Holdings, the company behind Patisserie Valerie, saw revenues climb 9.1% as it released its results for the six months ending March 31.
The high street chain fended off a current decline in casual dining and high street footfall to post sales of 60.5m for the half-year. Pre-tax profits at the company also rose significantly, up by 14.2% to 11.1m.
The results have been described as a "strong" for a sector with "well documented challenges", by executive chairman Luke Johnson.
Patisserie Valerie is continuing its partnership with Sainsburys stores, where it has branded ranges sold 31 stores. The company said it will be shortly expanding this to another 10 stores.
The company, which trades at 206 stores, opened 10 new locations during the period.
"The group has delivered a strong set of results in a sector which has well documented challenges," said Johnson.
"Our vertically integrated and flexible business model enables us to deliver consistent profits with our affordable treats remaining popular with our very diverse customer base. We remain focused on organic growth and with a strong balance sheet continue to assess acquisition opportunities which will have a strategic and cultural fit."
The diluted earnings per share also rose by 13.2% to 8.92p.
On the markets this morning, the FTSE 100 has edged up by 0.2% to 7,713pts.
Early risers, in addition to Premier Foods, include PureCircle (PURE), up 2.9% to 370p, C&C Group (CCR), up 2.1% to €3.13 and Coca-Cola HBC (CCH), up 1.2% to 2,603p.
Fallers so far include Devro (DVO), down 1% to 224.3p, Majestic Wine (WINE), down 0.7% to 442p and SSP Group (SSPG), down 0.6% to 639.1p.
Yesterday in the city
The FTSE 100 started the week closing 0.1% down at 7710pts yesterday.
PZ Cussons (PZC) was one of the major grocery movers, climbing up 2.6% to 252.8p to continue its recovery since a share price drop in March.
Marstons (MARS) also climbed 2.6%, to 110.4p ahead of its interim results announcement tomorrow. Fellow brewer Greene King (GNK) moved up 2.6% to 553.6p.
The biggest fallers included high street bakery chain Greggs (GRG) which dropped 2.7% to 1025p.
Ingredients businesses Real Good Food (RGD) and Treatt (TET) fell 3.5% to just 14p and 2.0% to 480p respectively.