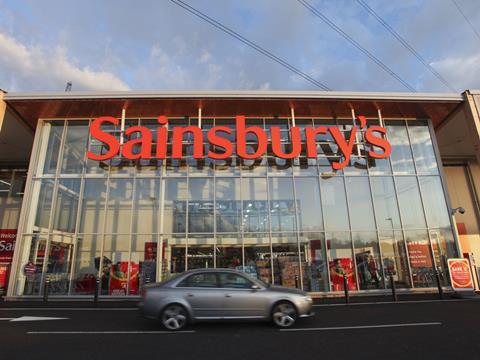 Top story
Sainsbury's (SBRY) like-for-like sales slumped by a further 1.6% in the 16 weeks to 29 June to put further pressure on CEO Mike Coupe after its failed merger with Asda.
Total retail sales fell 1.2%, grocery sales dropped 0.5%, general merchandise sales dipped 3.1% and clothing dropped 4.5%.
Convenience and online were the only areas of growth, with sales up by 1.5% and 5.1% respectively.
Coupe said Sainsbury's continued to adapt the business to changing shopping habits and made "good progress in a challenging market".
It reduced prices on more than 1,000 every-day food and grocery products and improved its relative performance, according to Kantar grocery market data for the 12 weeks to 16 June this year versus 12 weeks to 24 March 2019.
"Our premium Taste the Difference ranges are growing market share and we continue to improve customer service and availability. In a tough trading environment, we gained market share in key general merchandise categories and in clothing, where we are now the UK's fifth largest retailer by volume," Coupe said.
Sainsbury's said it will invest in 400 supermarkets this year, including an enhanced beauty offer in 100 stores.
"We are accelerating investment in technology: 148 supermarkets now have SmartShop self-scan, 206 Argos stores offer Pay@Browse and we upgraded 29 more Argos stores to digital formats, all helping to make shopping with us quicker and easier," Coupe said.
The group has reduced prices on more than 1,000 own-brand, high-volume products, across dairy, meat, fish, poultry and fresh produce since February.
It introduced 33 new plant-based lines in the quarter, including the UK's first meat-free 'Ribz' and our 'Vegbabs'. It said it was the leading UK retailer of chilled plant-based food with almost 30 per cent market share.
Sainsbury's plans to roll out its enhanced beauty range following what it said was a successful trial to 100 supermarkets this financial year.
It said it had committed to reducing net debt by at least £600m during the next three years and it was accelerating "disciplined, targeted" investment in the core supermarket estate and would improve the customer offer in more than 400 supermarkets this financial year.
Improvements were made to 84 supermarkets in the quarter and that would increase to more than 200 by the end of the first half.
Morning update
PureCircle (PURE) said in a year-end trading update that it expected to report sales of $125m (£100m) and EBITDA slightly below the current range of expectations for the 12 months to the end of June this year.
The world's leading produce and innovator of stevia sweeteners said the full year had been transitional with the launch of "the latest and best-tasting" stevia product, Reb M.
The company's new strategy was focused on launch of Reb M, which it said was off to a good start with many beverage and food products already in the markets of US and Europe achieving favourable feedback from consumers.
Demand for our early-generation Stevia products had fallen, as customers reformulated a number of their food and beverage products based on using PureCircle's newer generation stevia and the "superior" taste they deliver, it said.
In some cases, customer product launches had been rescheduled to a later date, which had moved the company's supply of products to them into its new financial year, rather than H2 FY19 as had initially been anticipated.
Maga Malsagov, chief executive, said: "PureCircle is committed to delivering the best tasting stevia products to the food and beverage industry worldwide and our innovative new product, Reb M, has been developed in line with this mission.
"Our innovation has enabled us to disrupt an industry which has a strong need for natural sugar alternatives and while short term this leads to substitution of our base business, we believe it positions us strongly for the future."
It was disappointing that some new reformulated product launches had shifted to the next financial year but Pure Circle's agenda was focused on mid to long term and its strong project pipeline emphasised that it had the right product portfolio to capitalise on "the growing demand for great tasting stevia products globally", Malsagov said.
On the markets this morning, the FTSE 100 climbed 0.4% in early trading to 7,586.7pts.
Early risers include Stock Spirits Group (STCK), up 4.7% at 235p, PZ Cussons (PZC), up 2.3% at 210p, Britvic (BVIC), up 1.2% at 911p, Marston's (MARS), up 1.1% at 117.9p and Just Eat (JE), up 1% at 620.6p.
Fallers so far today include PureCircle (PURE), down 5% at 234.5p following its year-end trading update this morning, PayPoint (PAY), fell 1.7% to 927p, Science in Sport (SIS), 1.4% to 60.12p and Sainsbury's dropped 1% to 197,55p, following this morning's first-quarter update.
Yesterday in the City
The FTSE 100 closed up 0.8% yesterday at 7,559.2pts.
Food inflation held steady at 1.8% in June – in line with the 12-month average price increase and slightly below the six-month average price increase of 1.9%, the latest Shop Price Index from the British Retail Consortium (BRC) and Nielsen reveals.
Fresh Food inflation eased in June to 1.4% from 1.5% in May. This is in line with the 12-month average price increase, but below the six-month average price increase of 1.5%.
Ambient food inflation accelerated to 2.3% in June up from 2.1% in May. This is in line with the 12-month average price increase, but below the six-month average price increase of 2.4%.
With food inflation steady, June's headline inflation figure was driven by the sharp decline in Non-Food prices. Out of the seven non-food index categories, inflation eased for four of them and the remaining three were deflationary.
Mike Watkins, head of retailer and business insight, at Nielsen, said:
"Food inflation is broadly stable, and this looks set to continue over the summer with many supermarkets reducing prices, helping to offset some of the cost increases coming through the supply chain.
"This is helping shoppers make further savings on household bills as well as providing a much-needed boost to sales.
"On the non-food high street, retailers are maintaining the level and depth of price cuts, to help drive footfall following dampened demand due to the weather and wavering retail spending."
Helen Dickinson, chief executive of the BRC, said a no-deal Brexit would hinder retailers' abilities to continue to contain prices, as checks and delays would raise the cost of doing business.
"The October 31st deadline also comes at the worst possible time for retail – the height of preparations for Christmas and Black Friday, which are peak trading periods, threatening to cause disruption for consumers and businesses, and making further stockpiling of goods almost impossible.
"It is vital that the next Prime Minister reaches a deal with the EU and avoids the cliff edge," she said.
FTSE 100 fallers included McColl's Retail Group (MCL), down 5.8% to 65p, Ocado Group (OCDO), down 1.6% to 1.191.5p, B&M European Value Retail (BME), down 1.6% to 333.9p and Just Eat (JE), off 1.1% at 614.4p.
Stocks on the up included Reckitt Benckiser Group (RB), up 3.3% to 6,365p, Fevertree Drinks (FEVR), up 3% to 2,380p, Majestic WINE (WINE), up 3% to 264.5p, Imperial Brands (IMB), up 2.6% to 1,937p and Unilever (ULVR), up 2.2% to 5,106p.