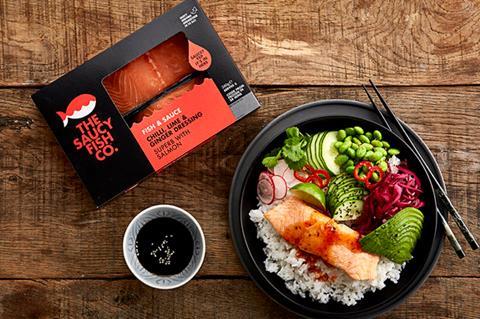 Top story
Sales surged 21.5% at Hilton Food Group (HFG) as it was buoyed by the integration of fresh fish supplier Seachill and new business wins.
The acquisition of Seachill in October 2017 helped to drive the rise in sales to £1.6bn for the full-year ended 30 December 2018.
Pre-tax profits similarly jumped, increasing 22.2% to £45.7m, as it finished ahead of analyst consensus.
Sales growth was significantly driven by the integration of Icelandic Seachill, which also secured a contract worth an estimated £50m to supply Tesco with all its own-label chilled prawns.
Price improvements and positive currency effects also helped to boost revenue growth ahead of volumes, which rose 13.5% over the period.
Hilton sales also grew on the back of its UK & Ireland meat supply business which delivered "solid" mid-single digit volume and revenue growth.
Regionally, the own label producer saw significant growth in Australia, where, in June 2018, it took full control of the joint venture facilities it established with Woolworth Group. It has also commenced production in a new satellite facility in Brisbane, with a new factory also expected to open in the third quarter of 2019.
The group also recorded strong volume growth in Central Europe, where it also launched new convenience foods.
In October 2018, the food packaging specialist also secured a deal to buy a 50% stake in Dutch vegetarian food producer Dalco, as it continued its push into plant-based products.
The company's performance in the early months of 2019 has been "in line with expectations", and it will continue to explore expansion opportunities in new markets.
"In 2018, we continued to deliver on our strategic objectives to build a significantly bigger and more diversified business," commented executive chairman Robert Watson.
"Seachill's integration together with the new shellfish business win has driven volume and profit growth further supported in Australia through the start of production and transfer of operational control in the joint venture facilities.
"We are adding another protein to our offering through an agreement to invest in leading vegetarian producer Dalco and continue to explore further opportunities in both domestic and overseas markets."
Morning update
Tobacco giant Imperial brands (IMB) said it remains upbeat on revenue guidance and expects meat its sales targets for the year.
In a trading update to investors, it said growth had been aided by the strong performance of its myblu vaping brand following investment into brand awareness.
The brand has seen "significant year on year growth", and has built "strong retail positions" in Europe and Japan.
In the USA myblu has also reported good year on year growth it added, despite market uncertainty amid FDA pressure on vaping regulations.
In tobacco, the Bristol-based business is on track to deliver "modest revenue growth" weighted towards the second half, more than offsetting a slow first half of the year, it said.
Volumes have been down for the second half year, impacted by price increases in the US, while price-mix continues to be strong.
The company said it was on track to meet its full-year earnings expectations, with growth in the range of 4% to 8%.
"Operating profit in the first half reflects continued underlying growth in Tobacco profits albeit more than offset by increased investment in blu of £100m," the supplier said in the trading update.
The FTSE 100 has risen modestly this morning, increasing 0.1% to 7,204pts, following a positive trading session on Wall Street yesterday.
The early risers this morning include Premier Foods (PFD), up 2.6% to 35.7p, Devro (DVO), up 2.3% to 198.6p, and Greene King (GKN), up 1.5% to 672.2p.
The early fallers include Fuller, Smith & Turner (FSTA) down 3.9% to 1,090p, Majestic (WINE), down 2.9% to 220.5p, and AG Barr (BAG), down 2.6% to 774p.
Yesterday in the City
The FTSE 100 finished higher, up 0.3% to 7,196pts, as exporters were boosted by the strong dollar.
Ocado Group (OCDO) surged 4.1% to a new all-time high of 1,307p, after it secured its fifth international partnership, with Australian retailer Coles.
The deal will see Coles spend up to A$150m to build automated warehouses and gain access to Ocado's technology platform.
Posh mixer maker Fevertree drinks (FEVR) jumped 6.2% to 2,700p after it beat sales forecasts, to post a 40% jump in annual revenues to £237.4m.
Elsewhere in drinks, Irn Bru manufacturer AG Barr (BAG) saw shares rise 2.3% to 795p after it shrugged off the sugar tax and CO2 shortages to deliver rises in profits and revenues in 2018.
Other risers over the day included Nichols (NICL), up 6.5% to 1,710p, Just Eat (JE.), up 3.8% to 753.8p, and Paypoint (PAY), up 3.5% to 874p.
Majestic (WINE) continued its slump in value, sliding another 4.6% to 227p, after revealing plans to offload stores and rebrand under the Naked Wines moniker.
Other fallers included Total Produce (TOT), down 3.9% to 141.2p, Purecircle (PURE), down 3.3% to 251.5p, and Premier Foods (PFD), down 2.4% to 34.8p