Variety is not something Farmison is struggling with this year.
The specialist butcher has developed plenty of options for distinguished palettes, featuring a host of meat products not usually considered for inclusion on the Christmas dinner table.
It has hopped onto trends in order to make festive food a thoroughly modern affair. Here's our pick of the range:
Party food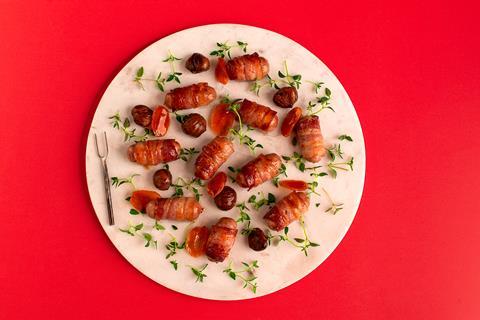 Your average pigs in blankets might be typical of Christmas, but this kind of range isn't. Farmison is rolling out Ultimate Pigs in Blanket (£7.95), Luxury Chestnut, Sage & Apricot Pigs in Blanket (£8.95) and replacing sausages with dayes for its Devils on Horseback wrapped in smoked bacon (£9.95).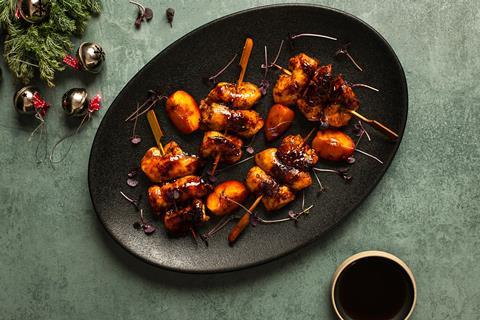 Following on from the success of last year's Aromatic Duck Cocktail Sausages which were best sellers, Farmison has introduced a new Wild Venison cocktail sausage and added Duck Koftas to its trimmings range.
Further options include: Aromatic Duck & Plum Cocktail Sausage (£7.95); ; Family Side Pork & Caramelised Red Onion Sausage Roll, Gratin Dauphinoise (£8.95), Hot Chilli Chicken Wings (£6.95) and Handmade Steak & Bone Marrow Sliders (£12.95).
Sauces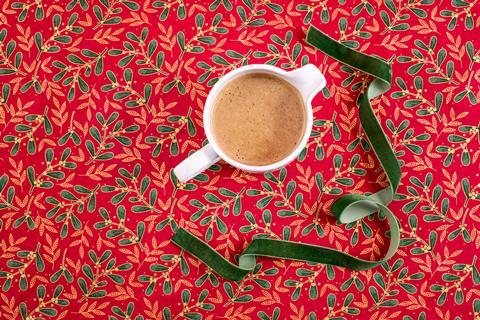 Among the range of accompaniments to its 'better meat' products, Farmison has launched sauces designed to enhance the eating experience are Chestnut & Pedro Ximénez Sherry Sauce (£8.95) Cranberry Sauce with Port & Orange (£5.95) Roast Beef Gravy (£7.95), Sourdough Bread Sauce (£5.95).
Centrepieces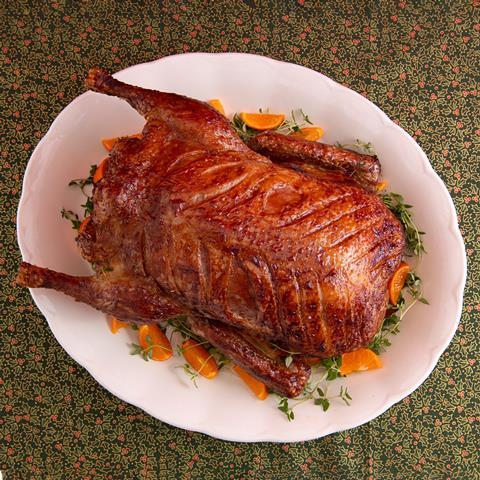 For when one bird isn't enough, Farmison has reinvented the three bird roast. It has dropped turket in favour of goose, duck and pheasant make up its roasting joint for those who just can't decide on a single meat.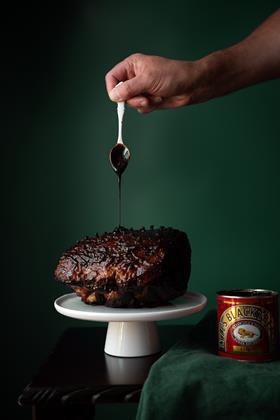 The brand's selection of Christmas dinner centrepieces was curated by Michelin-starred Executive Chef Jeff Baker. Among his picks of the range are a Heritage Game Hung Free Range Goose (from £96.95), Easy Carve Duck Galantine with Drunken Fruits Stuffing (£36.95), Hand Carved Smoked Salmon (£25), Stuffed Quails with Golden Raisins & Citrus Peel (£16.95), Fillet Barrel with Bearnaise Butter (£89.50) and Easy Carve Loin of Lamb with Apricots, Fennel & Lemon Peel (£46.50).
"Mutton used to be to go-to traditional Christmas meat for the Victorians, and after the success of muttons sales last year, this traditional meat is back on the menu," the company tells The Grocer. As a result, it will be stocking six mutton roasting joints including a Balmoral Swaledale Mutton Cushion for the 2021 festive season in a bid to capitalise on the renewed hype.
Farmison also points to beef roasting joints as one of the top sellers of 2020, leading it to add new SKUs including a Treacle Cured Beef Brisket and roasting joints with a range of stuffings and crumbs.

Farmison has latched onto the trend for pork belly, combining the savoury flavours with sweet notes typical of the festive season in its Sea Salt & Muscovado Sugar Cured Belly Pork (£38.50) and Sugar-Spiced Pork Belly additions ot the range.
Wellingtons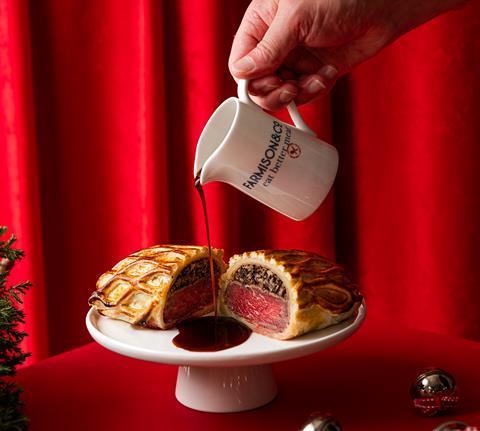 Beef Wellingtons have seen strong growth and customers are increasingly looking for alternative centrepieces to the traditional turkey so this year, they have their own category and the range has tripled in size, says Farmison.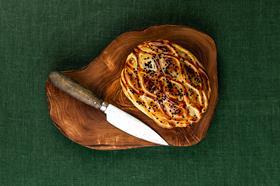 The range includes individual beef wellingtons for at the budget end of the scale, coming in at £18.50 all the way up to the Ultimate Beef Wellington, which sells for £120. It's not just beef either, customers will be able to branch out and try a Wild Venison & Air Dried Ham Wellington (£40) or a Free Range Pork Wellington should they so choose.