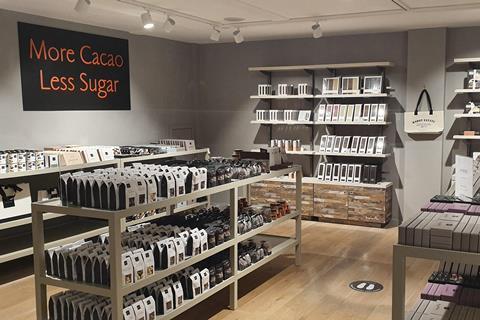 Hotel Chocolat has opened a new outlet store selling surplus end-of-season stock and misshapen items at its distribution centre in Cambridgeshire.
The luxury chocolatier said the new store, which has opened in an extension of the St Neots DC, was part of its ongoing sustainability efforts. This has already seen Hotel Chocolat encouraging customers to bring any plastic packaging into stores to be recycled and launch packaging made using sugar cane as part of its pledge to make all its packaging reusable, recyclable or compostable by 2021.
The 14,000 sq ft outlet, which opened this week, is made up of two rooms and features a café with indoor and outdoor seating. A maximum of 25 customers will be allowed into the branch at a time and 20 seated outside to maintain social distancing.
Hotel Chocolat also has six outlet branches in Cheshire Oaks, York, Bridgend, the O2 (London), Clarks Village (Somerset) and Gloucester Quays.
"This innovative drive-to factory outlet' is like nothing we've opened before," said Angus Thirlwell, CEO and co-founder of Hotel Chocolat.
"Not only will it add to our new job creation in the area, it's a unique solution for guests at this present time. Guests can drive from their front door to ours – there is ample parking and the site itself is twice the size of an average Hotel Chocolat, across two rooms with extensive outside seating too.
"This opening captures the spirit of Hotel Chocolat, epitomising our brand strength and vigour in a physical format. Complete with hot and chilled drinks, award-winning Ice Cream of the Gods and lots of chocolate, this new cacao-fuelled pitstop is part of our mission to bring happiness through chocolate."