Since its launch in Canada in 2005, healthy fast food chain Freshii has grown rapidly, with 300 locations across 20 countries, including 20 outlets in Ireland, and ambitious plans to have 840 worldwide by the end of 2019. But approaching its first UK store in Holborn, which opened in February, it's clear the chain will face some stiff competition if it wants to succeed on British high streets. There are at least three Pret a Mangers nearby and a Leon just across the road.
UK CEO - and UK 'master franchisee' - Kate Skerritt is unperturbed. "We're more creative than our competitors," she says. "A lot of brands are trying to keep their costs down and are therefore not very innovative with their ingredients. We are. And because we've just started, a lot of our prices are cheaper. We're selling artisan coffee for £1, which is extremely cheap."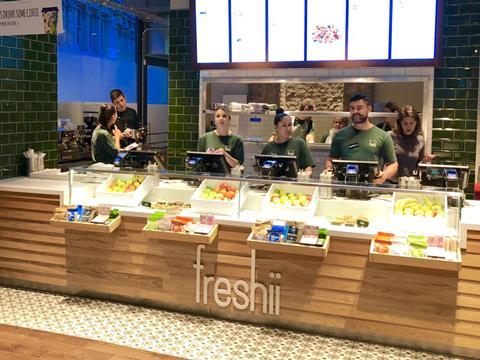 Among the innovative additions to its menu are houmous with beetroot powder, an 'immune boost' turmeric latte, and triangular-shaped 'pockets', Freshii's "answer to sandwiches". Available on the breakfast and lunch menu, these 'pockets' of traditional fillings in a spinach wrap will be replicated by other brands in the next six months, predicts a confident Skerritt.
She has reason to be. Not only a trained naturopath and nutritionist, Skerritt previously worked as director of food EMEA for Starbucks, helped to establish Pret a Manger in the US, and also co-founded her own healthy fast food chain in London - Pod - which has more than 20 stores across the capital. In other words, she knows what's she's talking about, and believes Freshii has potential to be the next big "lifestyle brand" in the UK.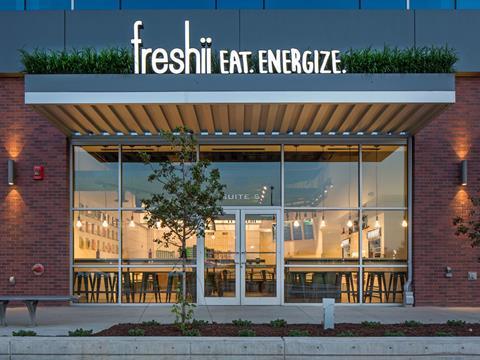 "It's a great brand which is lacking in Europe," she says. Based on the concept that everyone has a different idea of healthy, the menu provides options for meat eaters, vegetarians and vegans, as well as featuring superfoods in some dishes and borrowing from various world cuisines in others.

All food is made on site, with both freshness and sustainability high on the agenda - separate bin compartments set out for each component of a takeaway cup (including the liquid) being one practical example.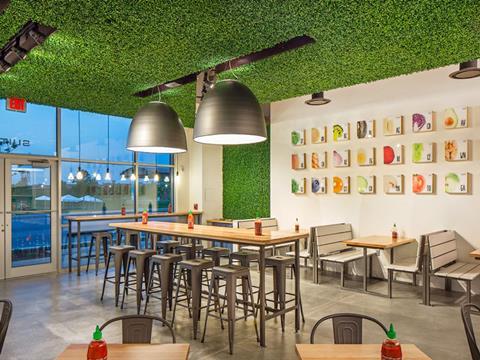 Spread across two floors and 2,500 sq ft, the flagship Holborn branch will act as Freshii UK's head office, its kitchen used for development and training purposes as well as to prepare hot and cold food, while a separate room is used for meditation and yoga classes. Its stripped-back appearance - with exposed brick walls and bare pipes, the slogan 'Let's Eat. Let's Energize. Let's try new things' emblazoned across the wall - won't simply be replicated in future franchises though. Each new store will have a tailored design to reflect its local demographic, says Skerritt.
The average amount a Freshii franchise owner spends on setting up a store in Canada is $250,000 (nearly £190,000), which Skerritt says she 'will try to cut down in the UK to make it as easy as possible on the franchisees'. The franchise fee is around £27,000, which includes in-house training unique to the UK. "You need to have money to invest in the franchise but you also need to invest money in the branch because I would like to see the people I partner with grow - I want people with ambition who want to have multiple franchises and will be passionate about the brand."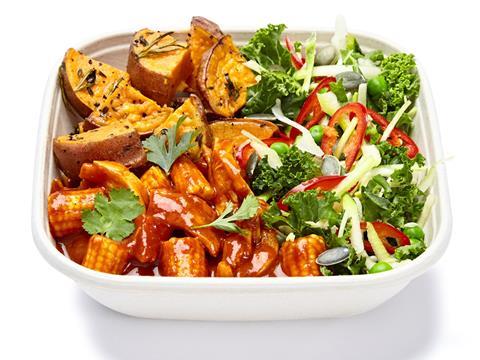 Already a second store, still looked after by Skerritt, is due to open next month on Bow Lane, with the first franchisee partner-owned store planned for north west London soon after. Both form part of an ambitious five-year growth strategy led by Skerritt to open five sites in the UK by the end of 2018 and 200 sites by the end of a five-year period.
As part of its lifestyle brand aspirations, the UK chain will launch its own app in June too, which will include a loyalty scheme and all the nutritional information for its menu "as a useful tool for people to focus on health".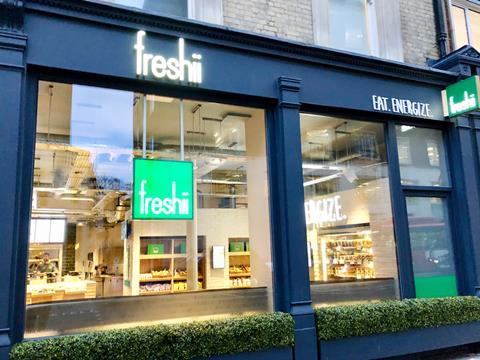 Skerritt also hints that she's keen to follow in Freshii's footsteps in Canada by partnering with forecourts. Plans to boost the health credentials of hospital food with its range are also on her to-do list.

It won't be easy. Particularly with established rivals like Leon breathing down her neck. But with the strength of a global brand behind her, a burgeoning British appetite for healthy fast food and a stellar CV to boot, Skerritt embodies that slogan perfectly.