Britain's love affair with ice cream is hotting up, with indulgent lines driving huge growth. So who's flavour of the month?
It's the height of indulgence: an ice cream-themed room for two. Claimed to be the first of its kind, the Valio Jäätelöfabriikki Sweet Suite opened in March at Hotel Klaus K Helsinki (above) in collaboration with dairy company Valio.
The €70-a-night suite's sickly-pink design is based on Valio's Jäätelöfabriikki ice cream brand. It promises a bubble bath, a swing (yes, really) and a king-sized bed. Most tantalising, though, is the promise of 'all the ice cream you want'.
"To many, ice cream is a break from the daily grind," says Valio's ice cream business manager, Tea Ijäs. "We wanted to create a small, surprising experience around delicious ice cream. This luxurious hotel suite and our beloved ice creams are a match made in heaven."
There is one catch, though: the room is only available until the end of September. So if your sweet tooth can't make it to Helsinki, what indulgence can you find in UK freezers?
The ice cream category is home to more choice than ever. From low-calorie options Halo Top and Oppo, to pure indulgence such as Froneri's handheld Extrême lineup, there's an option for everyone. Last year's scorching summer was the cherry on top, helping to deliver 9.9% growth to £1,115.4m, on volumes up 6% [Kantar 52 w/e 19 May 2019].
Low-cal ice cream may have grabbed many of the headlines for the sector recently, but for every action there's a reaction: punters are also demanding more indulgent offerings. Magnum, for instance, bagged a hefty share of the ice cream bonanza with innovations such as a luxury Chocolate & Hazelnut Praline tub.
"What better way to enjoy a moment of pleasure than with a tub of ice cream?"
"With increasingly busy lifestyles and hectic schedules, we look forward to moments of relaxation where we can truly unwind," says Andre Burger, VP for ice cream & snacking at Magnum owner Unilever. "What better way to enjoy a moment of pleasure than with a delicious tub of ice cream?"
This mentality isn't confined to the summer, Burger adds. "It is the winter months that this sector really comes into its own. With consumers, especially millennials, favouring a night in on the sofa instead of a night on the town, tubs are the perfect accompaniment while watching Saturday night TV."
Jane Woodhead, co-founder of boozy ice cream brand Speakeasy, echoes this year-round potential. "According to Mintel's annual ice cream report, 75% of consumers see premium ice cream as a year-round indulgence. This is reflected in our sales."
With 'indulgent' being almost synonymous with 'pricier', demand for luxury ice cream has helped average price per litre grow by 3.6%. That's impressive for a category that has in the past fallen victim to heavy discounts by the mults. The practice of promotions "has recently come under scrutiny", according to Woodhead. "What we're now seeing is the rise of craft producers and larger brands bringing high-quality offerings with premium price points to the market, which is driving up average prices."
Those prices are also being pushed up by better-for-you options. Halo Top from the US comes at a sizeable rsp of £5 per 473ml, for example; Oppo is £4.99 for 475ml. "Healthy ice cream accounted for 50% of growth in all ice cream tubs in 2018," says Charlie Thuillier, Oppo founder & MD.
So, it's little wonder other players are getting in on the act. Since Halo Top arrived in the UK in early 2018 – going on to smash its way into the top 10 ice cream brands – it has inspired a slew of launches. Häagen-Dazs, Graham's the Family Dairy, Asda, Aldi, Morrisons and Co-op have all cashed in.
"The appetite for indulgent ice cream continues to grow as more shoppers buy more often"
It may seem like a crowded market, but Graham's MD Robert Graham is convinced there is more growth to be had. "By creating new formulations that reduce sugar or fat, or radically reduce the calorie content, there is an opportunity for ice cream to appeal to a new generation of more health-conscious consumers," he says.
Kat Jones, marketing manager for ice cream & snacking at General Mills, can also testify to the growth opportunity. The February launch of the Häagen-Dazs Gelato Collection, with 150kcals per 95ml pot, has already had a positive effect on the brand's sales, she says.
"We are seeing the appetite for indulgent ice cream continue to grow as more shoppers are buying more often and spending more when they come into store. The introduction of the Gelato Collection at the beginning of this year has meant we've been able to open up the brand to shoppers looking for the perfect permissible treat."
And with the influx of healthier options challenging typically indulgent lines, "the ice cream space has become very competitive over the last 18 months" says Laura Palmer-Hurst, brand manager at sugar-free brand Wheyhey. "This in turn has led to consumers becoming very promiscuous in their choices."
Such opportunity for promiscuity suggests Brits won't have to book a hotel room in Helsinki to fulfil their ice cream fantasies
Revealed: ice cream is the hottest plant-based sector
In ice cream, the V-word is sparking the L-word. That is, with the rise in vegan choices, "more shoppers than ever before are falling in love with ice cream". That's according to Unilever ice cream VP Andre Burger. "A huge part of our focus over the past few years has been making ice cream more accessible to those following specialist diets."
Of those diets, plant-based is the one to have sparked most innovation. In ice cream, the likes of Halo Top, Ben & Jerry's and Alpro have cashed in on grocery's dairy-free mega-trend.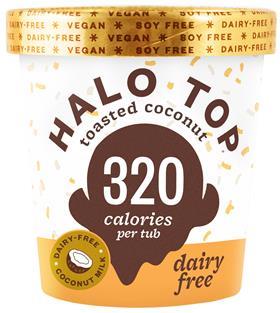 Sales for the sub-sector are already skywards and set to get higher, suggests Alpro marketing director David Jiscoot suggests. "When you consider the growth of plant-based ice creams over the past year, which has increased 52% – faster than all other plant-based segment – it's easy to see why retailers should be making space in their freezers for these options."
Before being able to cash in on vegan ice cream, however, there are numerous obstacles to creating an offer that will "unlock the potential of the whole market" warns Cecily Mills, founder of plant-based brand Coconuts Organic. For one, the ingredients are "extremely expensive". Secondly, there is the challenge of creating the "same eating experience of a dairy ice cream. That is to say, it needs to be creamy, smooth and melt well in the mouth".
Although she adds: "For the brands that can achieve this, the sky is the limit."
Not everyone's coming along for the ride, mind. Take Mackie's of Scotland, for instance. It pays close attention to the vegan ice cream market, says sales director Stuart Common. But when the dairy business conducted a survey of people's ice cream preferences, "one of the top reasons for consumers choosing a particular brand was because of the creamy taste. That might be a hard one to replicate if we went non-dairy.
The Dairymen
From lab-made milk to butter shortages, our annual definitive guide to the dairy category is full of insight and analysis on the latest trends shaping the industry. This year, The Dairymen will explore how the UK's exit from the EU will affect British dairy, and ask how the industry can make sure it is prepared to tackle the supply chain pressures it might bring, as well as making the most of potential new export markets.
Gold and Platinum members will be able to download The Dairymen from 14 September. Subscribe now. We'll be publishing insight and analysis from The Dairymen online throughout September and October.


Daniel Selwood is The Grocer's special projects editor, managing Britain's Biggest Brands, Britain's Biggest Alcohol Brands, The Dairymen and Top Products – as well as contributing to news, analyses and category reports.

He joined the magazine in January 2016 as food & drink editor, having been at financial & legal publisher LexisNexis for eight years.

He began his journalism career in the mid-1990s at a general interest magazine in Sheffield.

Follow Daniel on Twitter: @danielmcselwood