Almost £12k. That's how much the average UK parents shell out on their little darlings in their first year on the planet, according to a 2017 report by Loughborough University. That's a whopping £958 a month.

Little surprise, then, that cash-strapped parents are turning to the discounters (excluded from this data). "The discounters continue to be strong in the category and value sales have grown at 4%," says Nielsen analyst Grace Power.
Sales in the supers, meanwhile, have slumped. Three of the four sectors measured here are down and even strong growth in baby snacks wasn't enough to stop total value falling 1.7% (£11.4m) on volumes down 5.1%.

Even when shoppers are visiting the mults, they're going for cheaper own-label options. Own label might only account for 4.9% of babyfood market value, but it's grown 63% and volumes have doubled. "Private label is doing really well, with both existing SKUs growing and new products launched," says Power, pointing to own label's near 20% lower average prices.

None of this means parents are scrimping on their little ones. "Health trends feed heavily into infant feeding with organic, simple, natural ingredients winning out," adds Power, citing products such as Tesco's organic kids ready meal range Mini Meal Adventures and Asda's Little Angels Organic Lion Puffs.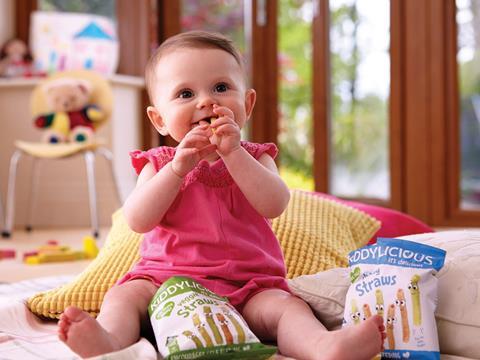 Lidl has arguably set the bar highest. Its new Lupilu range was launched to rave reviews and a Good Housekeeping Institute seal of approval in April. NPD includes 100% organic apple & banana fruit pouches at just 39p - less than half the price of leading brand Ella's Kitchen's offering at £1.10.

Still, it's not all doom and gloom for the brands in the mults. Take Heinz, for example. Although sales are down, the brand has overtaken Hipp Organic to become the third bestselling babyfood brand following the launch of Heinz By Nature (see Top Launch) with 100% natural ingredients. "Parents would ideally feed their little ones homemade from fresh, but this isn't always possible," says Kraft Heinz's marketing manager Francesca Mattiussi. "We believe Heinz By Nature is as close to parents' demands as possible."

Playing the health card has also helped organic babyfood brand Piccolo climb three places to six in our ranking with its 100% natural fruit & veg pouches.

It's not just food facing changes to the pecking order. There's a similar situation in infant snacks. Ella's Kitchen has climbed from six to three in our ranking, overtaking Heinz, Bear and Farley's. It puts the 51.8% rise in volume down to the success of its Melty Puffs and Melty Sticks finger food. The brand claims one Melty Stick is eaten every second in the UK and it has added two new flavours. Meanwhile, Kiddylicious is the fastest-growing snack brand with value sales up 59.5% to £20m, giving it market share of 24.4%.

Not everyone has won in this reshuffle. Organix remains the number one baby snacking brand but has seen £1.4m wiped off its value. "With increased shelf space for the category comes an increase in ranges and greater choice," says Organix MD Philipp von Jagow. Plus, Organix is feeling the impact of consumers trading down to own label.

That trend is affecting all corners of the market, from snacking to infant formula. Last year Aldi's Mamia range, including formula almost half the price of Aptamil's equivalent, overtook Asda's Little Angels to become the bestselling own-label baby range.

Meanwhile, the three top formula brands - Danone's Aptamil, Cow & Gate and Nestlé's SMA - have seen value and volumes fall. "The current trend is influenced by a decline in the birth rate. However, we can see green shoots of recovery in the latest four-weekly data," says Roz Davies, head of category development at Danone Early Life Nutrition.
"The current trend is influenced by a decline in the birth rate"
Those green shoots come in the form of RTD formats such as Aptamil Profutura, value sales of which are up in double digits, according to Danone. This has helped counter damage done by negative headlines - Danone came under fire in July when some parents claimed Aptamil's new powder recipe was making their babies ill. (The FSA confirmed there were no safety issues with the product.)

Negative headlines have also fuelled the decline in baby juice, down 18.5% in value and 19.9% in volumes. Danone exited the category in 2017 and retailers are no longer bothering to offer their own alternative.

The biggest challenge facing the baby aisle, however, is not negative publicity, price or declining birth rates. "The continued increase towards home-cooked babyfood is the biggest threat, which is why the nutritional value of these products is so important to highlight," says Nielsen's Power.

Better get busy, brands.
TOP LAUNCH
---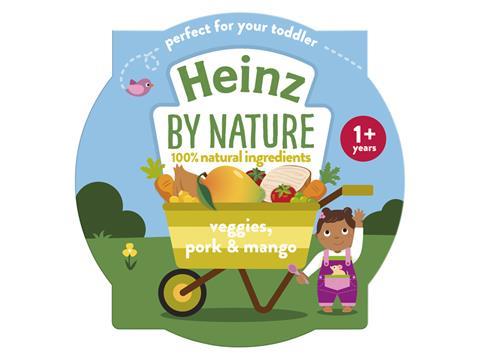 By Nature, Heinz
Heinz has taken third place in babyfood from Hipp Organic, following an overhaul of its range in February. The new By Nature branding was inspired by research that found 57% of parents worry about what goes into prepared babyfood. Hence the '100% natural ingredients' claim mounted alongside cutesy images of wheelbarrows overflowing with vegetables. Heinz forked out £1.5m to back up the relaunch, which is all part of its bid to become number one in babyfood. Watch out, Ella!