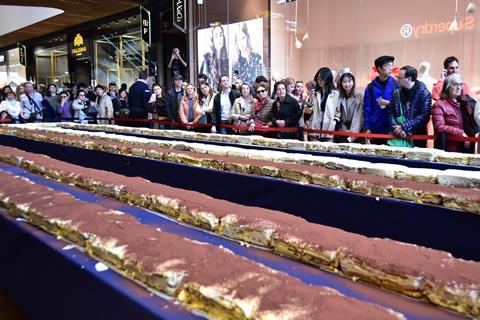 It's been a busy time for coffee-related world records - records one imagines are pursued with disproportionate energy by challengers hopped up on espresso (you never see a Horlicks-related record attempt, do you?).

Anyway, first up, it's the world's longest tiramisu! Constructed in Milan, in part by Galbani-owned cheese brand Santa Lucia, the dessert measured 273.5 metres - requiring 50,000 ladyfingers, 500kg mascarpone, 130kg eggs, 65kg each of sugar and cocoa… and 300 litres of coffee. Milanese shoppers were invited to tuck in, while a local children's hospital also benefited to the tune of 15,000 portions.

Meanwhile in Australia, barista Liza Thomas established a Guinness record for number of cappuccinos made in an hour, clocking 420, or an amazing seven per minute (we wonder how thrilled her colleagues at the Social Café in Bribie Island, Queensland were with how high she set the productivity bar). The coffees were distributed for free to a goggling crowd as Thomas toiled - let's hope a tips jar was passed around.