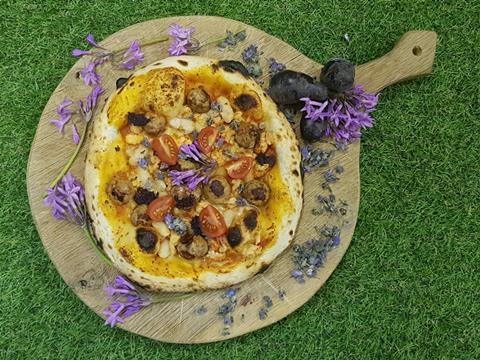 Poor Meghan Markle. Not only has she had to swap a Hollywood career for a lifetime of wearing hats and waving at sycophants, she must also endure 'tributes' from the British food industry.

We've already had The Black Farmer's sausages, which piggyback the royal nuptials to explore diversity and under-representation via the medium of smushed hog.

Now pizza oven business Valoriani UK is getting in on the act. Creator Andrew Manciocchi was inspired by the regal Margherita, whose toppings represent the colours of the Italian flag. So his 'Meghan' fuses 'food that it is said Ms Markle adores', with a 'red, white and blue' theme.

The result is an unholy combo of turkey meatballs, crayfish tails, cannellini beans, cherry tomatoes, parmesan and chilli flakes, plus blue carrots, lavender and garlic flower. It looks - like all pizzas - yellow.

Welcome, Meghan!