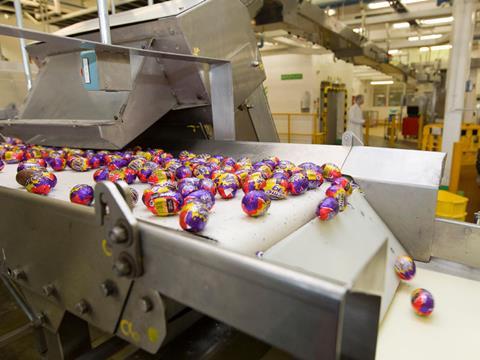 Major food and drink companies have begun stockpiling supplies and exploring alternative manufacturing options in Europe as fears of a cliff-edge Brexit reached fever pitch.

The Grocer understands a raft of food and drink companies have decided to start actively stockpiling goods and ingredients in the UK and Europe, despite hopes negotiators will still secure an agreement with the EU over customs plans.

The Grocer first revealed in March that companies were hatching plans to stockpile products in the UK and in European export countries to safeguard themselves from the threat of Brexit border chaos, amid fears key ports such as Dover will grind to a halt in the event of a No Deal, once the UK's departure from the EU is completed in six months' time.
But what started out as "contingency plans" have turned into a reality with companies deciding the time has come to act.

This week, confectionery giant Mondelez told The Times it was shipping in ingredients early in case of a no-deal.

And four other major UK suppliers have confirmed to The Grocer they are already bringing in emergency changes to their "safety stock" procedures. All had drawn up measures to increase stockpiles by at least three to five days, with one saying they planned to move to having more than 10 days of "safety stock".

"For raw materials, there is the assumption that suppliers to the manufacturers will hold higher levels of stock, reducing the burden on the manufacturers' warehouses, in the same way that retailers will almost certainly expect their suppliers to hold higher levels of stock (at no cost to them)," said a logistics source.

"I would have expected nine days safety stock to represent a 15%-20% increase in pallets on key imported lines, which might translate into a 10%+ space requirement on EU sourced products," the source added.

Feedback from these companies also shows companies are racing to secure extra warehousing space.

One supplier said it believed it would need to secure more than 10% extra warehousing space than its current capacity.
Another supplier source added: "In the last two weeks we've moved from a situation where we were talking about theoretical planning to companies actually taking practical steps to stockpile.

"They are looking at how they increase their warehouse capacity in Europe and the UK.

"Major companies are now starting to move on this because they see that time is running out. They are also looking at which ports they move their goods through to see if there are alternatives to avoid the predicted chaos at places like Dover.

"The fact that big companies like Mondelez are now coming out and saying they are doing this is also bound to mean there will be an element of contagion in all this. Logistics people will not want to be the ones to face the audit committee after failing to take appropriate steps to prepare for the fall off the cliff edge."

In addition to stockpiling, some suppliers are looking at alternative supply, due to the short shelf-life on many food and drink products. Douglas Lamont, CEO of Innocent Drinks, said it faced a "massive issue" that could result in job losses in the UK as it may be forced to shift production to the EU "in the uncertainty that a no-deal scenario creates for us".

"We're bringing fresh blend fruit into the UK with a very short shelf-life on it, to be bottled in the UK," he said. "If that's held at the border because of inefficiencies in the system that's a massive issue for us.

"In our case we would look to then shift bottling out of the UK so that you have a longer shelf-life on product. We don't want to do that, because that shifts jobs out of the UK and as a British business we do not want to see that. But there's a danger of unintended consequences."

Other small suppliers have said the only reason they are not stockpiling now is because they cannot afford to do so.

"I'm not stockpiling because I don't have the cash, but it would be bloody sensible if I could afford it," said Chris Ormrod, boss of ingredients supplier The Flavourworks. "I would like to stockpile an extra three or four months of butter, but it would cost about £1m."
Butter accounts for 20% of total sales for the Wiltshire-based ready meal ingredients supplier, which specialises in garlic butter. With the possibility of a No Deal Brexit growing by the day, Ormrod believes politicians just don't realise the implications in terms of inflation.

"If you've got a no deal Brexit, I'm looking at a 40% tariff on butter and 20% on garlic. So a no-deal Brexit would lead me to increase my prices by 8-10%, and that's before immigration and labour, which is another viper's nest.

"I've been able to place a contract on butter over the Brexit period, covering pricing, but it won't last for ever.

"Food is largely invisible to the public and to politicians, but once we have inflation like that, it will be too late."

FDF corporate affairs director Tim Rycroft said: "With six months to go, food and drink manufacturers are now starting to take more practical measures to prepare for a disruptive Brexit.

"We are starting to see the industry move materials and ingredients into Europe and into the UK to minimise supply chain risks. They are also looking at their product journeys to see where the risk of the greatest disruption is and how they can put alternative arrangements in place."

Mondelez International, owner of Cadbury, revealed it was stockpiling ingredients, including chocolates and biscuits, as the 29 March deadline looms.
"Like the whole of the food and drink industry in the UK, we would prefer a good deal that allows the free flow of products as that would have less of an impact to the UK consumer,"

Hugh Weber, president of Mondelez Europe told the Times.

"However, we are also preparing for a hard Brexit and, from a buffering perspective for Mondelez, we are stocking higher levels of ingredients and finished products, although you can only do so much because of the shelf life of our products. We have a contingency plan in place to manage a hard Brexit, as the UK is not self-sufficient in terms of food ingredients, so that could be a challenge," he added.