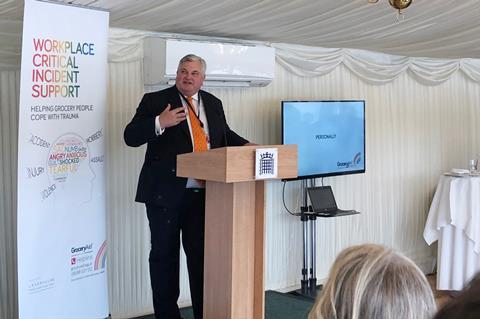 GroceryAid has launched new professional counselling support to grocery colleagues in the aftermath of an accident, robbery or assault in the workplace.

The Workplace Critical Incident Support service was officially launched at an event in the Houses of Parliament this week attended by over a hundred industry leaders and MPs. The service is funded by the Leverhulme Trade Charities Trust.

GroceryAid is partnering with CiC, specialists in workplace counselling, to provide professional counsellors who visit sites to run either group or individual sessions which provide practical advice and tools to help people manage their feelings and emotions.

"Sadly there are incidents and accidents in grocery workplaces and we are delighted to introduce a service that can be there to support colleagues affected by these," said GroceryAid chief executive Steve Barnes.

"Right now in particular, we are acutely aware of rising numbers of attacks on independent retail colleagues - these attacks can have lasting effects. As the charity for the entire grocery sector, we are pleased to expand our support offering to be there for colleagues and companies dealing with the aftermath of trauma."

Steve Williams, from the Leverhulme Trade Charities Trust, said "We are delighted to fund the introduction of GroceryAid's Workplace Critical Incident Support. The Charity plays a crucial role within the grocery industry, supporting colleagues when they need it most. This new service will help individuals deal with the emotional aftermath of traumatic events."

The event was sponsored by GroceryAid life patron Lord Price and also supported by the Association of Convenience Stores and the Federation of Wholesale Distributors.