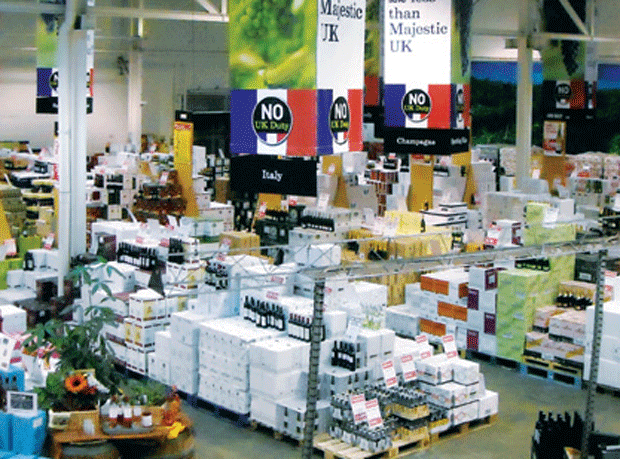 Online sales and fine wines helped boost results for the UK's largest specialist wine retailer, Majestic, the company said, as it set its sights on further expansion of its ecommerce and retail stores.
Majestic Wine saw profit before tax increase by 2.1% to £23.7m in the year to 1 April, driven by online sales, which rose 14.7% on the same period last year. This represents 11.1% of UK retail sales, the company said, and although the average online order dipped 7% to £134 – £6 higher than the overall average spend, which remained at £128 – online transactions grew 25%.
The retailer also unveiled its plans to introduce an improved click-and collect system when it launches its second-generation mobile-optimised website over the summer. It added that reducing the minimum order for delivery had helped broaden appeal, while smaller parcels of wine sold exclusively online helped keep the range fresh.
Read this
Wine prices are soaring. Now the industry is trying to add value by launching even pricier, posh wine. Will drinkers swallow it?
Sales through retail stores were also up 3.23% and with 16 new stores opening over the period, the number of purchasing customers increased 56,000 to 624,000 over the 12 months. The company reiterated its plans to increase its footprint by 70% to 330 stores.
Like-for-like sales grew 1%.
Fine wines and bottles priced over £20 showed strong growth, chief executive Steve Lewis said, rising 9.4%, but fine wine merchant Lay and Wheeler saw profit down 8.9%, as a result of the weakness of the Bordeaux 2011 vintage. However the company reported "significant" increase in sales of English sparkling wine, and strong growth in Spanish, Argentinian and Italian wines, as well as wines from the Rhone.
Lewis said the company had made good progress with its strategy for growth and was in "excellent shape", despite a slow start to the year. Trading was in line with expectations, he added.
Espirito Santo Investment Bank analyst Sanjay Vidyarthi said it was "uncharacteristic" that Majestic had not given a number for LFL sales in current trade, but said it had a strong business model and excellent long-term growth prospects. "It does not feel like the volatility in trading seen in FY13 is going to change any time soon," he said. He added that the shares were "not cheap" and offered a neutral recommendation.
Investec reduced its revenue forecasts as a result of the volatile trading backdrop, but analyst Bethany Hocking said this would be offset by further margin improvements, noting Majestic's organic growth prospects, strong management team and attractive niche position.
Meanwhile, Kingfisher's group communication director Ian Harding was named as a new non-executive director at Majestic.