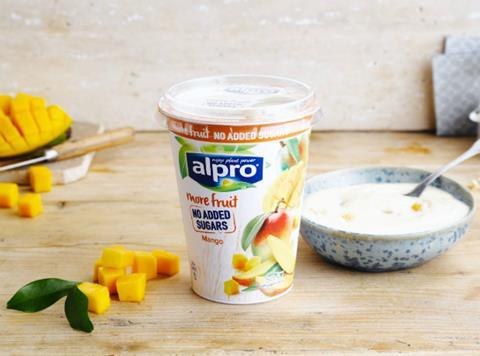 Top story
Accelerating growth in the second half helped French food giant Danone (BN) hike like-for-like sales by 2.5% to €24.7bn (£21.9bn) in 2017.
The Activia yoghurt maker said this morning that a 4.2% increase in the final six months of the year boosted its figures.
Strong growth at the specialised nutrition and waters divisions more than offset declines in the essential dairy & plant-based arm.
The €12.5bn acquisition of US plant-based food group Whitewave helped Danone absorb a negative impact from the euro's appreciation against the US dollar, the Turkish lira and the pound, with full-year reported sales up 12.5% on 2016.
Danone also managed to shrug off rising input costs to expand margins thanks to its efficiency programmes, with recurring operating profits up 7.8% to €3.5bn (£3.1bn) on a like-for-like basis.
"In 2017, Danone once again demonstrated the strength of its portfolio, the resilience of its business model and its ability to execute," CEO Emmanuel Faber said.
"Despite volatile food and beverage markets and rising input costs, we delivered very strong full-year results, with double-digit recurring earnings per share growth in line with our latest guidance.
"We closed the year with an accelerated sales growth rate, outperforming the industry average, along with very strong margin improvement and free cash flow above €2bn. In addition to strong results delivery, 2017 has been a year of preparation and continued transformation with the onboarding of WhiteWave, and the launch of our ambitious €1bn 'Protein' savings program."
Specialised nutrition sales were up +9.3% in 2017 on a like-for-like basis, with a 3% rise in volume and a 6.3% increase in value, supported by a "very strong" fourth quarter.
Waters registered sales up 4.7% in 2017, boosted by 1.4% growth in volume and a 3.3% rise in value as growth accelerated in the second half.
However, its essential dairy & plant-based (EDP) international sales decreased by -1.3% on a like-for-like basis, including a 6.1% decline in volumes and a 4.8% rise in value. The French group added that sales growth in Europe (excluding Alpro) remained negative in the fourth quarter, but the trend had continued since the second quarter, with turnaround results coming at a different pace from one country to another.
Sales of Alpro rose nearly 10% in the fourth quarter driven by robust demand for nut-based beverages and plant-based alternatives to yogurt.
Sales in the North American EDP division were down 2%, including a 1.8% decline in volumes and a 0.2% decline in value.
"In a trading environment that remains volatile and fragmented, we are starting 2018 with stronger foundations and I am confident that we are on track to accelerate towards our 2020 ambition, with another year of delivery against the commitment we made to our shareholders for consistent EPS growth," Faber said.
Earlier this week Danone revealed it was offloading the majority of its stake in probiotic dairy drink maker Yakult, worth around ¥189.8bn (€1.43bn), to help it pay down debt following the WhiteWave deal.
Shares in the group rose 0.6% to €64.52 as markets opened this morning.
Morning update
Coca-Cola European Partners (CCE) said it had beaten expectations in the first full year since its formation, but strong growth of Coke Zero was offset by decline in its other trademark brands.
Full-year reported revenue totalled €11.1bn (£9.9bn), up 21%, or 3% on a comparable and fx-neutral basis.
The group was formed by the €28bn merger of Coca-Cola Enterprises, Coca-Cola Iberian Partners and Coca-Cola Erfrischungsgetränke in 2015.
Iberia revenues in 2017 were up 3% and sales in Germany rose 2.5%. Revenues in Great Britain grew 4.5% on an fx-neutral basis, but declined 2.5% when including the pounds decline against the euro.
Coca-Cola trademark brands decreased 0.5% during the year, with 15% growth in Coca-Cola Zero Sugar offset by declines traditional Coke.
Full-year reported operating profit totalled €1.3bn (£1.2bn), or €1.5bn on a comparable basis, up 9%, or 10.5% on a comparable and fx-neutral basis.
"In our first full year as Coca-Cola European Partners, we have started to realise the growth opportunities created by the merger and, importantly, modestly exceeded our initial guidance for revenue, operating profit, diluted earnings per share, and free cash flow," said CEO Damian Gammell.
"Looking ahead, our journey continues in 2018 as we further expand our portfolio, build on our commercial capabilities, and continue to invest in our business to better serve our customers and improve in-market execution.
"Though we face some headwinds in 2018, we remain confident that our focus on driving profitable growth and managing costs will strengthen our business for the long term.
"Today's dividend announcement, an increase of over 20 percent, reflects our confidence in the future of our business and our goal of generating cash and driving increased shareholder value."
On thegrocer.co.uk/finance today we have the exclusive on the collapse of family-owned Christmas pudding maker The Ultimate Plum Pudding Company, which made the 'Magnificent Christmas Pudding' for Fortnum & Mason. All 20 employees at the Cumbrian company were made redundant after insolvency firm Begbies Traynor was appointed as administrator on 5 February 2018. Read the full story on the website later this morning.
The Grocer also has the story that creditors of posh gelato brand Joe Delucci's face losses of more than £2.5m, despite the business being rescued from administration by a £200k buyout from a former employee. Read the full story from the report by administrator CVR Global later today.
Yesterday in the City
There was little other market new to drive share price movements yesterday, but risers included SSP Group (SSPG), Ocado (OCDO), Greggs (GRG) and Reckitt Benckiser (RB), up 3.2% to 633.5p, 2.5% to 485.2p, 2% to 1,313p and 1.2% to 6,396p respectively.
Coke bottler Coco-Cola HBC (CCH) made further gains after its "exceptional" annual results on Wednesday, with shares up another 1.7% to 2,384p.
The FTSE 100 also edged up 0.2% to 7,234.81 points.
Greencore (GNC) sank 1.6% to 185.1p, with PZ Cussons (PZC), British American Tobacco (BAT) and Unilever (ULVR) also amongst the fallers.