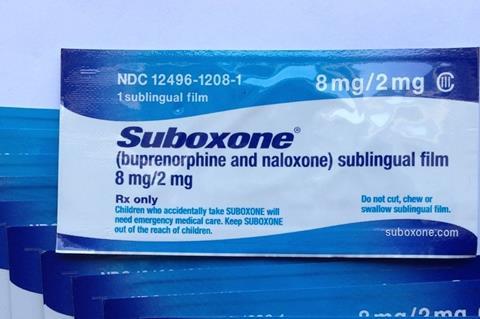 Top story
Reckitt Benckiser (RB) has agreed to pay a $1.4bn (£1.1bn) fine to close a US Department of Justice investigation into the sales and marketing of an opioid addiction drug under its former pharma arm.
RB said it will pay a total of up to $1.4bn to fully resolve all federal investigations into the inditemnet of its pharma arm Indivior, that was demerged in 2014, and claims relating to state Medicaid programs for those states choosing to participate in the settlement
The US regulator investigation centred on accusations that Reckitt mis-sold and marketed its Suboxone drug that is used to treat opioid dependence. Prior to Indivior's separation from RB, five million people were treated in the US between 2003 and 2014 for opioid dependence.
Reckitt stressed that it "acted lawfully at all times and expressly denies all allegations that it engaged in any wrongful conduct", but said that "after careful consideration, the board determined that the agreement is in the best interests of the company and its shareholders".
Reckitt said taking the fine and ending the matter avoids the "costs, uncertainty and distraction" associated with continued investigations, litigation and the potential for an indictment at a time of "significant transformation" for the company.
"This is a non-criminal resolution and is on the basis that there is no admission of any violation of law or any wrongdoing by RB or any RB Group employee," Reckitt stated.
The settlement amount will be funded through existing borrowing facilities and cash generation. RB has a provision of $400 million and will increase its provision to $1.5 billion at its half-year results.
RB believes this will cover the settlement and any remaining litigation exposures.
Reckitt shares are up 2.8% to 6,608p on the news this morning.
Morning update
Private label household goods manufacturer McBride (MCB) has announced fourth quarter trading was weaker than expected and sales continued to be troubled following on from a profits warning in May.
McBride said underlying full year revenues from continuing operations at constant currency were 2.7% higher than the previous year.
However, second half year trading, especially in the final quarter, was marginally weaker than expected.
In household (now including Asia), underlying second half growth at constant currency was 1.6% and full year growth ended at 3.7% year on year. Second half year revenues were 1.7% lower than the first half year, with the UK and France especially seeing weak sales activity.
The East region continued to show good growth albeit at a lower rate than seen in the first half year.
Despite this weaker final quarter sales performance, adjusted operating profit, adjusted PBT and adjusted EPS for the year are anticipated to be broadly in line with current market expectations.
However, net Debt closed at circa £121m (up from £114.3m last year) is higher than expected due to higher working capital, partly due to phasing, as well as a translation impact from weaker sterling.
The group also guided that sales activity levels are weaker than expected since year-end due to "slow demand levels across a number of markets" and contract losses mostly attributable to McBride's pricing actions last year.
As a result the McBride now expects its household revenues to be flat for the 12 months to 30 June 2020 with Group earnings expected to be slightly below the year to 30 June 2019.
McBride announced CEO Rik De Vos was to step down in May and today said he leave his role on 19 July and leave the company on 31 August.
Current CFO Chris Smith will act as Interim CEO from 22 July 2019 whilst the search for Rik's successor is completed and will revert to his current role once the new CEO is in place. During this interim period, David Rattigan, currently group financial controller, will assume the role of Interim director of finance.
McBride shares have sunk a further 6.9% to 71.8p on the news.
On the markets this morning, the FTSE 100 is up 0.3% to 7,553.8pts.
Early risers, Reckitt aside, include FeverTree (FEVR), up 2.3% to 2,241.1p, Nichols (NICL), up 1.9% to 1,650p and Finsbury Food Group (FIF), up 1.2% to 64.8p.
Fallers include PureCircle (PURE), down 3.7% to 251p, Ocado (OCDO), down 3.1% to 1,177p, British American Tobacco (BATS), down 1.5% to 2,904p and WH Smith (SMWH), down 1% to 2,054p.
Yesterday in the City
The FTSE 100 ended the day down 0.1% to 7,530.7pts yesterday after the pound rose from two-year lows on the back of better than expected 0.3% GDP growth in May.
FeverTree (FEVR) was back on the up yesterday after recent falls following a downgrade from broker Jefferies. The upmarket drinks mixer manufacturer regained 5.8% yesterday to rise to 2,190p.
Imperial Brands (IMB) was up 1.7% to 2,015p on the emergence of more details on its newly announced £200m share buyback scheme.
Other risers included PureCircle (PURE), up 4.2% to 260.5p, McColl's (MCLS), up 3% to 64.7p, WH Smith (SMWH), up 1.8% to 2,074p and Tesco (TSCO), up 1.5% to 237.1p.
The day's fallers included Majestic WINE (WINE), down 3.8% to 253p, Bakkavor (BAKK), down 2.4% to 112.2p, Coca-Cola HBC (CCH), down 2% to 2,726p, PZ Cussons (PZC), down 1.4% to 215.5p.
McBride was down 1.7% to 77.2p ahead of this morning's full year trading update, while Ocado (OCDO) ended the day down 1.7% to 1,215p after a share price bump on Tuesday following its first half results.