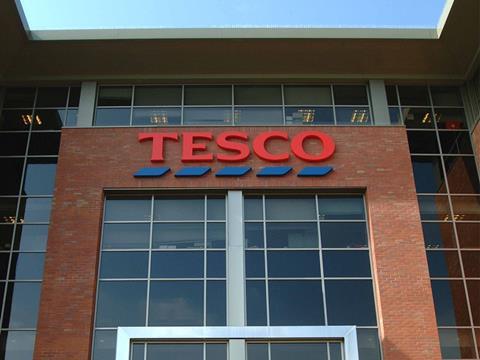 Top story
Tesco (TSCO) has reported that volumes and transactions have grown during its first-half helping to slow the decline of like-for-like sales in the UK. However, the attempted turnaround has seen profits half as the price war and a rampant Aldi and Lidl took their respective tolls.
Group revenues in the six months to 29 August came in at £23.9bn, 1.9% lower than the first half last year. Like-for-like sales in the UK fell by 1.1%, with improvements in the second quarter, and grew internationally by 1%.
Tesco, like Sainsbury's last week, has reported an improvement in transactions and volumes for the period, up 1.5% and 1.4% respectively.
Group operating profit came in at £354m, down from £779m a year ago, but Tesco said it was "investing for customers and rebuilding profitability in UK".
CEO Dave Lewis, who joined as the £263m black hole was revealed in Tesco's accounts, said the business had seen an "unprecedented level of change" in the past 12 months. He added the changes were working.
"The first half results show sustained improvement across a broad range of key indicators. In the UK, we continue to improve all aspects of our offer for customers, resulting in volume growth which is allowing us to create a virtuous circle of investment.
"Our transformation programme in Europe has accelerated growth and reduced operating expenses, and in Asia we have gained market share in challenging economic conditions.
"We have concluded our portfolio review with the sale of Homeplus, our business in Korea, enabling us to take a significant step forward on our priority of strengthening the balance sheet. Further progress will be driven by continuing to increase the level of cash generated from our retained assets."
Tesco said it was on track to deliver £400m annual cost savings from group restructuring investment.
Morning update
On what is proving to be a busy morning on the stock exchange AB InBev has finally showed its hand by tabling a "highly attractive" offer for SABMiller (SAB). The much-awaited offer, in what had been labelled 'mega brew', would be one of the biggest deals in corporate history and would create a global monster with revenues of $64bn if the takeover gets over the line.
The revised proposal is for £42.15 per share in cash – a healthy 44% premium to the closing share price of £29.34 on 14 September – with a partial share alternative available for approximately 41% of the SABMiller shares. AB InBev also revealed it had made two prior written proposals in private to SAB, the first at £38 per share in cash and the second at £40 per share in cash.
AB InBev said it was "disappointed" that the board of SAB had rejected both of these prior approaches "without any meaningful engagement".
The new offer of £42.15 puts a cash price of £68.2bn on SAB.
"We have the highest respect for SABMiller, its employees and its leadership, and believe that a combination of our two great companies would build the first truly global beer company," AB InBev CEO Carlos Brito said. "Both companies have deep roots in some of the most historic beer cultures around the world and share a strong passion for brewing as well as a deep seated tradition of quality. By bringing together our rich heritage, brands and people we would provide more opportunities for consumers to taste and enjoy the world's best beers. We also both strive to have a positive impact on the communities in which we work and live as two of the world's leading corporate citizens. Put simply, we believe we can achieve more together than each of us could separately, bringing more beers to more people and enhancing value for all of our stakeholders."
Elsewhere in the brewing world, Diageo (DGE) has sold its 57.9% stake in Desnoes & Geddes to Heineken, increasing Heineken's shareholding to 73.32%; sold its 49.99% stake in GAPL to Heineken giving the brewer full ownership; and acquired Heineken's 20% shareholding in Guinness Ghana Breweries, increasing Diageo's shareholding to 72.42%. Diageo said the deals, which will result in net cash of $780.5m (£515m) and profit on disposal of £440m, would bring increased focus to the two group's respective beer businesses in Jamaica, Malaysia, Singapore and Ghana.
Finally, Conviviality Retail (CVR) has completed the £200m reverse takeover of Matthew Clark and has changed its name to Conviviality Plc. CEO Diana Hunter said: "The combination of the two companies is a great strategic fit and a transformational acquisition for Conviviality Plc. Matthew Clark is a significant wholesaler in the drinks industry, larger than the next seven independent operators combined, and together with Conviviality this creates a unique business that addresses both on-trade and off-trade retailers."
After making good gains over the past week, Tesco's stock has fallen 2% so far this morning to 188.10p. It took Sainsbury's (SBRY) and Morrisons down with it, falling 0.9% to 270p and 0.5% to 172.70p respectively.
SAB opened up 3% to 3,731.5p on the back of the offer by AB InBev after tumbling by more than 1,200p yesterday following the strongly worded trading update from CEO Alan Clark which gave investors the impression the brewer was set to resist the Bud owner's advances.