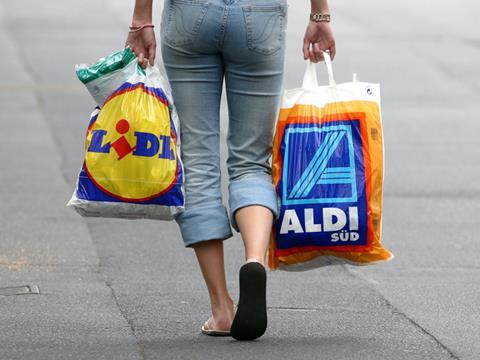 Trading conditions for the big four supermarkets are showing no signs of improving as Aldi and Lidl ramp up growth again, according to the latest market share data.
Sainsbury's was the only one of the big four supermarkets to see sales growth in the 12-week period, with a strong performance in its online and Local c-stores helping it to increase revenues by 1.1%. Its market share, however, remained flat at 16.1%.
Sales fell 1.7% at Tesco taking market share down 0.7 percentage points to 28.1%, while a 1% fall at Morrisons took its share to 10.8% and a 3% dip at beleaguered Asda pushed its share down to 16.6%.
In contrast – and after a slowdown earlier this year – the discounters have both seen their rate of growth return to above 17% during the period. Lidl, for the second successive month, has reached a new share high, now claiming 4.3% of the market and growth accelerating to 17.9%. Revenues were also up 17.6% year on year at Aldi.
Rival figures from Nielsen revealed an even wider gap between growth at the big four and the discounters, with year-on-year sales during the 12 weeks ending 10 October up 27.6% at Aldi and 23.3% at Lidl. Mike Watkins, Nielsen UK head of retailer, said the traditional supermarkets would be "particularly disappointed" that discounter growth showed little sign of slowing.
"Deflation, discounters and weak volume growths have meant a challenging four weeks for the supermarkets – despite the relatively warm weather and the Rugby World Cup," he added. "Whilst lower food prices are good news for shoppers, they result in falling spend per visit across the industry which doesn't benefit retailers who have the same level of fixed and operational costs."
Shoppers are also pocketing savings from lower prices at the checkout rather than spending the extra cash in stores, with £1.5bn taken out of the market in the last year, Kantar Worldpanel found.
Its figures for the 12 weeks ending 11 October showed overall supermarket sales up by only 0.8% to £24.5bn compared with a year ago. Despite a more buoyant overall economy, supermarket revenue growth has not reached above 1% since March 2015.
Nielsen revealed a starker picture for the past four weeks to 10 October, with sales value at the tills down 1% and volumes suffering a 0.1% decline.
Fraser McKevitt, head of retail and consumer insight at Kantar Worldpanel, said: "With like-for-like grocery prices 1.7% lower than last year, the supermarket price war shows no signs of abating. Consumers have now enjoyed more than 12 months of continually falling prices and are currently pocketing these benefits rather than splashing out on substantially more grocery items, with overall volume growth of only 2%."
Kantar's data also revealed Waitrose recorded a 2.1% sales rise in the 12-week period, the Co-operative managed 1% and Iceland topped 3% growth.