There was a sharp turnaround in market sentiment for the supermarkets this week as Marks & Spencer's surging share price triggered a sustained retail rally.

M&S itself rocketed up 9.7% to 443.8p on Wednesday - its highest level since July - after posting a better-than-expected 2.3% rise in first-half pre-tax profits to £268m, helped by a 3.6% increase in food sales. It had suffered from subdued trading in the run-up to its interim results after Next warned its own trading had been hit by the mild autumn. However, M&S was up another 6% on Thursday morning to 470.7p on the expectation of a stronger second half. Investec analysts argued M&S' current valuation "does not reflect the better cash generation and we believe newsflow should start to improve in H2."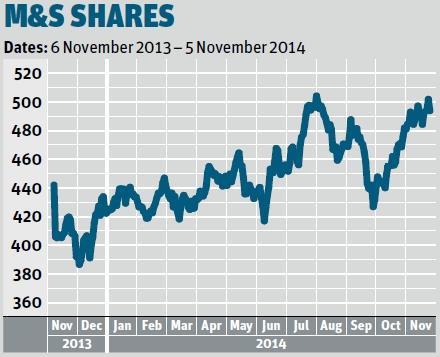 M&S dragged up a host of retail stocks in its slipstream on Wednesday, including the supermarket sector where Morrisons gained 5.9%, ahead of its third-quarter numbers, and Sainsbury's climbed 2.3% to 247.3p.

On Thursday, the listed supermarkets brushed off Morrisons' 6.3% like-for-like sales fall and all showed strong share price gains. The market's newfound benevolence towards food retailers saw Morrisons climb 7.4% to 174.3p by Thursday lunchtime. Similarly, Sainsbury's was up 7.1% to 264.9p and Tesco rose 4.2% to 183.2p, while Ocado was 18.8% up over the week to 294p.

Dalton Philips said he was "encouraged", but others were less so. Calling Morrisons' numbers "disappointing", Bernstein analyst Bruno Monteyne argued: "The LFL decline was worse than market expectations. Worse still, we note the heavy vouchering activity early in the quarter and longer opening hours. Both measures will likely have a detrimental effect on margin."

Things could always be worse - as evidenced by John Menzies, which suffered a catastrophic 28.1% share price collapse (to 350p) after warning on Wednesday that its full-year performance would be "materially below" management expectations due to problems at Menzies Aviation.