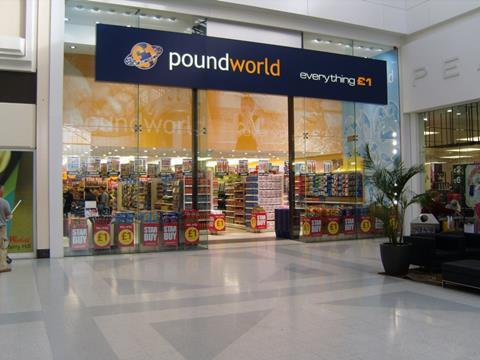 Alteri Investors, a turnaround firm backed by US hedge fund giant Apollo is closing in on a deal to buy Poundworld, the struggling discount retailer. Alteri, whose previous portfolio companies include the tailor Austin Reed and Jones Bootmaker, is expected to shut about 100 stores with the loss of 1,500 jobs if it clinches a purchase from private equity firm TPG (The Times £). A deal could be struck for a nominal sum with TPG, Poundworld's current owner, and the retailer's lenders by the middle of the week (Sky News).
A two-way battle is taking place to rescue the struggling retailer Poundworld from the brink of insolvency. US private equity house Flacks Group and Alteri Investors, the former owner of Austin Reed, are vying to take control of the loss-making discount chain (The Telegraph).
For over five years, Aldi and Lidl have rubbed salt into the largely self-inflicted wounds of Britain's "big four" supermarkets. But with incumbents now holding or increasing market share, some are wondering whether the threat from the German discounters has peaked. (The Financial Times £)
Supermarkets Tesco, Aldi and Nisa are recalling a number of pastry products over fears they may contain metal wire. The retailers, along with brands Walls and Millers, have products made for them by Addo Food Group, at six locations around the UK. (The BBC)
Bayer, the pharmaceuticals and chemicals group, has announced a €6bn capital increase to finance its $66bn takeover of Monsanto, which cleared its last big regulatory hurdle last week. The deal is set to create the world's largest maker of seeds and pesticides by far. The combined company will have sales of about €20bn, based on 2017 figures. (The Financial Times £)
The world's leading meat, fish and dairy companies are putting long-term growth at risk by failing to invest in alternative protein businesses, according to an investor advisory and research network supported by asset managers worth $5.9tn. (The Financial Times £)
A British insect farmer that makes environment-friendly animal feed has landed $105m (£80m) to fuel international expansion. AgriProtein breeds fly larvae from food waste and converts them into a high-protein diet for fish, poultry and pigs, as well as family pets. (The Times £)
Unilever looks to be stepping up its beauty regime, writes The Financial Times (£). The renaming of personal care unit suggests renewed focus on segment, according to analysts.
A collapse in the number of small companies appealing against business rates decisions has been blamed on a "shambolic" overhaul of the government agency that oversees the tax. (The Times £)
House of Fraser's flagship store on London's Oxford Street is likely to close if the company pushes through a controversial form of insolvency to restructure its property portfolio (The Times £). House of Fraser's flagship store is facing the axe as it teeters on the brink of administration (The Daily Mail)
The future of the embattled House of Fraser department store chain was hanging in the balance this weekend, as deadlock between its Chinese owner and lenders threatened to scupper its planned rescue package (The Guardian)
The high street billionaire who owns Jaeger, Edinburgh Woollen Mills and Peacocks will be nominated to be chairman at Stobart Group, of one of Britain's biggest infrastructure groups amid a row between its former boss and the present board. Philip Day has emerged as the surprise choice to replace Iain Ferguson, the existing chairman. (The Times £)